Newsmakers, May 28-June 3, 2015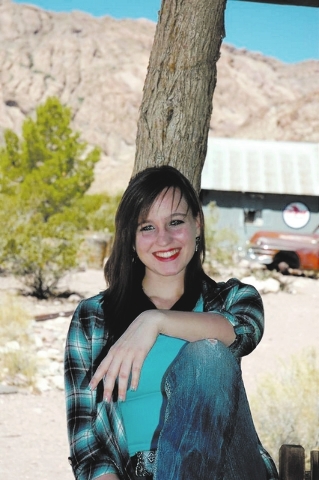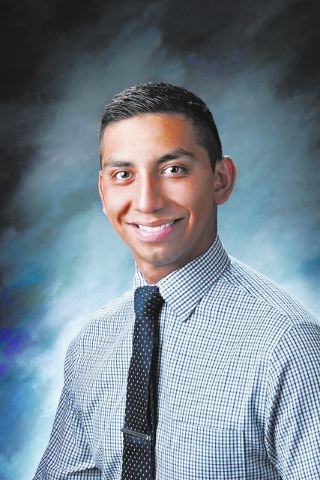 Eric England of Henderson graduated from the U.S. Naval Academy May 22 with a bachelor of science degree in general engineering and a commission as a U.S. Navy ensign. His father is Reggie England of Henderson. Eric England is a graduate of Foothill High School.
Michelle Henderson of Henderson has accepted an appointment to the Air Force Academy. She is a senior at Coronado High School, due to graduate June 6. She is the daughter of Lt. Col. Allen and Barbara Lynn Henderson of Henderson.
Elizabeth Trosper, principal of Trosper Communications, recently announced the promotion of Frank Fuentes to communications and social media director. Fuentes previously served as a communications and social media coordinator. Also, Sue Smuskiewicz has taken the role of director of administration. Smuskiewicz joined the firm in 2010 as chief copywriter and core reader. In her new role, Smuskiewicz will continue her previous duties, manage and maintain the firm's administrative functions and assist in human resources and accounting. Trosper also announced the hiring of Kelsey Hand as the firm's executive director of media and client relations. Hand was previously the public information coordinator for the Clark County Regional Flood Control District.
Blake Edward Harrison of Troop 912 recently earned his Eagle Scout badge for coordinating a book drive with Barnes & Noble for Spread the Word Nevada, collecting more than 850 books and $1,700 in donations. His parents are Ted and Cheryl Harrison of Las Vegas.
Jamillah Ali-Rahman, executive director for Friends of Parkinson's, was recently named the Ambassador for Peace by the Universal Peace Federation, an international and interreligious network of individuals and organizations, including representatives from religion, government, civil society and the private sector, dedicated to achieving world peace. Ali-Rahman will help promote reconciliation, overcoming barriers and building peace while forming a global network representing the diversity of the human family and all disciplines of endeavor.
In support of local nonprofit groups, the Stratosphere presented a $1,000 donation to the Nevada SPCA during the property's Celebrity Happy Hour event at McCall's Heartland Grill April 9.
Vegas PBS has received a Telly Award for a public service announcement related to the Corporation for Public Broadcasting's American Graduate initiative and the station's supporting It Pays to Stay campaign. The PSA features a local student, Jessica Suarez, who had dropped out of high school but returned due to the efforts of school administrators and Communities In Schools of Nevada coordinators. The Telly Awards honor outstanding local, regional and cable television commercials and programs, video and film productions and Web-based work. To view the PSA, visit vegaspbs.org/americangraduate/videos.
The Las Vegas Chapter of the Association of Fundraising Professionals donated $2,000 to the Las Vegas-Clark County Library District Foundation. This donation will benefit the library district's Southern Nevada Nonprofit Information Center at the Clark County Library and will augment the library's collection of books on fundraising and philanthropy-related topics available in all branches across the county.
In New York, the Rochester Institute of Technology's College of Liberal Arts honored student achievement in writing with the presentation of the 2015 Henry and Mary Kearse Distinguished Lecture and Student Writing Award on April 3. Awardees included Joshua Schussler, a physics major from Las Vegas, representing the Department of Modern Languages and Cultures, with "Boule e Suif Blog."
Army Pvt. Mario Y. Falcon graduated from basic combat training at Fort Jackson, Columbia, S.C. Falcon is the son of Felipa Falcon of Las Vegas and is a 2014 graduate of Western High School.
Army Pvt. Thomas T. Siomon graduated from basic combat training at Fort Jackson, Columbia, S.C. Siomon is the son of Siomon Taykay of Henderson and Freta Zese of Las Vegas. He is a 2014 graduate of Coronado High School.
Army Pvt. Aaron P. Mayorga graduated from basic combat training at Fort Jackson, Columbia, S.C. Mayorga is the son of Juan J. Mayorga of Henderson and is a 2013 graduate of Foothill High School.
Sarah Elizabeth Fanning of Henderson was named a high scholar at the University of Nebraska-Lincoln.
Air Force Airman 1st Class Sarah M. Kirksey graduated from basic military training at Joint Base San Antonio-Lackland, San Antonio. She is a 2005 graduate of the Community College High School.
Roland Cox of Las Vegas was selected as a 2015 NROTC Scholarship recipient by the Marine Corps Recruiting Command, which conducted the Pedro Del Valle and Frederick C Branch scholarship boards in April.
Army Spc. Jamee C. Finley graduated from basic combat training at Fort Jackson, Columbia, S.C. Finley is the daughter of Denise Finley and sister of Jade Finley, both of Las Vegas. She is a 2005 graduate of Valley High School.
Air Force Airman Alvin V. Accad graduated from basic military training at Joint Base San Antonio-Lackland, San Antonio. Accad is the son of Angelito and Evelyn Accad of Las Vegas and graduated in 2012 from Durango High School.
In April, The Citadel's Commandant of Cadets designated commanders, regimental staff, sergeants major and first sergeants for the class of 2016. Cadet Angelica McNerny of Las Vegas was honored with the role of Fifth Battalion V Company first sergeant.
Air Force Airman Yea Chan Lim graduated from basic military training at Joint Base San Antonio-Lackland, San Antonio. Lim is the son of Sun Kyu Koag and Myung Jin Lim of Las Vegas.
Share your news
View welcomes announcements of recent achievements by local students and adults. Please include student's name, age, local school attended, parents' names and city of residence. Send to View, c/o Favorites, P.O. Box 70, Las Vegas, NV 89125-0070, or by email with Favorites typed in the subject line to viewcalendars@viewnews.com. Photos cannot be returned.