Parks are popular draw for downtown and Paradise residents
September 14, 2013 - 2:22 pm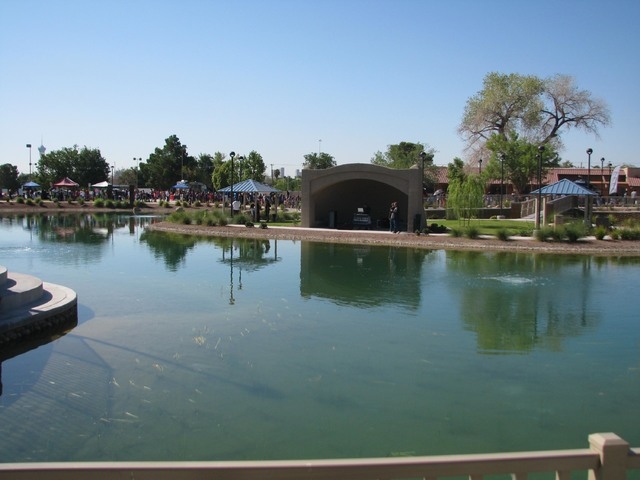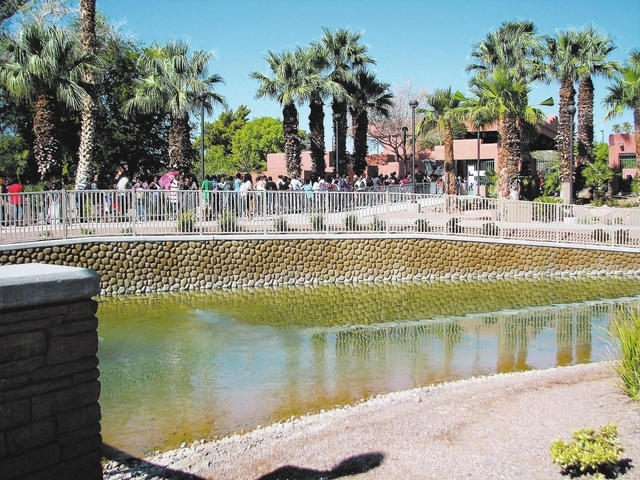 The center of the valley has some of the more utilized recreational spaces.
Paradise/downtown residents may not have the option to take a quick drive down the road to the edge of populated areas, so city of Las Vegas and Clark County parks are the place to go to stretch your legs and take a walk.
One of the largest parks in the area is the recently renovated Lorenzi Park, 3333 W. Washington Ave. It has a long and unusual history. It was originally developed as a vineyard in 1912 and later as the Twin Lakes Lodge. It served as the getaway spot for people from the city, when the park was considered to be in the rural part of town. It became a dude and divorce ranch before the city acquired it in 1965 and turned it into a popular park.
"Oh, yes, we used to go dancing out there at Twin Lakes when I was young," said longtime Las Vegas resident Rosemary Pisani. "Everybody did. It was the place to go dancing."
On the approximate location of the popular dance pavilion is a new bandstand on an island in the middle of the lake, part of the recent $30 million renovations. The changes include new restrooms, picnic areas, historical markers and a general sprucing up.
The park also includes Sammy Davis Jr. Festival Plaza, an outdoor theater and home to many of the special events in the park.
The center of the valley is home to many neighborhood parks, including Gary Dexter Park, 899 Soprano Lane; Lubertha Johnson Park, 2201 Concord St.; Joe Shoong Park, 1503 Wesley St.; and Molasky Family Park, 1065 E. Twain Ave. They provide green space and amenities such as picnic areas and playgrounds.
"Parks do good things for people in many different ways," said Steven Corry, assistant director of the Clark County Parks and Recreation Department. "They help people improve on their health, wellness and physical fitness. Parks provide mental refreshment. Most importantly, one of the most under-appreciated things parks do is help with socialization."
Corry said the parks also bring together people who might not otherwise meet.
"Generally, in parks and recreation, we believe parks create a sense of community," Corry said.
Between Karen Avenue and a cluster of parks near the corner of Maryland Parkway and Wigwam Avenue in the the central valley, there are few parks, and residents often use the campus of the University of Nevada, Las Vegas as a green space, strolling along its sidewalks that are surrounded by trees. The campus is officially an arboretum, with 80 acres landscaped with dozens of varieties of trees.
One notable recreational space is Gary Reese Freedom Park, 850 N. Mojave Road. It is one of the area's most diverse parks, with six baseball/softball fields, horseshoe courts, bocce courts, soccer fields, the Carlos L. Martinez and Darrio J. Hall Family Pool and a disc golf course.
"Parks help us to make ourselves better people as we go through life," Corry said. "We rediscover ourselves when we recreate. When you look at the word, it's actually re-create."
Contact Paradise/Downtown View reporter F. Andrew Taylor at ataylor@viewnews.com or 702-380-4532.