Pawn Plaza looks to capitalize on 'Pawn Stars' fame
February 19, 2016 - 9:00 am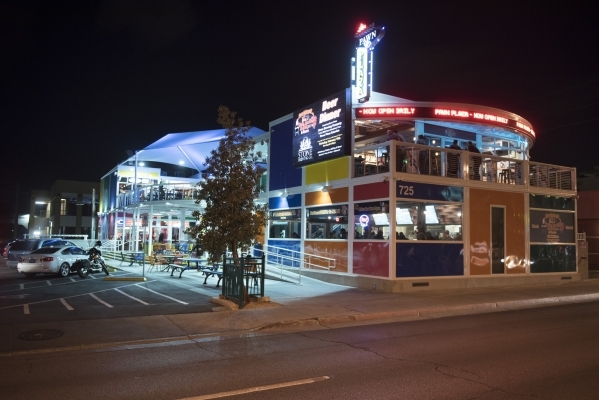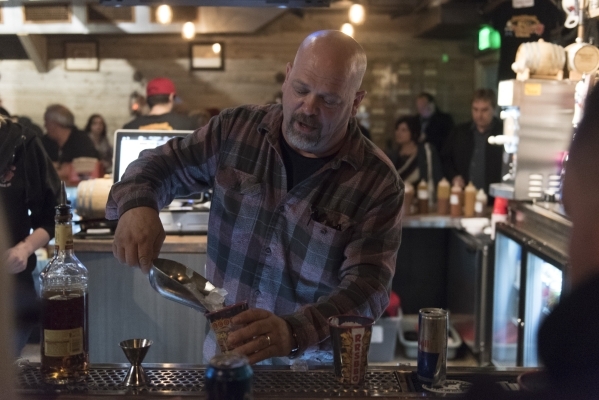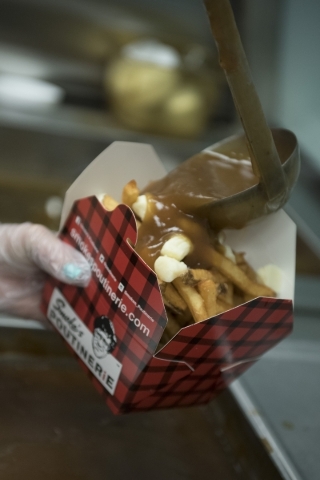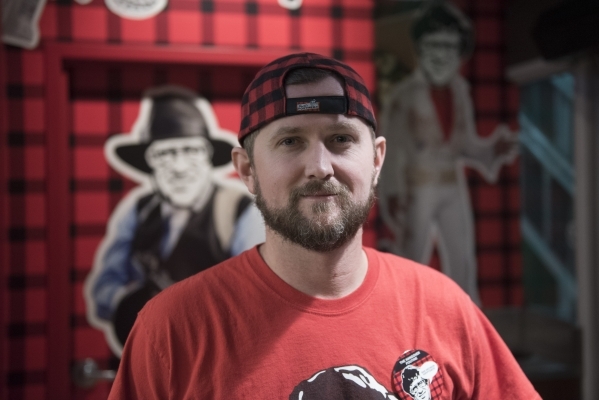 Rick Harrison had very specific criteria when it came to finding tenants for his Pawn Plaza, 725 Las Vegas Blvd. South: They had to be cool.
"There were a lot of fast-food chains with five-year guarantees that I said no to, which made my father freak out," Harrison said. "I didn't want places you ended up at. I wanted places you go to."
The two-story, open-air shopping center made of prefabricated steel containers opened in October, next to Harrison's World Famous Gold & Silver Pawn Shop. The center was built in part to capitalize on the crowds drawn to the pawn shop because of its TV fame from the History Channel show "Pawn Stars." Crowds waiting in long lines to get into the shop are not an uncommon sight, but there were no places to grab a drink or a bite to eat near the shop. It was an opportunity for Harrison to monetize his fame while trying to bring more business to the neighborhood.
"The great thing about the whole celebrity thing? I don't ever have to wear a suit," said Harrison. "I just wear a T-shirt. If it's fancy, a T-shirt and a blazer."
Building the shopping plaza in a similar manner as the Downtown Container Park served several purposes, but one of the main reasons was the quickness of the construction. Harrison said it took a lot longer to take care of permits and other paperwork than it did to actually get the structure built.
"When I had this property appraised, I was told it would be worth about $50,000 more if the buildings were torn down," he said. "I figured the plaza would be a neat thing to have on the Strip, and it would help my business out. There are tax advantages to this kind of construction also."
Among the businesses Harrison deemed cool enough was Smoke's Poutinerie, which was the third location for the company in the United States.
"Poutine is a unique experience for Americans because they don't quite know what it is," said Robert Buckel, who owns the franchise with his wife, Natalie. "Fries are not just a side item; they're a full meal."
Poutine is a Canadian dish made with french fries and cheese curds topped with gravy, but Smoke's menu includes more than 30 variations, including Hangover Poutine with scrambled eggs, bacon and maple syrup. The location has proved to be popular with Canadian expats who have been bringing their friends to try out the comfort food.
"Poutine is crack," Harrison said. "You've got to have therapy to quit it."
The plaza draws on foot traffic, locals and tourists, and the leasees and Harrison both expect business to build and, hopefully, boom as the weather warms up. Right now, a lot of the action takes place at Rick's Rollin' Smoke BBQ & Tavern.
"I bartend every Friday and Saturday from 8 until … until I get tired. I'm old," Harrison said. "I'm the world's worst bartender. When I bartend, I serve beer and drinks where the name of the drink is the ingredients of the drink, like Jack and Coke, gin and tonic. Nothing fancy."
He has four or five other bartenders to take care of the fancy stuff. The tavern's decor includes several items from the pawn shop, including one of the oldest maps of Nevada, a water pitcher that was used to distribute radium cocktails with real radium and a collection of paper money that includes Colonial money and Mormon meat money. He plans to switch out the items periodically.
The bar has open mic comedy at 8 p.m. Wednesdays and other special events planned, including live music that Harrison likes. He had to ask the bar's managers about specific schedule questions. He's a big picture, big plans kind of guy, and he can get so much going on that the details escape him.
"It's my crazy life," Harrison said. "I've got six kids. I've got a pawn shop, shopping center, rental properties, production company, I film TV shows, and I have a publishing company."
The tenants are happy to be included in the calculated experiment of bringing more retail and trying to draw more foot traffic to an area that typically has been dominated by automotive traffic.
"We have a pitchman for a landlord," Buckel said. "He likes to see people succeed, and he'd love to see more happen in this area, too."
Visit pawnplaza.com.
— To reach East Valley View reporter F. Andrew Taylor, email ataylor@viewnews.com or call 702-380-4532.