Proposed district could add sparkle to downtown Las Vegas
Updated May 14, 2018 - 6:08 pm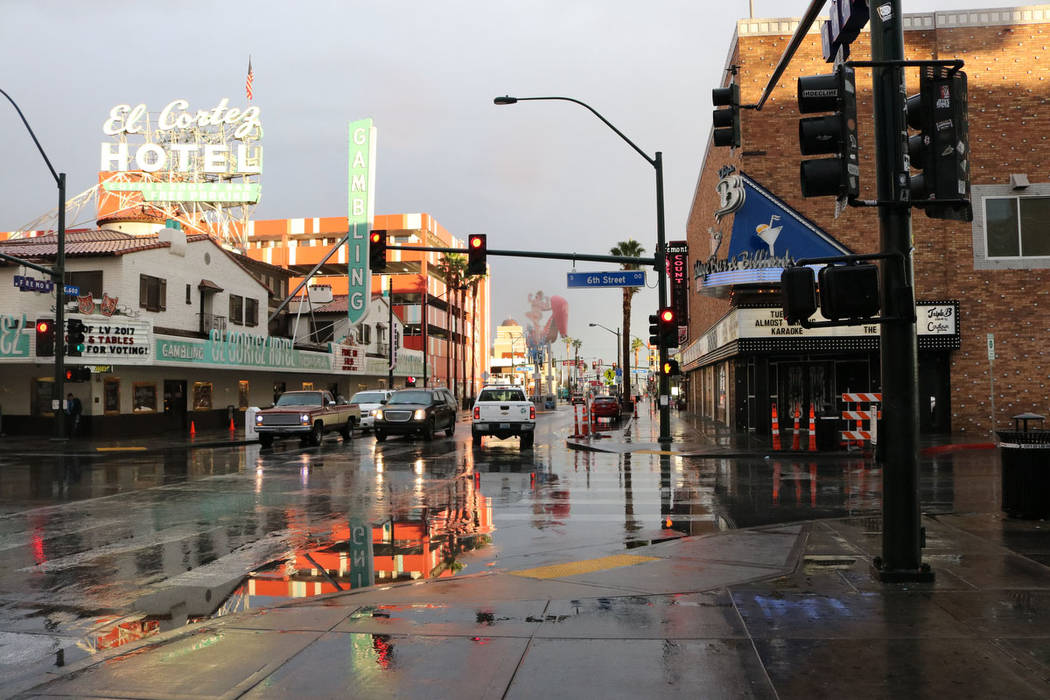 Plans for a new business improvement district aim to boost downtown Las Vegas, but property owners within its boundaries will need to pay up for new projects.
An assessment could range from hundreds of dollars to six figures, depending on the size of the business inside the district that would cover a wide swath of downtown.
"The city can only afford so much," Las Vegas City Manager Scott Adams said. "If business owners and property owners want to do more, they'll probably need to pay for some of those specialized services that we can't."
"From the city's perspective, we could use a partner," Adams added.
The proposed Downtown Las Vegas Business Improvement District assessment would appear on annual property tax bills, and those dollars would fund projects that benefit downtown: public safety, transportation, homelessness and "clean and green" initiatives, and promoting downtown.
A majority of property owners within the proposed assessment area would need to sign a petition to the City Council to initiate the district's formation. City officials plan a meeting with downtown stakeholders this month to gauge interest.
"We really need to call the question, bring those stakeholders together and tee up whether they want to go forward or not," Adams said.
Under the proposal, downtown's largest businesses would shoulder much of the cost, Adams said.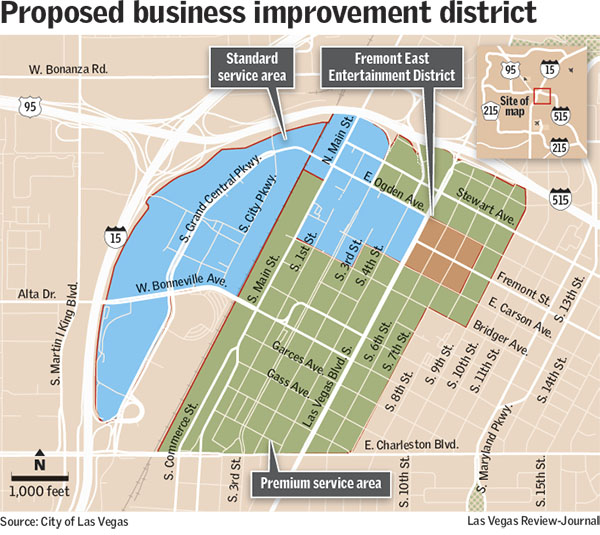 Assessment breakdown
The BID proposal has two service areas — standard and premium services — and assessments would be based on the property's linear frontage and building and lot square footage.
Standard services include funding for a management organization that would focus on economic development and marketing downtown. Commercial property owners there would pay 3.2 cents per square foot, and nothing for linear frontage, under the proposal.
Properties within a premium services area would get a "clean and safe" program with safety ambassadors and maintenance patrols, increased focus on crime deterrence, outreach to homeless people and litter, weed and graffiti removal. The rate-payers in that area would pay 7.3 cents per square foot, and $7.50 per linear foot of property frontage.
Residential properties and nonprofits would be subject to new assessments, but the formula would be different than for commercial properties. The plan recommends a 50 percent discount off the commercial assessment rate for properties owned and used by nonprofits. Residential homes and condos could see a $40 annual fee per unit in the standard area, and $100 per unit in the premium area.
For properties with more than 1 million square feet of assessment for the lot and building, the assessment formula would be based on the first million square feet of space.
Public schools and federal government buildings are exempt from business improvement district assessments under state law.
Previously proposed
The effort is meant to be spearheaded by the private sector — the city is acting as a facilitator. But the city benefits from a BID because it can fund projects with private dollars that may otherwise either rely on the city budget or not happen at all.
A business improvement district has been on the table on for downtown Las Vegas for years — the idea was shelved during the recession, but reinvigorated during the city's recent downtown master plan process.
A six-block BID is already in place for the Fremont East district of downtown, and businesses along the Fremont Street Experience pay dues to fund security and maintenance under the Fremont canopy.
Las Vegas is one of few larger U.S. cities without a larger BID to fund projects, Adams said.
Molasky Group of Cos. President Rich Worthington was chairman of the Downtown Vegas Alliance when the group was studying business improvement districts in other cities, and pointed to Santa Monica and San Diego's Little Italy as business improvement districts that have helped to revive areas of those cities.
Worthington favors the Las Vegas district downtown, but questioned whether the proposal is too broad — encompassing such a range of objectives and concerns.
"That's the only reservation I have — whether it's trying to be too much to too many people," Worthington said. "Overall, we're supportive of it."
Contact Jamie Munks at jmunks@reviewjournal.com or 702-383-0340. Follow @Journo_Jamie_ on Twitter.
Downtown Las Vegas Business Improvement District proposal
— Assessments for ratepayers in the standard services area will go toward a downtown management organization that would lead the district and promote economic development and market downtown. The premium services area will also fund a "clean and safe" program with safety ambassadors and maintenance patrols.
— Estimated operating budget for year one: $2 million, with $800,000 going to standard services and $1.2 million to premium services.
— The BID would be governed by a 15-member board of directors, made up of downtown property owners that represent different geographic areas, types and size of businesses.