Review-Journal comes bearing gifts at Williams Empowerment
December 27, 2011 - 12:20 am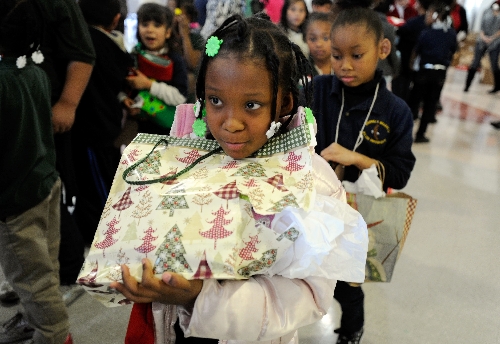 Christmas came early for students at Williams Empowerment School, 1030 N. J St., when Las Vegas Review-Journal staff members arrived Dec. 16 with gifts for the 382 children in kindergarten through fifth grade .
During a two-part assembly that afternoon, each child was greeted individually and given a stocking full of goodies and gift cards and a pair of shoes.
Principal Brenda McKinney said that for many of her students, Friday's assembly mark ed the only time they may experience the holiday season this year.
"I'm absolutely delighted and amazed at the generosity," McKinney said. "I know for a fact this is the only Christmas most of these students will have."
After a couple of students volunteered to recite the school's behavioral standards with their peers, Review-Journal publisher Bob Brown asked the children to give their definition of a neighbor. Responses differed from "a person who lives next door" to "someone you can talk to." Brown explained that the Review-Journal was a neighbor to the students, as the buildings are located less than 2 miles apart.
"Everyone's going to get a Christmas present from the Las Vegas Review-Journal," Brown told the students. "We're your neighbors. We're always there for you."
Faces lit up with excitement when the children opened their new set of kicks and peered into stockings full of goodies.
"I always wanted these for a long, long time," said Miguel Nunn, 10, as he held up his shiny pair of shoes, his face beaming.
Kuluzu Ketia, 8, was ready to head home before the assembly ended, eager to display her gift to family members.
"I get to show my family my present," Ketia said. "I love getting my present. I can't wait to show my little brother."
McKinney said 90 percent of the students are at risk and that just receiving gifts makes a difference in their daily lives, especially during the holidays.
"We can do the academic piece and feed their minds," McKinney said, "but these gifts make such a difference."
As a token of appreciation, the students sang a rendition of "Wind Beneath My Wings" to the Review-Journal staff members. A banner painted with thanks for the newspaper was hung above the stage. McKinney said that during seven years of working with Williams Empowerment School, she has never experienced a partnership such as the one with the Review-Journal.
Vice principal Deborah Hayes said that what struck her most about the gifts from the Review-Journal was how each student at the school received a gift as opposed to those in a single grade level or classroom.
"I've been at other schools where people have given gifts to some of the kids, but this was heartwarming," Hayes said. "I think it also teaches (the students) to pay it forward, too."
McKinney ended the assembly with a tear-filled thank you address to Brown and the Review-Journal staff members.
"I always try to push for literacy, and newspapers are a big part of that," McKinney said. "We are so thankful for what you all have done for us."
Contact Paradise/Downtown View reporter Lisa Carter at lcarter@viewnews.com or 383-0492.