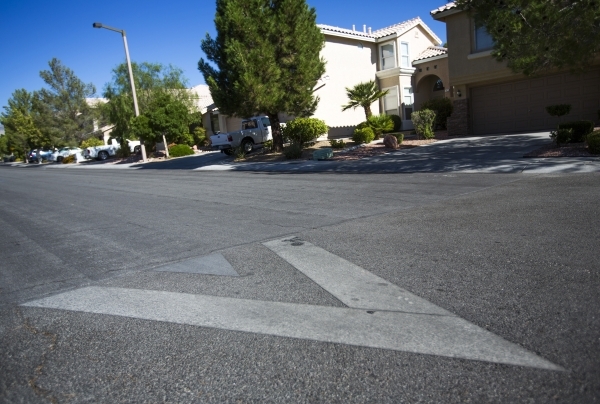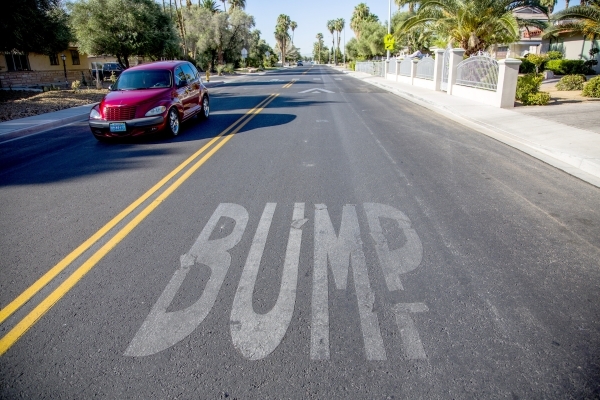 If you hate speed bumps, you're in good company. Las Vegas Fire and Rescue says the traffic control measure is dangerous and slows response time to emergency situations to a deadly level. On the other hand, they're fine with speed humps, according to officials.
Confusion between the two traffic control devices is common. While both speed bumps and humps generally run across the total width of a lane, bumps are taller with a shorter travel length. Bumps are usually 3 to 6 inches tall with a travel length of 6 inches to 3 feet and are designed to slow traffic to 5 mph or less. Humps are usually around 3½ inches tall with a travel length of more than 20 feet and are designed to slow traffic to 15 to 20 mph. It's the difference between a rapid "bump-bump" and a slower "bump … and bump."
Tim Szymanski, public education and information officer for Las Vegas Fire and Rescue, said that speed bumps were never approved in the city of Las Vegas, and every entity in the valley has some regulation against them. Following complaints from fire and rescue units in the field, the city has been trying to get many of them removed.
"One incident that stands out in my head is when we had a unit that was going to a scene where they had multiple gunshot victims in the back of an apartment complex," Szymanski said. "At every speed bump, they had to come to a complete stop. In a big vehicle like that, every bump is magnified. You have injured people and delicate equipment being bounced around."
A speed bump can slow response time down by 10 seconds. Multiplied by four or five speed bumps, traveling in and out of a complex can take precious minutes from response time.
"If you've got someone in cardiac arrest, every second that goes by, additional brain cells die," Szymanski said.
The speed bumps are being removed at a significant cost to the property owners when they are notified either in response to a complaint from a fire and rescue unit or when the speed bumps are noted in a routine fire inspection. Szymanski said the goal is to get rid of all of them.
"Some of the older areas are being affected first because, typically, a speed bump is something that is installed several years after initial construction," he said, responding in part to earlier reports that less affluent parts of town were being targeted. "The ones that are being removed are not up to code. They were installed without a plan review."
So far, the speed bump issue is only being addressed in the city of Las Vegas.
"Our research hasn't revealed any speed bumps that we've had removed," said Jeff Buchanan, deputy fire chief for the Clark County Fire Department.
— To reach East Valley View reporter F. Andrew Taylor, email ataylor@viewnews.com or call 702-380-4532.