Tenants deal with changes at shopping center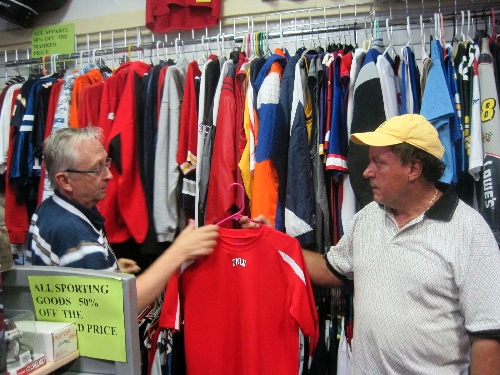 Visit the shopping center at Rancho Drive and Charleston Boulevard during lunchtime, and one might have trouble finding a place to park. With a couple of restaurants, a pharmacy and various other tenants, the center is typically bustling with people in the afternoons.
In the heart of the Rancho Oakey neighborhood, where several nearby hospitals and businesses are located , it's no wonder places such as the Mix Zone Cafe and the Omelet House are able to draw a lunchtime crowd. Some business owners, however, are seeing a drop in the number of patrons, especially during the summer .
"When it's busy, the parking lot is full, but the restaurant is not always full," said Wiyada Boonnasumrong, Mix Zone Cafe owner. "Business has gone a little bit down, and that's why people move out."
Used bookstore Book Magician closed at the site several months ago, and there's an empty space where a smoke shop once stood. These storefronts are a fraction of what's in the shopping center, but that doesn't keep Boonnasumrong from being skeptical about the longevity of businesses there.
"You see more (businesses) move out than in," Boonnasumrong said. "Maybe it's the economy. Maybe rent needs to be dropped down a little bit. For us, we've been here for a year and a half, and I don't feel anything yet."
Some businesses have not seen a drop of patrons, but Kenneth Heaton, pharmacist at Ken's Pharmacy, said the direction of his store has resulted in doing business differently.
"We've really changed from a foot-traffic store to a delivery store," Heaton said. "We've changed the direction of the pharmacy, so we're trading money with wholesalers, and we have a free delivery service."
Heaton said he understands some business owners' complaints about the parking lot, but "it's the nature of the beast," he said.
"We don't have a fantastic parking lot, but parking is what it is, and there's nothing we can do about it," Heaton said.
Other tenants have seen a growth in business throughout the past few years. Jay Cap, co-owner of Save On Sports, said he's experienced an increase in sales during the past three years of being in the shopping center.
"The business is growing as more people find out about us over here," Cap said. "A lot of people work in this area. It's a pretty busy lunch area, and it creates a lot of foot traffic."
Co-owner Frank Devitte said the familiarity of the surrounding areas makes the location for Save On Sports ideal.
"It's an older area, so people know about it. People feel comfortable here because they know about this area. It's also a good central location in the valley."
Cap and Devitte don't anticipate moving from the shopping center anytime soon. They're satisfied with rent and overhead costs being lower than some other places in the valley and like catering to a crowd that usually comes from the hospitals and the Omelet House.
Other business owners, such as Ray Foster, who runs Desert Ink Tattoo, don't plan to move, either.
"I plan to stay here at least another year, maybe longer," Foster said.
Although a couple of businesses haven't survived in the center, Cap believes it could be attributed to the type of business rather than decreasing foot traffic or other reasons.
"The Omelet House has been here a long time, and it's been a good location for them," Cap said. "I think, with the bookstore, it's the nature of the fact that with the Internet now, people can download books."
Contact Paradise/Downtown View reporter Lisa Carter at lcarter@viewnews.com or 383-4686.