Ex-cop avoids prison term in HOA scheme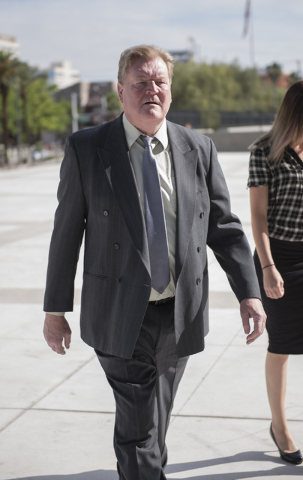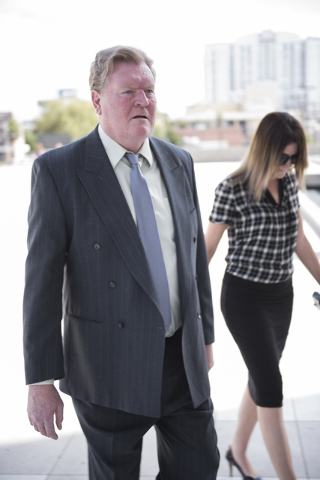 Federal prosecutors wanted retired Las Vegas police Capt. Frank Sutton to spend a year in prison for his role in the scheme to take over and defraud Las Vegas-area homeowners associations.
But U.S. District Judge Andrew Gordon Thursday refused to put him behind bars.
Gordon gave Sutton, a "puppet" HOA board member at Park Avenue, a stern lecture but sentenced him to three years of probation with six months of home confinement.
He also fined Sutton $20,000 and ordered him to serve 100 hours of community service.
"I don't know how or why you got involved in this nonsense," Gordon told Sutton, who acknowledged that his actions had "stained" his long police career. "I'm sure you regret it to this day."
Gordon, however, said justice would be better served by not putting the remorseful Sutton in prison. Sutton cares for his bedridden wife and deals with other serious family problems.
"I believe in some circumstances shame is a greater punishment," Gordon said.
Sutton, 61, pleaded guilty in May 2012 to one felony count of conspiracy to commit mail and wire fraud, but unlike roughly three-dozen other defendants who pleaded guilty in the massive takeover scheme, he did not have an agreement to cooperate with prosecutors.
On Wednesday, a retired Las Vegas police lieutenant who did cooperate wasn't as fortunate as Sutton when appearing before U.S. District Judge James Mahan.
Morris Mattingly, 54, a top security officer for the scheme's central figure, former construction company boss Leon Benzer, was sentenced on the same conspiracy charge to 366 days in prison and ordered to pay a share of $190,417 in restitution.
Like Sutton, who also handled security for Benzer, Mattingly was a "puppet" HOA board member who abused his position of trust to vote for Benzer's financial interests. Benzer was awarded lucrative construction defect work at Vistana with Mattingly's help.
The two former cops are among 20 defendants being sentenced this week in the largest public corruption case federal brought in Southern Nevada. The scheme targeted a dozen HOAs between 2003 and 2009.
On Thursday, Mahan sentenced another of Benzer's trusted security aides, Ricky Anderson, to 18 months in prison and ordered him to pay a share of $41,642 in restitution.
Prosecutors described Anderson in court papers as a "jack-of-all-trades" in the takeover scheme, serving as Benzer's "muscle" and helping rig HOA elections.
Anderson, whose Kung Fu skills prompted the FBI to name the long-running HOA investigation Operation GrandMaster, tearfully apologized to Mahan and begged for leniency.
He said he was one of the first to cooperate and had to deal with the death of his wife while in federal custody the past two years.
Benzer, who pleaded guilty and is to be sentenced later this year, used "mental and physical fear" to control his co-conspirators, Anderson said.
Another cooperating defendant, Maria Limon, who ran a community management company Benzer set up, was sentenced to six months in prison.
Mahan also ordered Limon to serve three years of supervised release and pay a share of $24,000 in restitution.
Two brothers, Jose Luis Alvarez and Rudolfo Alvarez-Rodriguez, who were Benzer-controlled board members at Vistana, each were sentenced to 366 days behind bars and three years of supervised release after prison.
Mahan also ordered Alvarez and Alvarez-Rodriguez to pay a share of $184,200 and $119,585 in restitution, respectively.
Contact Jeff German at jgerman@reviewjournal.com or 702-380-8135. Find him on Twitter: @JGermanRJ
Former Las Vegas cop gets prison time in HOA takeover scheme
Bribe figure avoids prison in HOA takeover scheme
HOA manager gets home confinement in takeover scheme
Former Republican official gets prison in HOA fraud case
Key HOA defendant gets four months in prison
HOA defendant gets probation for notary conviction
Benzer pleads guilty in massive Las Vegas Valley HOA scheme
Four found guilty in massive Las Vegas HOA fraud case
Witness: HOA fraud scheme drove Leon Benzer to desperate measures
HOA scheme straw buyer, attorney say they feared for lives
Ex-Metro lieutenant testifies he helped rig HOA elections