False alarm triggers UNLV active shooter alert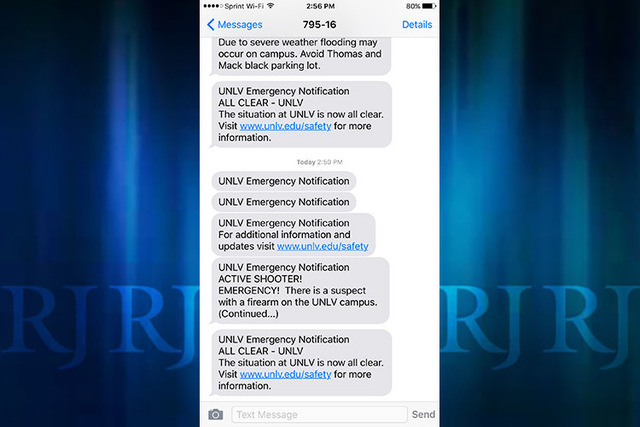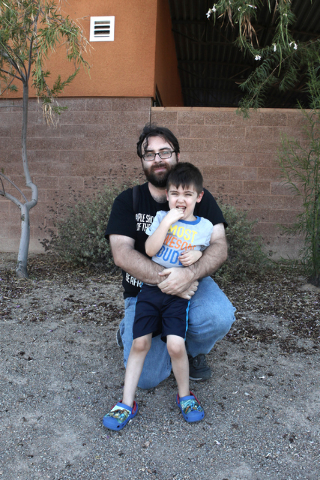 An on-campus, active shooter alert sent to UNLV students and faculty on Wednesday afternoon was determined to be a false alarm, the school's police chief said.
The situation was deemed "all clear" just four minutes after the alert was accidentally activated, school officials said.
The alert was sent at 2:50 p.m. and read "ACTIVE SHOOTER! EMERGENCY! There is a suspect with a firearm on the UNLV campus." It also included, "THIS IS NOT A TEST!"
Minutes later, the second announcement read, "The situation at UNLV is now all clear."
The false notification was triggered by a UNLV police employee, said UNLV Chief of Police Jose Elique.
"A police employee was actually showing another staff member how it worked, and then inadvertently — when he closed his iPad, as it turned out — it activated," Elique said.
Word of the alert spread quickly, and within a minute and a half, at least 40 total units from UNLV, the Metropolitan Police Department and the Clark County Fire Department were on campus and ready for an active shooter response. "The upside is No. 1, the system seemed to work," Elique said.
The chief later released a formal statement through UNLV's communications office detailing what happened, which mirrored his initial comments.
Metro spokeswoman Laura Meltzer said UNLV is in Metro's patrol area, so "when we get a notification about a specific incident like this, officers in our patrol respond right away."
"We've done several of these exercises over the years," Meltzer said.
Before the all-clear was announced, most Metro units had set up a staging area in front of the Lynn Bennett Early Childhood Education Center, a university-run preschool on the northwest part of campus, Meltzer said.
Raheem Bennett, a senior studying integrated marketing at UNLV, said he rushed to the center to pick up his 4-year-old son upon getting the active shooter alert.
"Thank God nothing happened," Bennett said, recalling the frantic 20-minute drive from his home in the southwest valley. "You have all this stress on you about an active shooter, and then on top of that there's Las Vegas traffic."
Bennett said his anxiety surged when he saw "like 20 cop cars" heading in the same direction.
"After I saw that, I got freaked out even more," he said.
A faculty member in the school's Lied Library — who did not identify himself because he was not authorized to speak to the media — said when the active shooter alert was first sent out, he stepped out of his office and saw students who seemed confused and scared, but calm, glancing at their phones and computers.
He quickly ushered the group of about 20 students into his office area, then locked the door. When the all-clear was sent out, everyone filed out of the office area, relieved but shaken.
"The key was not panicking," the faculty member said.
UNLV released a statement about 3:30 p.m. to students and staff that said "UNLV was testing its emergency notification system when it inadvertently triggered a campus-wide message referencing an active shooter on campus. There was no campus emergency and UNLV apologizes for any inconvenience."
Sumra Bartlett, a 32-year-old UNLV graduate student, said she was "outraged" when she learned the alert was a false alarm.
"The thing that UNLV posted, " she said, in reference to the school's statement, "that's kind of nice that they said that, but it would be helpful if they said beforehand that this was a drill, not in all caps, THIS IS NOT A TEST."
Bartlett was not on campus when the alert went out, but said she was worried for the many students and staff she knew who were on campus.
"This is just, what, not even a month after the Pulse shooting happened?" she said, in reference to the Orlando shooting last month that killed 49 and wounded many others. "I had friends at UNLV tell me they were in the bathroom hiding."
"I'm still shaking," she said. "That's just wrong."
William Wolfs, a 34-year-old student pursuing a UNLV doctoral degree in physics, also criticized the school's police department for the alert blunder.
Wolfs was working in the school's physics building when the emergency alert was issued, and he guided about five undergraduates into an office to hide from a potential shooter. His son was just a short walk away inside the Lynn Bennett center.
Initially afraid for himself and his 5-year-old son, Wolfs said his "fear transformed to anger" when he realized it was a false alarm.
"It should be harder to set off the alarm," he said. "But I'm not really surprised by UNLV incompetence."
His son Eli, though, seemed unfazed by the commotion and said he was happy to see the swarm of police officers.
"The cops came right to his preschool," Wolfs said as he carried the boy. "Usually I'm glad he goes to school with me. Not today."
Contact Rachel Crosby at rcrosby@reviewjournal.com or 702-387-5290. Find @rachelacrosby on Twitter. Contact Ana Ley at aley@reviewjournal.com or 702-224-5512. Find @La__Ley on Twitter.