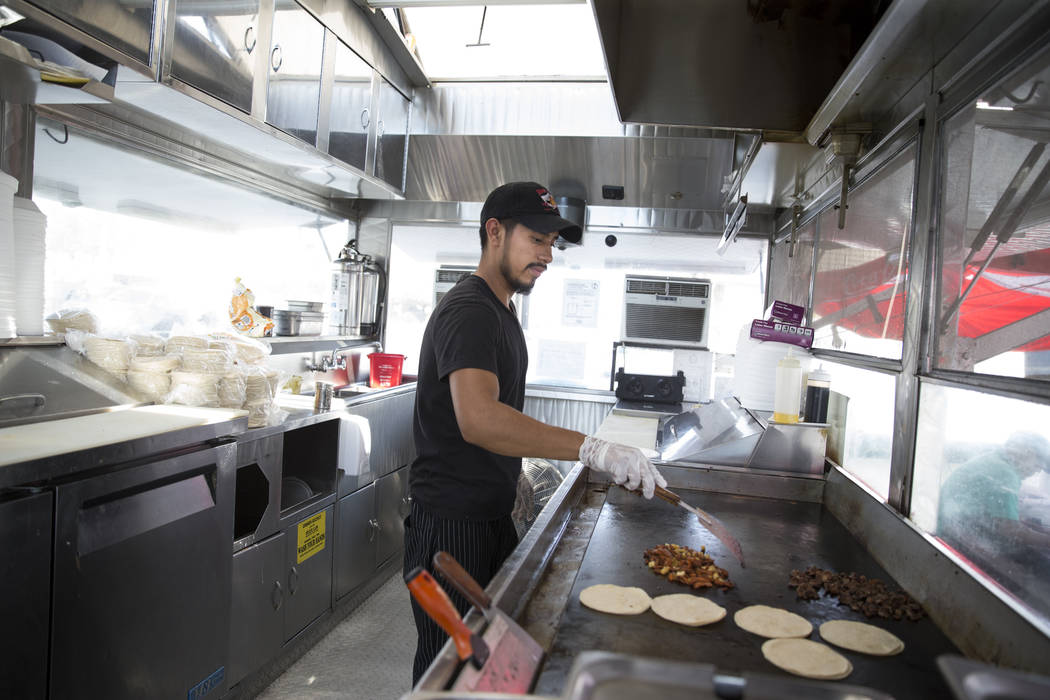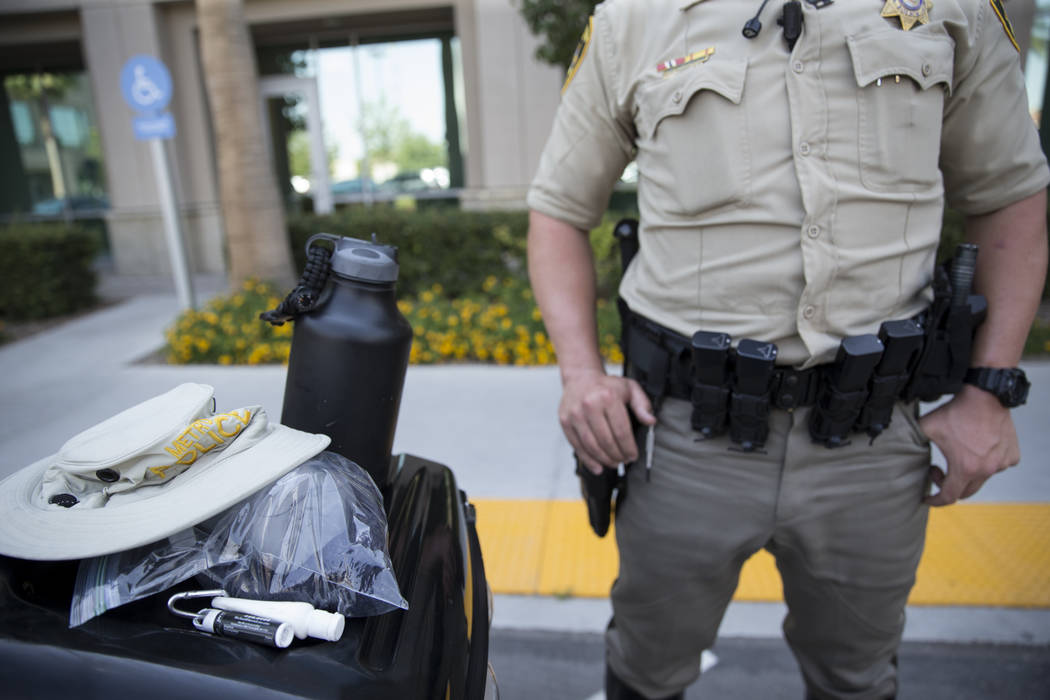 At 2:47 p.m., the taco truck on Las Vegas Boulevard and Bonanza Road hit 115 degrees.
With the ovens on and the meat cooking on the rotisserie, it'd be 130. The metal refrigerators were hot to the touch.
As the Las Vegas Valley hit a sizzling 117 degrees Tuesday, for the first time since 2013, the three workers sitting under the shade of the green Taqueria El Buen Pastor food truck felt defeated. It was just too hot to leave the ovens on.
Oswaldo Hernandez, 20, said in Spanish that he manages work "with the feeling of quitting every day." He's had his food truck job for two years and knows summers are the worst. He's learned to drink lots of water; the men on the truck drink 15 to 20 12-ounce bottles of water daily.
But sometimes water isn't enough. Ricardo Baron, who was running the truck's cash register, said he and his colleagues also drink peach-flavored Pedialyte for electrolytes and soda with salt and a lemon.
The taco crew had plenty of company coping with the heat. Around 3:20 p.m., outside the Las Vegas Metropolitan Police Department headquarters on Martin Luther King Boulevard, Matt Scanlon, a blue-eyed officer with a pink sunburn pulled up in his white Harley-Davidson. He wore knee-high boots, a 20-pound utility belt and a 3-to-5 pound bulletproof vest.
It was 113 degrees.
Scanlon, a traffic officer for more than two years, prepares for the heat, loading his motorcycle with two water bottles: an insulated metal one and a plastic one he freezes overnight. He also packs two towels, a dry one to wipe his face and a wet one to cool his neck.
"And my major piece of equipment right here," he said, showing a tan, floppy hat he wears to shield him from the sun.
On days when he gets really hot, he'll look for shade or stop in a nearby convenience store. "Hey," he'll ask. "Do you mind if I step in your cooler?"
The cold brings relief, he said.
"It feels great," he said with a laugh. "The only caveat is I know I'll have to go back outside."
Meanwhile, in North Las Vegas, in a string of new developments off Shadybrook Lane, crews worked on houses that need roofs, windows or touch-ups. At 4:30 p.m., it was 116 degrees.
Carlos Garcia, a construction worker in a highlighter green T-shirt was finishing his eight-hour shift inside an unfinished house. He and the other members of his three-person crew manage the heat by drinking water, soda and Gatorade and taking regular breaks.
Garcia is careful when it's hot, having learned his lesson. Four years ago, during a construction job, he grew dizzy and saw black. He had to call his supervisor, get medicine and take a break.
Next door, Alex Hill, Garcia's project manager for Harmony Homes walked out in jeans and a pair of reflective yellow sunglasses. He called to his crew across the street.
"Window guys — you look like a bird hanging out that window," Hill said. "Everyone there's baking and their brains are smoldering."
Contact Briana Erickson at berickson@reviewjournal.com or 702.387.5244. Follow @brianarerick on Twitter.
A little relief
Las Vegas temperatures the next two days are expected to be slightly lower than Tuesday. The National Weather Service forecast a high of 116 degrees Wednesday and 114 degrees Thursday.