House fire near Rancho and Oakey kills dog, displaces 8 people
December 31, 2014 - 9:40 pm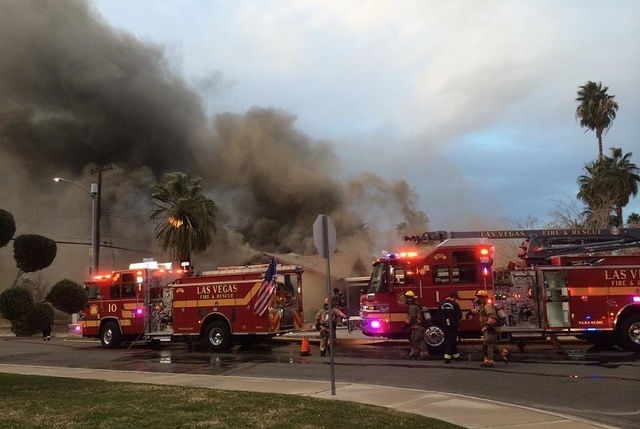 One dog perished and eight adults were displaced Wednesday after a house fire near Rancho Drive and Oakey Boulevard, according to Las Vegas Fire Department.
The fire department reported the fire produced heavy smoke in the rear of a large, one-story wood-frame home on the 1700 block of Ivanhoe Way just after 4 p.m. Firefighters knocked down the fire in about 20 minutes.
Of the eight people who lived in the home, only four were home during the fire. Two of the residents out in a shed behind the house tried to put the fire out by spraying water from a garden hose to a window of a rear bedroom, but the the fire was too intense, the fire department said.
The house was heavily damaged and the roof caved in, but no people were injured. The dog was locked in a rear room and was unable to escape, the fire department said.
The cause of fire was undetermined.
The eight adults have been assisted by the American Red Cross.
Damage was estimated at about $150,000.
Contact reporter Cassandra Taloma at ctaloma@reviewjournal.com or 702-383-0381.