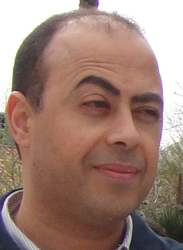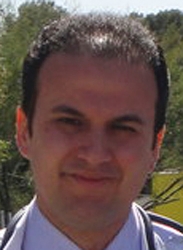 When Hesham Mohamed was born 38 years ago in Libya, Moammar Gadhafi was already in power. The strongman was all Mohamed knew. Growing up, he dreamed of escaping "the oppressor."
For years, the international stain of the Gadhafi regime blocked Mohamed from getting a visa for an internal medicine residency at the University of Nevada School of Medicine at Las Vegas. Persistence paid off, and Mohamed finally succeeded, even becoming chief resident in 2010, his fourth year in the program.
Now Dr. Mohamed and his family in Libya — parents, three brothers and five sisters — are rejoicing across time zones at Gadhafi's downfall after half a year of rebel fighting with NATO bombing help.
"Actually this is a dream," Mohamed said Monday in a telephone interview from Yale University, where a month ago he started a fellowship in pulmonary and critical care. "I could never believe it could happen one day, that Gadhafi can get removed from power. Our people were oppressed for 42 years, living in poverty, and poor education and poor health. And now they're looking for their freedom.
"Everybody in Libya is very happy," he added. "The whole world will be happier without Gadhafi."
Mohamed, like many in the Arab world and Middle East, was celebrating the end of a regime that ruled by the gun and was behind several acts of international terrorism that targeted the West.
At the University of Nevada School of Medicine, Mohamed studied with several fellow Libyans who all came to America by separate, difficult paths to seek a better future by leaving family behind. They also all worked at University Medical Center.
Dr. Husam Elmesallati, 33, finished his internal medicine residency with Mohamed last year and plans to stay in Las Vegas to take a job with a private hospital group. But first he will travel to Libya for the first time in six years to see his parents, three brothers and sisters who survived the war zone.
"They're living in the middle of Tripoli," the capital, which was overrun by rebel fighters over the weekend. "They're OK, fortunately, they're OK. They're fine. They're happy. And they're celebrating."
Elmesallati said the fighting came close to where his family lives. The power went on and off in their neighborhood as bombs exploded and gunfire crackled around them. The Libyan people who never benefited from the country's oil riches suffered in solidarity with the rebels, he said.
"Six months is a lot of pain," Elmesallati said of the months of fighting that tore the country apart. "But it's nothing compared to 42 years of living under a crazy regime. Thank God we saw this day."
Elmesallati said at first he thought it would be impossible to get rid of Gadhafi because the leader and his sons and supporters were so defiant and some of the early opposition wasn't armed.
He said NATO's role in intensifying the battle by bombing helped the new generation of Libyans prevail.
Now, Elmesallati predicted it would take years to see real democracy flourish.
"It's not easy to build a new political system, but I'm optimistic," he said.
Elmesallati said he will go back to Libya in about 10 days, reunite with his family and meet the woman he hopes to marry. He will return to Las Vegas to work for five or six years before possibly returning home.
"I hope to come back to live in my country," he said. "You can't stay your whole life outside."
Mohamed does not know what his future holds — or Libya's for that matter. For now, he wants to stay and work in the United States with his wife and child, although he visits Libya every two years.
"Maybe the new Libya is going to be better than the old Libya," Mohamed said. "I haven't decided yet whether I will return. I'm enjoying my life here. … I would say 95 percent of the Libyan people are living in happiness now. They never thought they would be living this moment."
Much of the Arab world is in transition as dictators fall or hold onto power amid democratic hopes.
Samantha Haikal, a University of Nevada, Las Vegas, senior, just returned from Egypt with her father, who was born there. A Las Vegas native, Haikal, 21, said she visits Egyptian relatives each year.
With President Hosni Mubarak gone, little has changed in Egyptians' day-to- day lives — unemployment and poverty remain high — but now there is great optimism for the future, she said.
"Everything has calmed down, and things have kind of gotten back to normal, but the idea of being able to change your political atmosphere has given people new hope," she said "My cousins told me about a boy getting shot while watching a protest, but it was almost like they were so optimistic. It's unfortunate this had to happen, for somebody to lose a son or a father or a daughter, but to know it was happening because they changed the political scope of their lives was huge for them.
"We take it for granted that we can change the political leaders every four years, but something as simple as casting a real vote that counts is totally new for them."
Contact Laura Myers at lmyers@reviewjournal.com or 702-387-2919. Follow @lmyerslvrj on Twitter.
Libya Uprising