McCarran gets explosive-sniffing canines
December 16, 2014 - 7:31 pm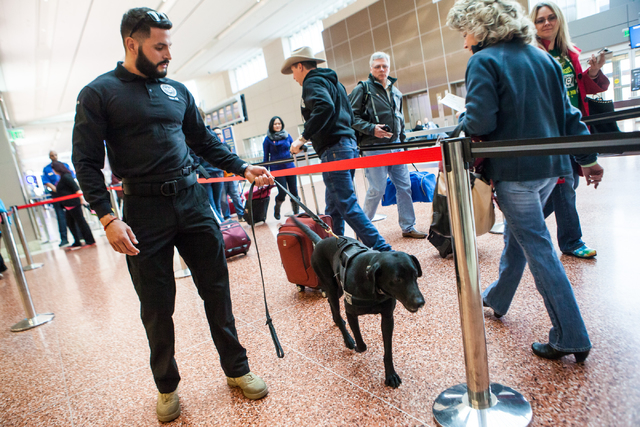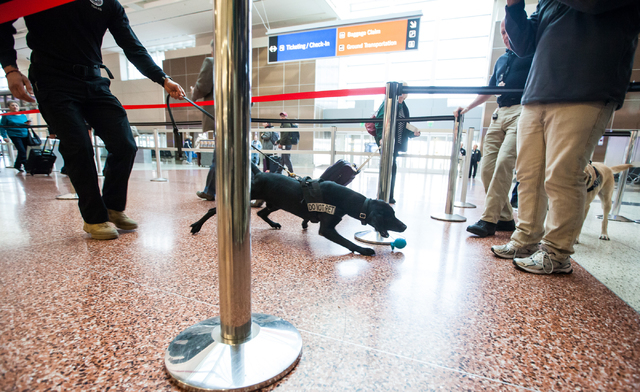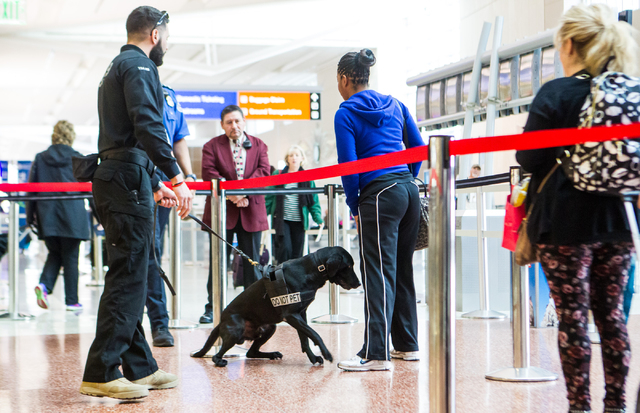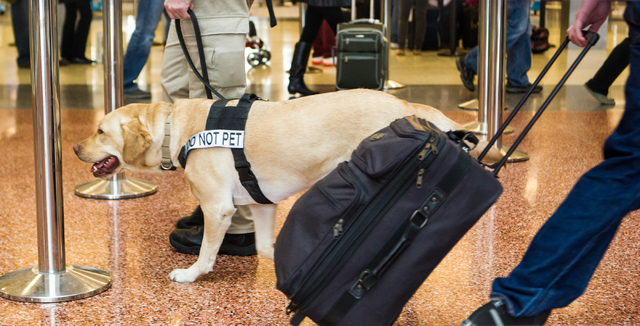 Ozzy, Alfred, DeeJay and Vadar are four of the newest members of McCarran International's TSA security team.
Their job? To check every passenger moving through a checkpoint at one of the United States' busiest airports for explosives. And sometimes they might get a little intimate.
All four are former military or worked for a local police department before they landed in Las Vegas. But they're not as intimidating as they might they sound.
That's because they're dogs — more specifically, Labrador retrievers.
The federal Transportation Security Administration put the animals, known as passenger screening canines, to work at McCarran in August. The agency introduced them to media outlets Tuesday, as the holiday travel season approaches, to promote public awareness. The dogs, trained to work in large crowds, sniff passengers for volatile residue or odors from explosive devices.
"It's essentially what we call another layer of security," said Lorie Dankers, TSA public affairs manager. "We want to have all the tools in the toolbox to keep everybody safe."
The dogs and their handlers, for the most part, stayed within a cordoned off area Tuesday at a checkpoint in McCarran's Terminal 3. From there, they could catch whiffs from passengers walking through a bend in the security line.
Dogs sniffed suitcases and sometimes passengers themselves, with a snout to a leg or an occasional behind.
When TSA sent a woman through as a decoy, Ozzy picked up a scent right away. The dog started pulling his handler toward the woman and stomping his feet. But he didn't bark.
The canines' noses are so sensitive they can detect even a small trace of fertilizer — which can be explosive — on a golfer's khakis, Dankers said.
McCarran is one of just over a dozen airports nationwide to add canines to their security measures this year. Dankers estimates that nearly 100 dogs, all 1 to 7 years old, are working in the program.
Each handler-canine unit costs about $160,000 a year, Dankers said. That covers the human's salary, training and equipment, including a specially outfitted vehicle, plus the dog's veterinary and kennel costs.
The Las Vegas labs join an existing five-canine team at McCarran that's worked at McCarran since 2002. Clark County's Department of Aviation security dogs smell potentially suspicious items such as unattended suitcases and cars. The new crew will stick to security lines.
"We're interested in people who are getting ready to fly," Dankers explained.
Before sniffing at an airport, dogs are trained for 12 weeks at Lackland Air Force Base in San Antonio and assigned handlers to work and live with. Most handlers and dogs have military backgrounds, Dankers said.
Ozzy, for example, sniffed out explosives for Army troops in Afghanistan before coming to Las Vegas.
His handler, Transportation Security Inspector Tim Webb, worked with dogs in the Marines from 2007 to 2012. The two were assigned to each other in February and started at McCarran in August.
"He's the best roommate I could have asked for," Webb said, "and it's fun working with your best friend every day."
Airport officials realize dogs can be intimidating, McCarran spokeswoman Christine Crews said. But so far she has heard no complaints about the increased security.
"The dogs are more welcoming and make people feel warm," Crews said. "The scanners and machines are kind of cold."
Unlike Clark County's dogs, whose breeds include the German shepherd and Belgian Malanois, TSA chose yellow and black labs for their gentle appearance.
"We tend to do more of a sporting breed, because it's a more friendly looking dog," Webb said, "as opposed to a huge dog with pointy ears."
Though the four TSA dogs wear harnesses that say "do not pet" on either side of their torsos, Webb said some travelers still like to pat their heads or scratch their chins while walking by.
"We get two types of people," Dankers explained. "Some people aren't even unaware the dogs are interested in them. Other people who are animal lovers hone in on that dog right away."
Contact Chris Kudialis at ckudialis@reviewjournal.com or at 702-383-0391. Find him on Twitter: @chriskudialis.