Nevada jobless rate increases
December 17, 2010 - 6:06 am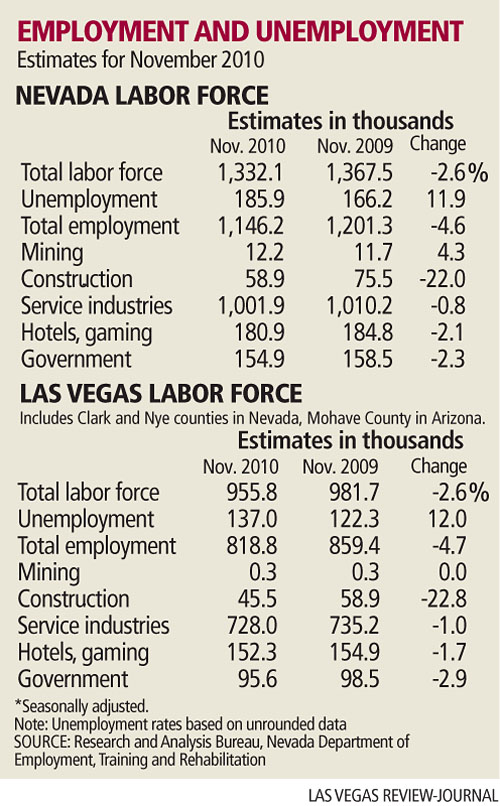 The recession has wiped out 15 years' worth of economic growth in some corners of Nevada's economy, and experts say some of that lost commercial activity could be gone for good.
Friday numbers from the state Department of Employment, Training & Rehabilitation show sustained gains in joblessness across Nevada and in Las Vegas. Unemployment ticked up statewide from 14.2 percent in October to 14.3 percent in November, while joblessness in Las Vegas rose from 14.1 percent to 14.3 percent in the same period.
And as pretty much every unemployment report during the downturn has revealed, the construction and hospitality sectors continue to feel the brunt of the downturn.
Start with construction.
For the first time since February 1995, construction employment in Nevada has dipped below 60,000 jobs. That's less than half the state's June 2006 peak of 145,600 building laborers. The last time Nevada had so few construction jobs, the MGM Grand was the latest Strip casino to have opened, and Clark County had 1 million residents or roughly half its current total.
The employment market in leisure and hospitality has turned especially bleak as well. The industry's jobs base has fallen to its lowest level since October 2001, when resort operators were grappling with the immediate aftermath of the Sept. 11, 2001, terrorist attacks and Bellagio ranked as the world's most expensive hotel ever built, at a cost of $1.7 billion.
Even manufacturing has taken a big hit: Factory jobs in Nevada have fallen 26.3 percent since their peak, retreating to their April 1996 levels. Back then, the Stratosphere was preparing to open and boxer Evander Holyfield sported an intact right ear.
Yes, it's been an eventful decade and a half for Nevada — so eventful that a repeat performance is highly unlikely, experts say. That means many of those boom-era jobs lost in the recession probably won't return, even when the economy improves.
"It's debatable as to whether we're going to see Nevada lead the nation in terms of population growth for two decades running like we did before," said Bill Anderson, chief economist for the state employment department. "That's going to lessen the need for expansion in our housing base. In construction, I doubt we will ever get back to where we were. Two decades down the road, perhaps we'll be back to where we were, but for the foreseeable future, I don't see that happening."
Added Brian Gordon, a principal in local research and consulting firm Applied Analysis: "At one point, we had construction workers building homes for construction workers. The amount of development activity that was taking place during the peak was unsustainable. The market is being equally penalized on the downside. Reaching back to those peak levels is improbable in the near term and unlikely even over the next several years."
Construction's share of the labor market has plummeted from 12 percent to 6 percent, and now rests on a par with the national average, Gordon noted.
"There just aren't enough reasons to be building additional product in this market," he said.
Nor is the Strip likely to see another building boom like the one it experienced from 1989 to 2010, when the resort corridor welcomed 15 new hotel-casinos. The coming dearth of fresh openings is why Anderson said long-term trends in the leisure and hospitality market point to a steady, rather than growing, jobs base.
Even if resort business picks up substantially, hotel-casinos probably won't revive the nearly 40,000 additional jobs they had at their 2007 staffing apex. Gordon said they've learned "valuable lessons" about efficiency in the downturn, dropping their labor counts from an average of 1.4 workers per hotel room to 1 staffer per room.
"As demand and revenue return and visitors begin spending more, we may see the job numbers loosen up a bit, but operators across the board have figured out that they have the ability to do more with less, and they will attempt to hang on to those efficiencies they have today," Gordon said. "It will take some time, and more customer spending, with more money demanding more services. Those factors are not present in the market right now."
Manufacturing provides a relative long-term bright spot, Anderson said. It could regain the 13,500 jobs it's lost in the recession, especially because its labor base has held up fairly well in recent years when compared with manufacturing in other states.
The latest jobless report does have some upbeat news, with some smaller industries showing improvement.
Retailers added 1,300 jobs from October to November, with positions in the sector up by more than 4,000 since the start of 2010. Professional and business services, a classification that includes architects, engineers and accountants, increased by 900 jobs from October to November. The combined category of education and health services added 500 posts from month to month.
Plus, the average number of hours worked per week inched up for the first time in a year. That's important because the number of hours worked signals future hiring trends. When employees put in fewer hours per week on average, that means employers have little need to add labor for growing sales. But a gain in hours worked would reveal improvements in business that could lead to hiring in months to come. So it's notable that November brought the first increase in the indicator in the last year, with hours worked rising from 34.2 a week in October to 34.3 a week in November.
"Only a string of monthly gains will indicate future hiring," Anderson said. "We are not there yet, but it's a start."
Slower erosion in the jobs market also suggests that unemployment here may have found its bottom. The state's jobless rate hovered between 14.2 percent and 14.4 percent from June to November; in the same period in 2008 and 2009, joblessness jumped 1.6 percentage points and 1.4 percentage points respectively.
"The stabilizing unemployment rate indicates that the worst of the recession is over," Anderson said. "However, the unemployment rate will likely remain elevated well into 2011 before declining slowly over a number of years."
The employment department also released new numbers on wages. Nevada's average hourly pay has fallen during the recession, from $18.45 to $16.30. Combined with the three-year slump in hours worked per week, private-sector workers now earn $83 a week less than they did before the downturn hit in December 2007.
The work force also shrank year over year, dropping by 2.6 percent, or 35,400 workers, statewide, and 2.6 percent, or 25,900 workers, in Las Vegas.
Unemployment nationwide came in at 9.8 percent in November.
Nevada has led the nation in unemployment since May, and had by far the highest rate in November. Michigan and California tied for second, at 12.4 percent. Just nine states had double-digit joblessness in November.
Contact reporter Jennifer Robison at jrobison@review
journal.com or 702-380-4512.