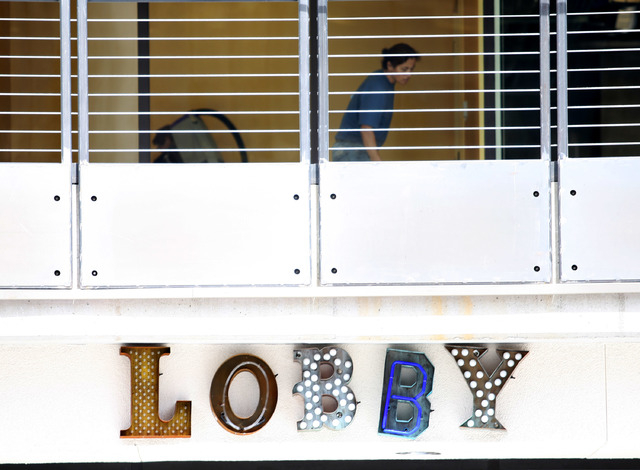 Just hours before hundreds of Zappos workers pour into the company's new headquarters in downtown Las Vegas, Adam Ward was still fitting bricks into place in the lobby.
It's been more than a year since the company started renovating the former city hall at 400 Stewart Avenue but Ward still had thousands more bricks to go.
Ward didn't seem rushed. Despite the late hour, he was still making time to watch football on a mobile screen as he meticulously placed each brick.
He could afford to take his time as the bricks weren't integral to the structure, they were Lego bricks he was using to make a wall-sized replica of the Zappos logo.
"A ton of planning, first and foremost," Ward, a Lego artist from Los Angeles who met Zappos CEO Tony Hsieh through Joey Vanas, the head of First Friday Las Vegas, said of the process of turning 80,000 tiny pieces of plastic into artwork for a corporate lobby.
And Ward wasn't planning to finish the piece, anyway. He's creating the Lego logo but leaving much of the space around it blank for others to complete.
"Over the next few months it can grow and evolve, just like this space," Ward said.
The Lego art is just one example of how Zappos — which grew from an online shoe-selling startup into a $1.2 billion Amazon acquisition in just about 10 years — is transforming the former city hall building and much of downtown Las Vegas.
The lobby where Ward was working was previously a poorly lit, stale-smelling lobby for Las Vegas police.
Soon it will be a comfortable public space with wood-panel walls and a bright, airy atmosphere that should be inviting to anyone who wants to plop down with a laptop and do some work or just socialize.
Patrick Olson, a manager of campus development, said the remodel was inspired by the lobby of the Ace Hotel at Broadway and West 29th Street in Manhattan.
"It ends up being a co-working space in the day and a bar at night," Olson said of the Ace lobby.
The first 200 or so workers are slated to move in Monday. The building will accommodate as many as 2,000.
The lobby is just one of the spaces that will be open to the public on the approximately six-acre campus that's scheduled for a ribbon-cutting celebration Monday afternoon.
Its entry is off another public space, a concrete plaza with a stage for performances that leads to a park-like area with trees and grass and a new brick wall to separate it from traffic that zooms by on 4th Street.
In addition to being open to the public, the plaza is is the entry for every employee, no matter where they park.
The idea is to make the building as conducive as possible to what Hsieh calls serendipitous collisions, which are unplanned interactions he considers key to a vibrant corporate culture.
Other changes include the creation of a 13,000 square-foot cafeteria in a former library. The cafeteria retained the original terrazzo style flooring but has added a professional kitchen and will soon have an outdoor dining area complete with strings of lights that will give the space an intimate atmosphere.
The plaza is surrounded by walkways from which Zappos had walls removed and replaced with minimalist fencing to create a more open feeling. And on the second floor they've recreated the "monkey row" concept used at the current headquarters in Henderson.
The monkey row is workspace for Hsieh and other top corporate officers. Instead of using large offices removed from the front lines, they sit in a common work area visible not only to everyday Zappos workers but people on public tours.
In the 10-story tower that makes up the majority of the workspace nearly every non-load bearing wall has been removed to let more natural light into previously enclosed spaces.
False ceilings were removed to open the space further and data and electrical wires are run in mesh-like troughs along the ceiling, easing reconfiguration of work spaces as needed.
So-called "bubble spaces" located in the row of windows that bulge out on each floor will be customized by people who work there.
And workers who don't want to go to the large cafeteria in the former library will be able to go to the smaller Z Cafe on the second floor. That space is highlighted by two large, windowed, garage style doors that open onto a rooftop where the company is planning to place tables and shade structures. Diners will be able to see the Las Vegas skyline, the Mob Museum and even mountain ranges that surround the valley.
But for all the changes the exterior of the building doesn't look that much different than it did from 1973 to 2012, when it was Las Vegas City Hall.
The travertine facade remains mostly unchanged. The chambers where the City Council once met looks as it always has, save for the room once used for closed meetings. It's now a small bar, and may become a music jam room.
Rather than spend the $60 million renovation budget to radically remake the campus, Zappos chose minimalist approach to complement the company's unique corporate culture.
"It is not revolutionary," said Zach Ware, a contractor leading the campus development effort for Zappos. "We haven't over-designed or over-built like most companies. We are much more focused on the function."
Design touches intended to encourage people to interact and enjoy their day at work range from large to small.
On the large end is the 10th floor, once home to offices of the mayor and council members. Now its an open, naturally lit space where anyone can set up shop and enjoy the view while working.
"This whole building was a collection of little offices," Ware said of the space that's now open and stocked with clean, modern furniture.
Small touches include large, flat-panel touch screens for video game play in the elevators. The idea, Ware said, is to help people overcome their tendency to clam up while riding with other people.
"You start playing games and you miss your floor, which is the exact thing we were looking for," he said.
That the makeover includes such quirky features is no surprise considering Zappos, which moved to Henderson from San Francisco in 2004, maintains the sensibilities of tech companies in the Bay Area and Seattle, albeit on a smaller scale.
Margaret O'Mara, a University of Washington history professor who has researched Silicon Valley corporate culture, said it's typical for growing firms to want their workspace to reflect the company's style.
"There is a lifestyle statement being made," O'Mara said.
In the case of Zappos the lifestyle, which is covered in great detail in Hsieh's book, "Delivering Happiness," and in talks he frequently gives at corporate events, aims to be irreverent and fun.
That would explain the Lego sculpture, ping pong tables and elevator video games. They're a way to appeal to the type of worker Zappos seeks for jobs that vary from taking telephone orders from consumers to providing tech support to fashion buyers.
"It is all about human capital … seeming like a cool place to work for people who are in demand," O'Mara said.
Even the downtown location is a reflection of Hsieh's values. In addition to approving the corporate move, Hsieh is the main investor in Downtown Project, a $350 million real estate, business and technology effort aimed at reviving the area around the new campus.
Zappos workers will be encouraged to visit cafes, bars and other businesses that are cropping up in the downtown area, some in buildings now owned or leased by the Downtown Project.
RGG, which is owned by Andrew Donner, the real estate consultant for Hsieh's downtown project, bought the new headquarters building from the city in an $18 million deal, with the city carrying the note. Amazon, Zappos' parent company, has a 15-year lease.
O'Mara said the overlapping of Hsieh's corporate responsibility and personal investment is another unique aspect of the move downtown.
"Where the line between the personal investment and the company's investment, where that stops where it begins that can be tricky," she said.
But she added that if the end result is a more vibrant downtown it could help Zappos and the surrounding community.
"Cities that are happening cities – that are cool – are the places that have the edge in terms of winning talent," she said.
Follow Benjamin Spillman on Twitter at @BenSpillman702 or contact him at bspillman@reviewjournal.com.
Zappos will open its new corporate campus Monday at the former City Hall building at 400 Stewart Ave. in downtown Las Vegas
The public opening celebration starts with a news conference at 3:30 p.m. in the campus lobby, followed by a ribbon cutting and "campus hunt" from 4 to 6 p.m.
The plaza and lobby will be open to the public and tours will be available mid-October. Email tours@zappos.com to sign up for a date and time.