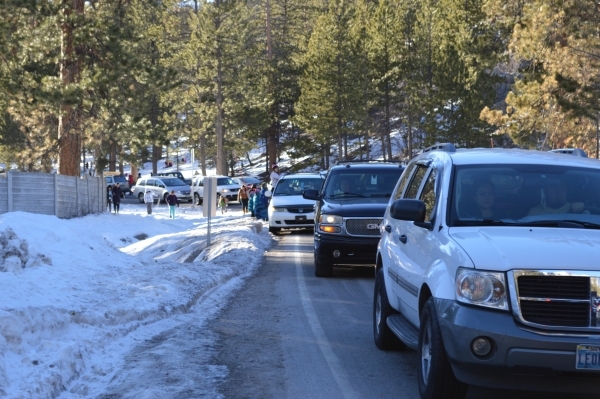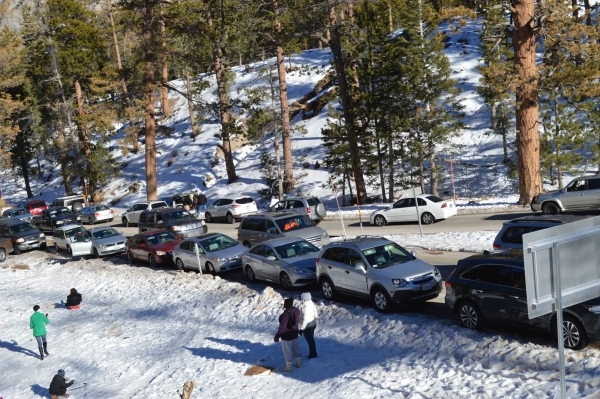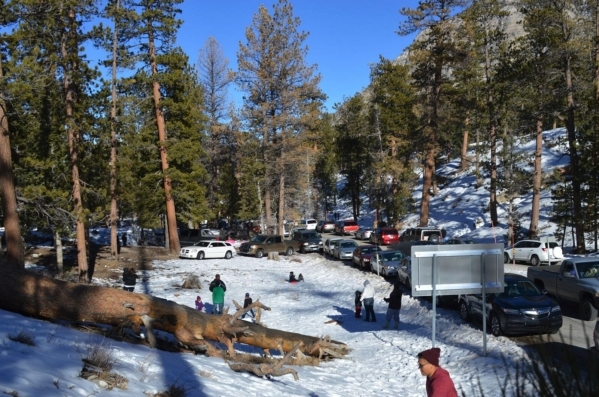 Trooper Jason Buratczuk doesn't want a repeat of what happened last weekend on Mount Charleston.
"Last weekend was a nightmare up on the mountain. There was like a two-hour wait," the Nevada Highway Patrol spokesman said. "We had someone grilling (food) in the middle of the road. It was crazy."
To avoid such a scene during the long Martin Luther King Day weekend, NHP is stepping up patrols on the mountain, especially in Lee Canyon, where troopers will be taking aim at illegal parking and other traffic-snarling behavior.
The Highway Patrol and Nevada Transportation Department are also prepared to close state Route 156 when traffic begins to overwhelm the roads and parking areas in Lee Canyon.
People planning a trip up the mountain should call 511 (the number is 877-NV-ROADS outside of Nevada) or go online to mtcharlestonwinter.com for the latest road information before heading out. The website also has weather forecasts and safety tips for driving and recreating in the snow.
The road into Lee Canyon has already been temporarily shut down several times so far this winter.
Erica Hupp, spokeswoman for the U.S. Forest Service at Spring Mountains National Recreation Area, said traffic was halted a few times during the week between Christmas and New Year's, when an estimated 75,000 people visited Mount Charleston.
The Forest Service also brought in seven additional law enforcement officers from Utah and Idaho to help manage the crowds that week, Hupp said.
Last year, the Forest Service helped launch the Mount Charleston Winter Alliance and mtcharlestonwinter.com to inform and educate the public about how to safely enjoy Las Vegas' favorite snowy getaway.
Other alliance members include the Clark County Fire Department, Mount Charleston Fire and Rescue, the Metropolitan Police Department, Highway Patrol and the state Transportation Department.
Hupp said the group was formed in hopes of improving safety and curbing congestion on the mountain, where traffic got so bad last winter that an ambulance struggled to reach the scene of a car accident.
"We had someone seriously hurt, and it took almost an hour to get them help," she said. "Law enforcement people were saying, 'No, this can't happen again.'"
This weekend, Buratczuk said, visitors should expect closures or delays of up to two hours during especially busy times near the ski resort and popular snow-play areas in Lee Canyon.
Drivers who park illegally should expect to get a ticket, he said.
Contact Henry Brean at hbrean@reviewjournal.com or 702-383-0350. Follow him: @RefriedBrean
Mount Charleston road information
Call 511 (1-877-NV-ROADS outside of Nevada)
Online:
mtcharlestonwinter.com