Strip-search policy at Las Vegas jail violates Constitution, judge says
December 1, 2015 - 12:17 pm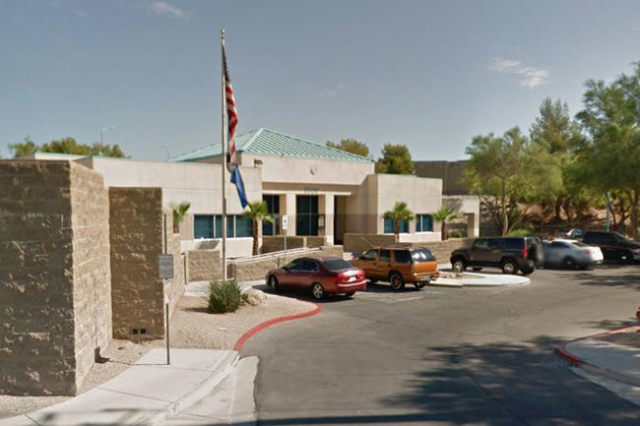 Corrections officers at the Las Vegas Detention Center violated the constitutional rights of a woman who was strip-searched at the facility after her July 2012 arrest, a federal judge has ruled.
Senior U.S. District Judge Kent Dawson also concluded that the jail's underlying policy, which requires officers to strip-search all inmates assigned to isolation cells, is unconstitutional.
Amy Rose, legal director for the American Civil Liberties Union of Nevada, hailed the ruling after reviewing it Monday. She called it "a very important decision to protect Nevadans' rights against unconstitutional searches."
"I'm glad that this unconstitutional policy was brought to light," said Rose, whose organization is not involved in the case.
Las Vegas Deputy City Attorney Jack Eslinger said he could not comment on Dawson's ruling because the case is still in litigation. It's unclear if the ruling will prompt changes in the jail's policy.
Graham's attorneys could not be reached for comment.
The 23-page order stems from a 2013 lawsuit filed by Shimeka Graham, a corrections officer at the Clark County Detention Center who was arrested by North Las Vegas police on a domestic battery charge after a dispute with her 16-year-old son.
After being booked into the Las Vegas Detention Center, Graham was placed in an isolation cell because of her position as a corrections officer. She was released 13 hours after being booked, and the battery charge was later dropped.
According to Dawson's Nov. 20 order, Las Vegas Detention Center officers needed reasonable suspicion to strip-search Graham.
"Here, the offense was a misdemeanor, a minor offense," the judge wrote. "Additionally, the city of Las Vegas has not offered any evidence of reasonable suspicion that plaintiff was carrying or concealing contraband."
The ruling details the July 24, 2012, incident that led to Graham's arrest. On that date, Graham received a call from her son while she was at a friend's house, and the teenager hung up on her during the conversation. She tried to call him back, but he did not answer, so she drove home.
At the residence, the two had an argument, and Graham told her son to leave. When the teenager approached his bedroom to gather his belongings, Graham blocked him with her outstretched arms and pushed him, causing him to step back. She then called 911.
Dawson noted in his order that Graham called police in an attempt to de-escalate the situation and "to safely remove her son from the household."
"Upon the arrival of the officers, plaintiff gave them her driver's license to confirm her identity and notified them that she was a newly promoted sergeant with the Clark County Detention Center," according to Dawson's order. "Plaintiff was a corrections officer for fourteen years prior to her promotion."
After calling 911, Graham also called her watch commander and Terry Graham, a North Las Vegas police officer who is her ex-husband and the father of her son. An officer later spoke with Terry Graham, who was out of town at the time, on the phone.
A breath test revealed that Shimeka Graham had a blood-alcohol level of 0.19 percent, more than twice the legal limit for Nevada drivers. Although responding officers noted that there were no "visible marks or bruises" on her son, she was arrested on the domestic battery charge.
Shimeka Graham argued in her civil case that the subsequent strip-search amounted to an unreasonable search. The city of Las Vegas argued that strip-searches are performed for the protection of inmates and staff.
In his recent order, Dawson granted Shimeka Graham's request for summary judgment against the city of Las Vegas on her civil rights claims regarding the strip-search and corresponding policy, in addition to her claim for invasion of privacy.
However, the judge granted the city of North Las Vegas' request for summary judgment on her civil rights claims related to the breath test and her arrest. He also granted both cities' request for summary judgment on the woman's civil conspiracy claim and a false imprisonment claim.
In addition, Dawson granted both cities' request for summary judgment on Shimeka Graham's claim for punitive damages. Under Nevada law, punitive damages are awarded only "where it is proven by clear and convincing evidence that the defendant has been guilty of oppression, fraud or malice, express or implied."
According to Dawson's order, "There is no evidence to support a finding that the city of North Las Vegas acted with evil motive or intent, or that their actions involved a reckless or callous indifference to plaintiff. … Further, there is no evidence to support the allegation that the strip search of plaintiff was conducted with mal intent, a reckless disregard for plaintiff's rights, or for the purposes of oppression. To the contrary, the strip search was conducted pursuant to a blanket Detention Center policy."
Dawson also granted Terry Graham's motion for summary judgment on his ex-wife's civil conspiracy and civil rights claims against him. Shimeka Graham alleged that Terry Graham was the impetus for her breath test, arrest and strip-search, but the judge concluded that "his connection to the events leading up to this case appears to be cursory, at best."
Judges may rule on claims, in response to motions for summary judgment, when they determine that no factual issues remain for a trial on those claims.
Contact reporter Carri Geer Thevenot at cgeer@reviewjournal.com or 702-384-8710. Find her on Twitter: @CarriGeer