2 Nevada monuments face scrutiny as Trump orders review
Updated April 26, 2017 - 8:05 pm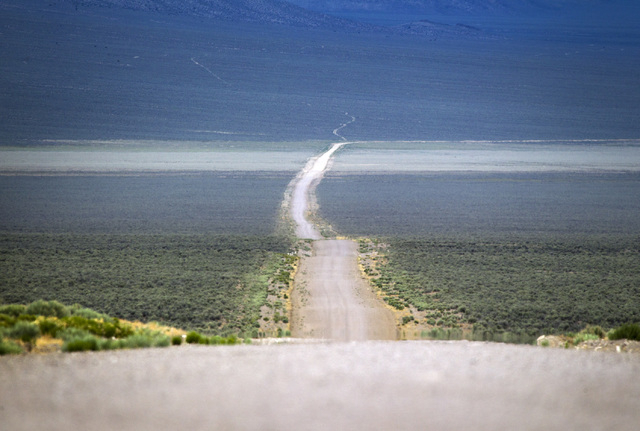 Backers of Nevada's newest national monuments are bracing for a push by President Donald Trump to roll back those designations.
Trump signed an executive order Wednesday directing Interior Secretary Ryan Zinke to review presidential monument declarations over the past two decades and recommend possible changes to their boundaries and scope.
The four-month review is expected to include Gold Butte National Monument in northeastern Clark County and Basin and Range National Monument in remote Lincoln and Nye counties, though only one monument — Bears Ears in southeastern Utah — was singled out by name in the president's order.
"We're very dismayed," said Jaina Moan, executive director of Friends of Gold Butte, one of a host of local and national conservation groups to speak out against Wednesday's action. "We worked hard on this for 15 years. I think the issue has been decided."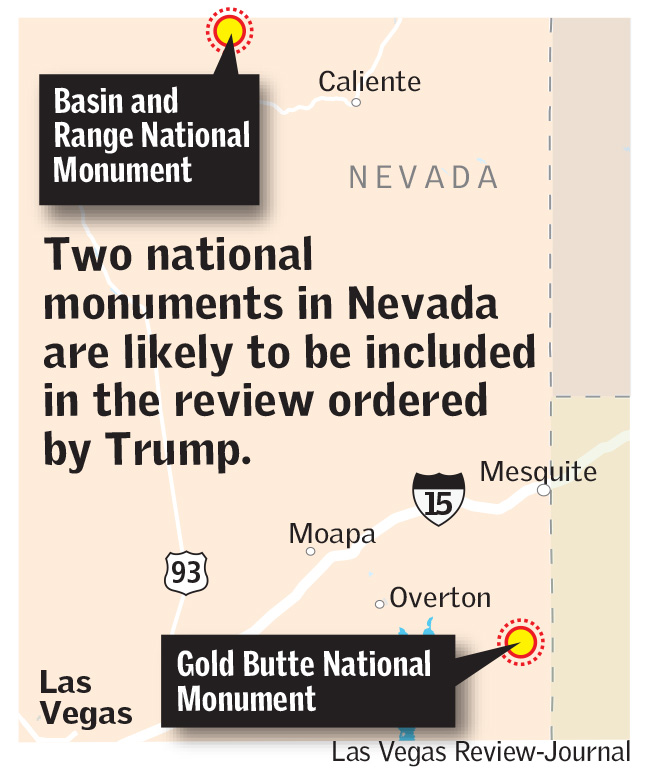 Ecologist and conservationist Jim Boone, who campaigned extensively for both Nevada monuments, said he expects any effort to shrink or rescind the preservation actions of the past three presidents will lead to a bitter fight in Congress, years of litigation and a possible date with the Supreme Court.
"I think it's headed nowhere to be honest," Boone said.
But Nye County Commissioner Lorinda Wichman welcomed Trump's order. "I'm glad he's doing it. Somebody needs to review it," she said.
Wichman represents the portion of Nye County included in the 704,000-acre Basin and Range National Monument. She said she still objects to what she called the "lack of consultation" that led to the monument's creation, but she's relieved that livestock grazing and other "traditional uses" were preserved in the final proclamation.
"The size of it I think is completely silly, but does it affect anything we're doing? Not really," Wichman said of the mostly empty monument.
During a signing ceremony at Interior Department headquarters in Washington, Trump said his order takes aim at what he called "another egregious abuse of federal power": the expanded use of a 1906 law that authorizes the executive branch to set aside public lands for protection.
"The Antiquities Act does not give the federal government unlimited power to lock up millions of acres of land and water, and it's time we ended this abusive practice," Trump said.
Presidents dating back to Theodore Roosevelt have used the act to preserve areas with historic, cultural or scientific importance. Legal experts have said the act does not give a president authority to rescind a previous declaration.
President Barack Obama designated Basin and Range National Monument on federal land 120 miles north of Las Vegas in July 2015. He followed that up in December 2016, a few weeks before leaving office, with declarations that established Gold Butte National Monument on 297,000 acres of federal land 100 miles northeast of Las Vegas and Bears Ears on 1.3 million acres in Utah.
Trump's order drew a mix of anger and alarm from conservation and outdoor recreation groups, while organizations favoring limited government regulation and reduced federal land ownership heralded the move.
The response from Nevada's congressional delegation was split along party lines, with Democratic Sen. Catherine Cortez Masto blasting the order and Republican Sen. Dean Heller praising the decision to review what he called the Obama administration's "failed Washington-knows-best approach" to land management.
Democratic Reps. Ruben Kihuen, Jacky Rosen and Dina Titus also weighed in against Wednesday's action. Titus called it "a gift to special interest groups," Rosen called it a threat to the state's outdoor recreation economy, and Kihuen said it's proof that the president "doesn't give a damn about Nevadans."
A message left with office of Rep. Mark Amodei, R-Nev., was not returned.
Contact Henry Brean at hbrean@reviewjournal.com or 702-383-0350. Follow @refriedbrean on Twitter.
What it does
The executive order signed Wednesday by President Trump calls on Interior Secretary Ryan Zinke to review all national monument designations or expansions made since Jan. 1, 1996, that exceed 100,000 acres "or where the Secretary determines that the designation or expansion was made without adequate public outreach and coordination with relevant stakeholders."
Trump's order gives Zinke 45 days to complete an interim report focused mainly on the 1.3 million-acre Bears Ears National Monument in Utah.
Zinke's final report, due in 120 days, is expected to include recommended actions for the White House and Congress to ensure that monuments created under the Antiquities Act over the past 21 years are consistent with the act and do not "create barriers to achieving energy independence, restrict public access to and use of federal lands, burden state, tribal, and local governments, and otherwise curtail economic growth."