Art lovers blast NDOT for removing roadside sculptures near Great Basin National Park
November 11, 2016 - 6:30 pm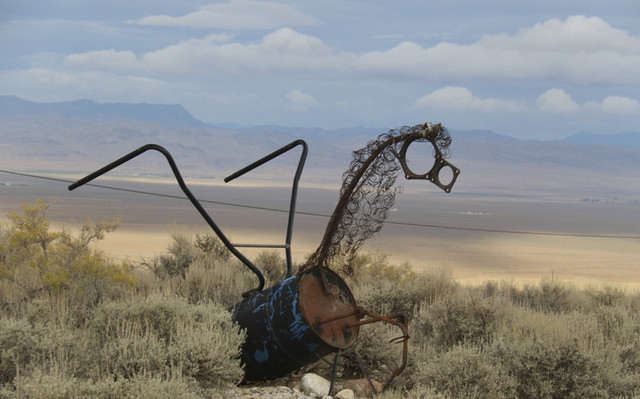 Art lovers in the tiny town of Baker are lashing out at the Nevada Department of Transportation for hauling away sculptures from a roadside exhibit launched by locals almost two decades ago.
An NDOT crew cleared out 15 or so of the largest works of art from state Route 488 on Nov. 1, citing safety concerns along the 5-mile route between Baker and the Lehman Caves Visitor Center at Great Basin National Park.
Department spokeswoman Meg Ragonese said all of the sculptures that were removed were within the highway's "clear zone," which she described as an unobstructed area just off the pavement where motorists can safely stop if they pull off the road.
A few of the art pieces were within 10 feet of passing vehicles, Ragonese said.
"Safety is our top priority," she said in an email.
But residents of the town 300 miles northeast of Las Vegas, including a few of the artists behind the roadside display, said NDOT also hauled off some pieces that were mounted on an existing barbed-wire fence along the highway or positioned far enough from the pavement to pose no real risk to traffic.
And they did so without any warning.
Terry Marasco, owner of the SilverJack Inn and LectroLux Cafe in Baker, called the road department's actions "misguided and arrogant."
He quickly fired off letters to Gov. Brian Sandoval and other officials about the confiscated sculptures.
"I'm in overdrive," the angry innkeeper said this week. "As far as I'm concerned, I'm not done with this."
Baker resident Joyce Nickerson got wind of the art-removal operation just as it was beginning and raced up the road to save her work.
When she got there, she said, a pair of road supervisors told her she was in trouble and could be held liable for placing her whimsical sculptures within the highway right-of-way without permission.
They gave her an hour to take her pieces down or they would do it for her.
"It was very disappointing that there was never any notification from NDOT," she said. "We could have been notified."
This wasn't exactly a pressing new problem, Nickerson said. The oldest of her roadside sculptures had been hanging from the barbed-wire fence since 2012.
The road art tradition on Route 488 dates back to 1997, when an area resident named "Doc" Sherman began decorating fence posts along the highway with old gloves and mannequin heads in funny hats.
Sherman's "post" impressionistic gloves quickly gave rise to a loose collective of pun-loving artists who called themselves "the permanent wave society."
Bill Rountree was among the first to join the fun, with several early sculptures that still stand, including a horse skeleton driving an old car and a "whoa" sign for local cowpokes who liked to ignore more traditional stop signs.
Bill's wife, Katherine, said not everyone appreciated the road art, but most people seemed to.
"It brought joy to a lot of people. It brought headaches to a few. That's just how it goes," she said.
Today, the roadside sculpture gallery is promoted on a local tourism website, and artists are encouraged to put up new pieces each June as part of a competition held during the annual Snake Valley Festival.
Among the pieces removed last week were several sizable new sculptures representing the constellations and inspired by the area's famous dark night skies. Only a handful of smaller pieces remain.
Ragonese said the artwork wasn't labeled so there was no way to contact the owners before it was taken down.
The sculptures will be stored at an NDOT maintenance yard for the next 30 days or until someone claims them, she said. Artists can call the department's Ely office at 775-289-1700 to schedule a time to collect their work.
Katherine Rountree acknowledged that some of the art might have been a little bit too close to the road, and no one ever sought NDOT's blessing to put it there.
"We didn't have a leg to stand on. It's their right-of-way, right?" she said.
But in a town of around 70 people, transportation officials could have found a more neighborly way to handle the situation, she said.
"From a diplomatic standpoint, we thought it was a little heavy-handed," Rountree said. "I understand their point. I think they went about it in precisely the wrong way."
Contact Henry Brean at hbrean@reviewjournal.com or 702-383-0350. Follow @RefriedBrean on Twitter.