Beatty could be the next biking hub
December 7, 2014 - 5:15 pm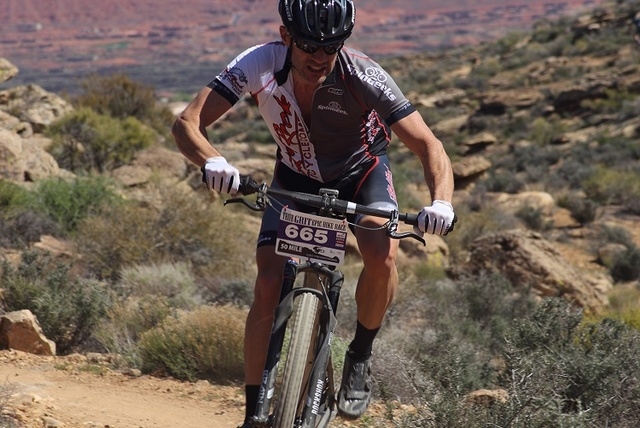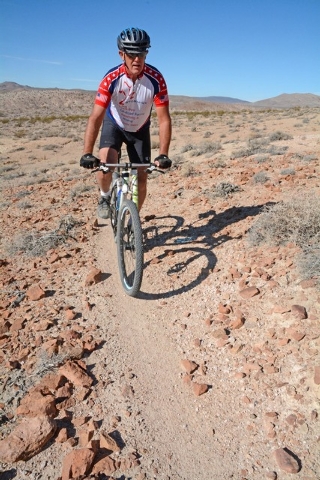 A Beatty-area rancher might have a way to keep his Nye County community from joining Nevada's long list of ghost towns.
It all depends on two wheels, hiking boots, running shoes and horses.
David Spicer of Spicer Ranch has formed the nonprofit Saving Toads through Off Road Racing, Ranching and Mining in Oasis Valley, or STORM-OV, to create 300 to 500 miles of off-road, multiuse trails for mountain biking, hiking, running and horseback riding through the Beatty area, about 120 miles north of Las Vegas on U.S. 95. The trails eventually would link Beatty to the nearby ruins of Rhyolite and Death Valley, 10 miles to the west, and other regional trail networks, Spicer said.
The proposed trails would run through the Spicer Ranch, federal lands and private land controlled by other owners who are willing to grant permission for the trails to run through their properties, Spicer said. He noted he will start constructing single-track mountain-bike trails on his land in February.
"We want to get people off the couches and cellphones and get them on bikes," said Spicer, whose ranch is 7 miles north of Beatty.
Spicer said the trails also could spur the economy by drawing more tourist traffic to Nye County, boosting the hotel and service industries.
"This is an exciting project, and it will make a huge difference to all of us," he said. "We want multiple events going on. If we get new trails we can hold bike races, marathons and horseback riding events. It creates an epicenter here in southern Nye County which will affect every community around us."
STORM-OV has asked Nye County for $150,000 in Community Development Block Grant money to help finance the project's initial phase. The proposal will go to the county commission for a vote Dec. 16.
"This is the only project that really has any promise of bringing money into the county," said Nye County Commissioner Lorinda Wichman, who backs the plan.
"After I heard their presentation, I did go buy a mountain bike," she said.
STORM-OV is looking to follow in the fat tire tracks of Moab, Utah; Fruita, Colo. and St. George, Utah — all towns that have developed trail systems to lure tourists and generate visitor spending.
In the Las Vegas area, Blue Diamond is a popular spot for mountain bicyclists.
"I have been to all of those towns and the transformation that occurred and the money coming into them, the events, the kids, it's happening," Spicer said. "I brought in professionals, hired them, and paid them to answer that question. Is it real, and it could happen here? They drove the existing trails, and they said it absolutely can and will work."
At Spicer's invitation, representatives of the International Mountain Bike Association spent a week in Beatty and determined the played-out mining town has what it takes to become a mountain biking hub: Interesting geology, adequate community infrastructure, a nearby national park — Death Valley's east entrance is just 9 miles down State Route 374 — and a relatively close population base — Las Vegas — 120 miles south on U.S. 95.
The association is a Boulder, Colo.-based mountain biking group that helps organizations and towns build and maintain mountain bike trails.
Beatty, founded in the early 1900s, was a mining town and commercial center for miners in Death Valley. Later, it capitalized on its location as the "Gateway to Death Valley." Although tourists still stop for food, gas and a motel room in the small town, its economy has been on the skids since 1998, when Barrick Gold Corp. closed the famed Bullfrog mine just outside of town.
In the bike system grant application, Beatty is described as "in an economic state of decline," with little economic diversity in the town to attract new residents and tourists.
"The … situation has become dire, with the closure (this year) of the only branch bank in the town of 1,049," the grant application says. "It closed because the town is not generating enough retail income."
Troy Rarick, who runs Over the Edge Sports, a mountain-bike tourism business, has seen what mountain biking has done for another small town: Fruita, Colo.
"Fruita was bankrupt in 1989. I bought the corner building for $26,000 (now worth $400,000-ish) and mountain biking turned the empty downtown into a bustling downtown with two brew pubs, several restaurants and cool shops in less than 20 years," Rarick said.
He added that mountain biking generates $42 million in annual spending in the Mesa County area. Fruita's population has jumped from 2,600 to more than 12,000.
Spicer wants to keep tourists in Beatty by establishing it as a bike hub.
He said during the past 20 years there has been a huge drop-off of events in the area between Beatty and Death Valley.
"I have lived here all my life and we used to have square dancing competitions, walkathons and other events that are now all gone," he said. "Nothing has happened in the last 20 years."
Cimarron Chacon, a consultant with Gro Promotions who designed the trails in St. George, Utah, where she lives, is helping the Beatty project.
"Not getting the grant will not kill this project because this project has developed a life of its own because it's such a brilliant idea," Chacon said. "All sorts of businesses and community members are on board. It would certainly enhance the project. It will help the project go further faster and ensure the long-range plan."
She said the first trails are scheduled to open in the spring. They will be built on private land on the Spicer Ranch that Spicer is donating. This is will speed the process because STORM-OV will not have to go through red tape to build the trails on Spicer's private ranch land.
Carl Olson, Rhyolite's caretaker, said he liked the project presentation.
"The way they would interlock them through (the trails) and bring them out to Rhyolite and past the train station, it's a great idea," Olson said. "I know my own little community up north and the money they get out of mountain biking. They are just riding old forest service trails and not planned routes. I think this is a good thing for the town."
Olson's only concern was whether the proposed mountain bike trails would take away from trails used by motorized off-roaders.
But Chacon said the mountain bike trails don't interfere with the motorized community's trails. She also stressed the trails would be designated for nonmotorized use and not just mountain biking.
Las Vegas Review-Journal writer Alan Snel contributed to this report.