Brothel owner Dennis Hof sues Nye County official for defamation
January 5, 2018 - 9:51 am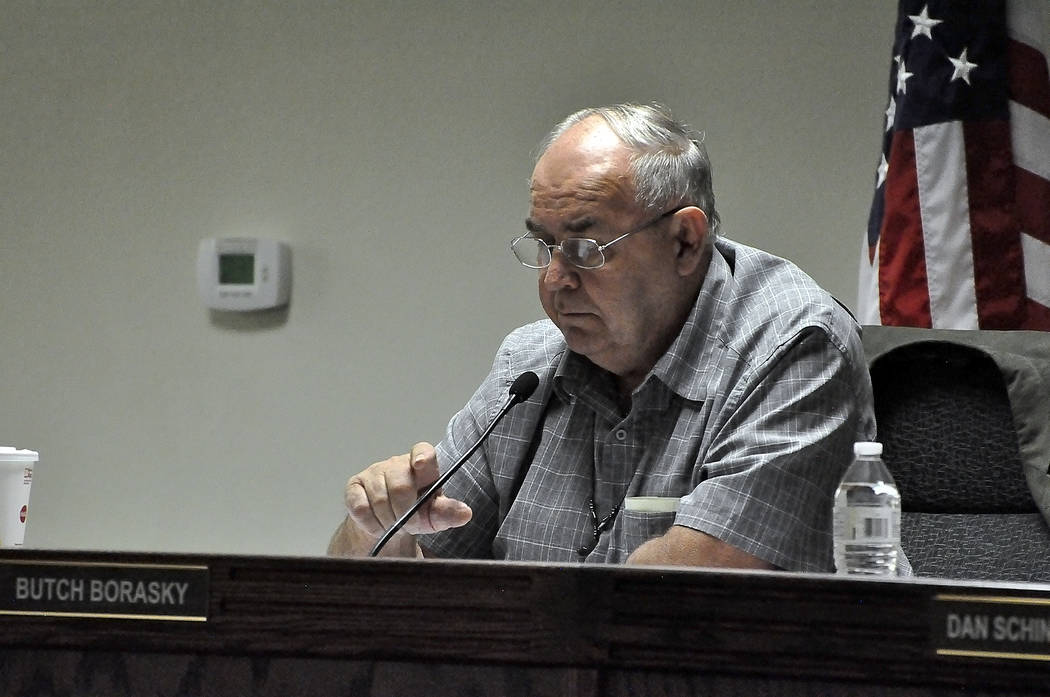 Nye County Commissioner Andrew "Butch" Borasky is being sued by brothel owner Dennis Hof and two others over comments he made during a November board meeting.
Hof, Nye County Republican Central Committee Chairman Joseph Burdzinski and Donald Cox, husband of Nye County Commissioner Donna Cox, filed a complaint Dec. 28 with the Fifth Judicial Court in Pahrump. They seek damages for defamation of character, emotional distress and interference with prospective economic advantage, according to the complaint.
The plaintiffs want $100,000 as a group and at least $10,000 in individual damages for each of the three causes, the complaint filed by Gibson Law Group PLLC in Pahrump shows.
The firm declined to comment on the lawsuit.
The complaint stems from remarks made at a Nov. 21 Nye County Commission meeting.
"If I should disappear, (get) hit in the head with a brick, get run off the road or any other function to take my life away from me, then I would ask that they talk to Mr. Dennis Hof, Mr. Don Cox and Mr. Joe Burdzinski," Borasky said. "I will put that in writing to all the departments, all the sheriffs, and to a whole bunch of agencies, because it's just a gut feeling, but when I get them, they're usually right."
According to the lawsuit, Borasky's comments were intended to harm Hof's bid for the state Assembly because of possible ties to Hof's opponent in the 2016 election, court documents stated.
The complaint also states that Borasky named Cox in the lawsuit because of an alleged dislike of Commissioner Donna Cox, whose political career he intends to harm through "guilt by association."
The case could run into problems with Nevada's open meeting law, which states, "Any statement which is made by a member of a public body during the course of a public meeting is absolutely privileged and does not constitute a ground for recovery in any civil action."
However, the complaint states that "Borasky was not acting in his capacity as a Nye County commissioner but rather, was acting in his individual capacity as a private citizen."
Borasky did not respond to multiple requests for comment.
Hof is challenging incumbent Republican James Oscarson in Assembly District 36.
Contact reporter Jeffrey Meehan at jmeehan@pvtimes.com. On Twitter: @pvtimes