Bush: Nevada monument creation an Obama overreach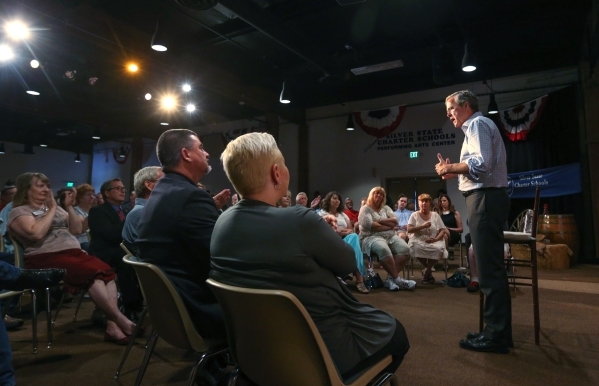 Republican presidential hopeful Jeb Bush said Friday that the designation of the Basin and Range National Monument signed by President Barack Obama was an overreach of executive power that he opposed.
"€œI don'€™t think expanding the narrowing use of public lands is appropriate,"€ Bush told reporters in Carson City, referring to the new federal monument in a remote area of Lincoln and Nye counties. His remarks followed a town hall campaign event.
"There'€™s ways you can build consensus to protect the natural environment and allow people to access their land,' Bush said.
Addressing about 200 people at Carson City's Silver State Charter School, Bush covered a wide range of issues, from school choice to immigration and recent agreement over nuclear proliferation with Iran.
He also distanced himself from GOP presidential candidate Donald Trump, saying Republicans can'€™t hope to win back the White House with divisive comments.
"€œIf conservatives are going to win, we need to be on the side of everybody,"€ he said, though he never mentioned Trump by name.
"œThere are people who are preying on people'€™s fears and anger," Bush told the crowd, adding, "Getting angrier is not going to solve how we control the border."
Trump, the billionaire real estate businessman, has climbed to the top of the polls of a crowded Republican field since announcing his candidacy in June. Trump drew heavy criticism for saying many of the people coming into the United States illegally from Mexico are drug dealers and rapists.
Bush, who speaks fluent Spanish, said he supports immigration reform that allows immigrants in the country to seek legal status, but stopped short of saying that should include a pathway to citizenship.
He said he supports allowing people to obtain a provisional work permit and pay taxes to earn legal status.
Bush spoke Friday evening in Las Vegas at a conference organized by Maverick PAC USA, a political action committee for young conservatives. Speaking to an audience at a ballroom in The Venetian, Bush touted his record while governor of the Sunshine State, casting himself as a candidate who can trim government spending and taxes while creating an economy that boosts incomes.
Bush took audience questions in Las Vegas and was asked about Iraq. He said the United States needs to be more aggressively engaged in the region.
He added that doesn't necessarily mean boots on the ground, but would entail providing more training and increased diplomatic involvement.
"The military has one hand tied behind their backs," Bush said, adding that allows terror group ISIS to stabilize and continue being a threat.
On foreign policy, Bush said he would not have negotiated with Iran over nuclear proliferation, but said if elected he won'€™t "tear up the agreement"€ on the first day. Bush said he would wait to have his State Department and military and foreign policy team in place before deciding how to proceed.
In Las Vegas, Bush stressed again his concern about the agreement with Iran and its impact on stability, saying "We've legitimized the Iranian regime."
In Carson City, Bush praised Gov. Brian Sandoval and the Nevada Legislature for sweeping education reforms and establishing a voucher program modeled after a system he implemented as governor of Florida.
Sandoval, a second-term Republican governor, has been whispered about as a possible vice presidential contender should Bush win the GOP nomination. Bush said any discussion on running mates is "€œway off into the future."
Bush said he's focused on fixing problems without negativity.
"This is not the time to be angry," he said. "This is a time to win, for crying out loud."
Contact Sandra Chereb at schereb@reviewjournal.com or 775-687-3901. Find her on Twitter: @SandraChereb. Contact Ben Botkin at bbotkin@reviewjournal.com or 702-387-2904. Find him on Twitter: @BenBotkin1.