Cash flowing into Nevada's battle over gun background check measure
January 31, 2016 - 7:16 am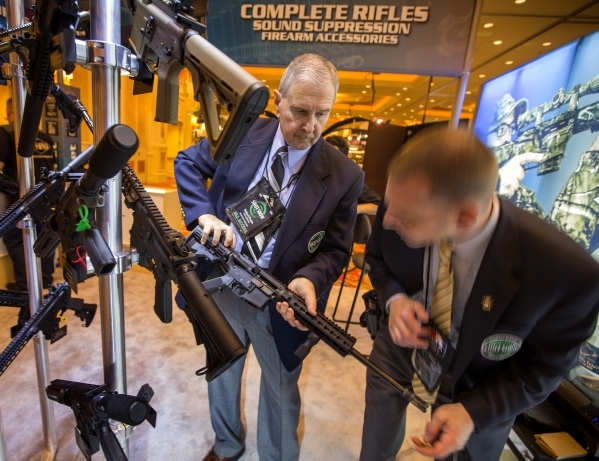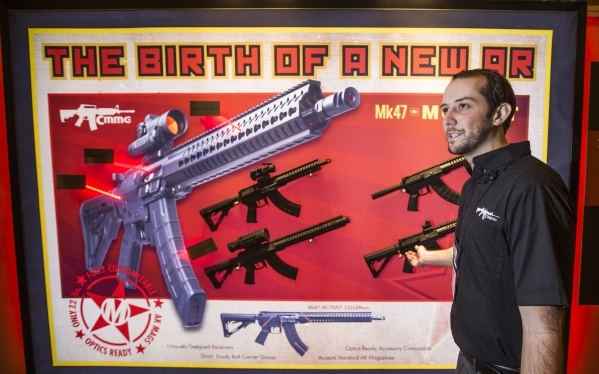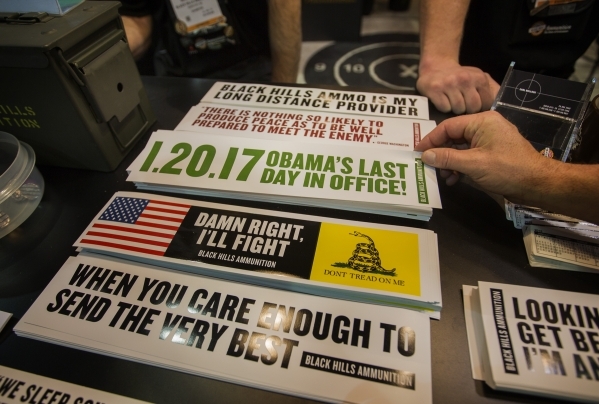 The gun lobby is often portrayed as a goliath, but in the fight in Nevada over the Background Check Initiative, it might be the underdog.
That is, if the campaign to extend background check requirements to private-party gun sales and transfers unfolds like it did in 2014 for a similar measure in Washington state, where the gun lobby was outspent several times over.
The gun control movement has had a renaissance since the 2012 mass shooting in Newtown, Conn., where 20 first-graders and six teachers at Sandy Hook Elementary School were killed by a gunman who then took his own life.
In Nevada, gun rights advocates are already arguing that the Background Check Initiative is the latest attempt by billionaire and former New York City Mayor Michael Bloomberg to force his agenda on other states. Gun control advocates, on the other hand, argue that states that have adopted restrictions on firearms beyond federal laws have seen dramatic reductions in gun violence.
In 2014, Everytown for Gun Safety, a national, Bloomberg-led gun control organization, and its state affiliate, the Washington Alliance for Gun Responsibility, pushed through a similar universal background check initiative, called I-594, with 59 percent of votes. Everytown has a similar affiliation with Nevadans for Background Checks.
Everytown's action fund spent $939,171 in that election, including more than $400,000 on canvassing. The Washington Alliance spent more than $10 million, including $2.31 million from Everytown and about $285,000 from Bloomberg himself.
The Washington Alliance spent more than $4 million on six TV ads.
The National Rifle Association's Washington state PAC, Washingtonians Opposed to I-594, spent $482,509 and ran two TV ads. A similar group, Washington Citizens Against Regulatory Excess, spent $115,663.
The Review-Journal reached out to leaders on both sides to see what their campaigns might look like, and everyone said they are going to run a grass-roots campaign. But campaign finance disclosures filed this month tell a different story.
Campaigns heat up
Nevadans for Background Checks and Everytown for Gun Safety have invested a lot in the fight. In 2015, Nevadans for Background Checks raised more than $1.15 million, with much of the money coming from Everytown.
Everytown handed over $535,000 to Nevadans for Background Checks in addition to spending $349,434 on the group's staff time, expenses and consultant services.
The campaign for universal background checks has some other noteworthy backers.
Clark County Commissioner Chris Giunchigliani donated $2,000. Myra Greenspun, wife of Las Vegas Sun owner Brian Greenspun, donated $11,000. Money also poured in from some major resort companies: Wynn Resorts gave the group $50,000, and Caesars Entertainment Corp. gave $25,000.
Nevadans for Background Checks used that money to call in some big guns from out of state.
The group spent $155,393 to hire Washington, D.C., political consulting firm The Mellman Group and $196,199 on the D.C. firm Revolution Messaging, both of which have worked on campaigns for U.S. Senate Minority Leader Harry Reid.
The group spent nearly $100,000 on print mailers and marketing services from other firms in D.C., New York and Virginia. They hiredSKD Knickerbocker, a D.C. political consulting firm, for $159,487.
The only money Nevadans for Background Checks spent in Nevada last year (outside of the $170,070 the group used on staffing) went to a catering company, The Smith Center for the Performing Arts and Henderson-based Olsen Strategic Group, which works with Rep. Joe Heck, R-Nev.
Nevadans for Background Checks can also tap into an extensive network of supporters through its association with Everytown for Gun Safety and its sister group Moms Demand Action for Gun Sense in America.
Gun rights groups will have a hard time keeping up.
The Nevada Firearms Coalition raised $1,100 in 2015, and the political action committee it formed to fight the Background Check Initiative, Nevadans for State Gun Rights, raised nothing. Combined, the groups spent $17,642 last year on the Reno-based firm Amplify Relations.
The NRA's Nevadans for Freedom PAC raised $43,552 last year and spent $25,251 on advertising. During last year's Democratic presidential debate in Las Vegas, the NRA advertised using the social media app Snapchat.
High stakes
For people on both sides of the issue, the stakes are high.
Nevadans for Background Checks and Everytown for Gun Safety maintain that states that go beyond federal law have seen dramatic reductions in gun violence.
Federal law requires background checks on all sales by licensed dealers. Multiple states, including California, Colorado, Connecticut, Delaware, New York, Rhode Island and Washington and the District of Columbia require universal background checks for all sales and transfers of firearms. Other states have varying laws on expansion beyond what federal law requires, including Oregon, which requires a background check for purchases at gun shows.
According to Everytown research, in the states that go beyond federal law there are 48 percent fewer suicides committed with guns, 48 percent fewer law enforcement officers killed with guns and 46 percent fewer women shot and killed by intimate partners.
Everytown also researched the high price paid by Nevada taxpayers for gun violence. Research Director Ted Alcorn found that hospital bills for gunshot wounds paid by public insurers such as Medicaid and Medicare costs taxpayers more than $13.3 million in an average year.
"There's folks on both sides of the aisle who want to get this done," said Joe Duffy, campaign manager for Nevadans for Background Checks. "We have a great group of people. We're growing every day."
Nevadans for Background Checks also boasts an advisory board of local movers and shakers: casino mogul Steve Wynn; former wife, Elaine Wynn; former Las Vegas Mayor Jan Jones Blackhurst; and former Clark County Sheriff Bill Young are just a few of the high-profile members.
Some concerned
Gun rights activists, however, say that expanded background checks will only serve to inconvenience law-abiding citizens. At worst, the law could criminalize the common habits of many gun owners.
The NRA has said that the law will require background checks even for temporary transfers. The law includes exceptions for firearms instructors and transfers by family members but could make it illegal for a woman to borrow a gun for self-defense or for soldiers to have a friends hold on to their guns while they are deployed.
If you go shooting with friends in the desert and walk away while they are using your gun, you could be committing a crime.
"That's unique to Nevada in many ways," NRA spokeswoman Catherine Mortensen said. "That's a big part of Nevada's culture and heritage."
The NRA says the law is poorly worded and unclear: It doesn't define what constitutes an established shooting range or a transfer.
"The language is take it or leave it," Mortensen said. "There's no process to fix the language."
There are concerns that the proposed system will be less safe because it will bypass the state point of contact, the Nevada Public Safety Department, and go straight to an overburdened federal system. The department says on its website that its background checks are more effective because it has access to more state records.
At this year's Shooting, Hunting and Outdoor Trade Show, or SHOT Show, Stephen Morris, FBI assistant director of the criminal justice information services, equated the record-setting amounts of background checks for which the agency is responsible, the outdated technology and insufficient staffing levels with a "perfect storm."
The agency's bureau that checks backgrounds performs about 23 million checks per year. To keep up during the busiest season for checks, the FBI unit cancels vacations and has overtime mandates. Kimberly Del Greco, section chief of the background check unit, told the Review-Journal that while her team would find a way to make sure Nevadans get processed, states are always encouraged to have their own systems.
"Resources are a problem everywhere," she said.
Nevada Firearms Coalition President Don Turner has said that President Barack Obama's executive actions announced earlier this month makes the proposed law unnecessary.
He worries that outside groups are trying to dictate state policies.
Everytown for Gun Safety maintains that Nevadans for Background Checks is a legally separate campaign. One of the registered agents is Carson City lobbyist Matt Griffin. Also listed is Tara Paone, according to the secretary of state's office — Paone's listed address is a Las Vegas post office box, and she was also listed in New York as the chief financial officer for the Everytown for Gun Safety Action Fund.
Before the Background Check Initiative was a ballot question, it was a vetoed bill.
In 2013, former state Sen. Justin Jones, D-Las Vegas, sponsored a measure that would extend mandatory background checks. It passed in both legislative chambers, which were then controlled by Democrats, but was vetoed by Republican Gov. Brian Sandoval, who called it an erosion of Nevadans' Second Amendment rights.
Jones announced the formation of Nevadans for Background Checks shortly after the veto, in August 2014. Jones was voted out of office in the next election, and Republicans gained control of both chambers.
Everytown for Gun Safety spent nearly $2 million on Nevadans for Background Checks' formation and petition drive in fall 2014.
The group got the needed signatures and successfully defended the initiative in court when the wording was challenged by the Nevada Firearms Coalition.
A review of the signatures showed more than 40,000 signatures in each of the four congressional districts. Just over 25,000 valid signatures were needed in each district. Signatures totaled 166,779.
The Legislature took up the issue of guns — so many bills about gun issues were considered that the Review-Journal dubbed the 2015 session the "Year of the Gun." But the Background Check Initiative was not one of them.
Instead, state Senate Majority Leader Michael Roberson introduced a bill that allows for free background checks for private-party gun sales. The entirety of that measure went into effect Oct. 1. Not a single check was initiated for a private-party sale for the remaining three months of 2015, according to FBI data.
Nevada voters will decide the issue in November.
— Contact Wesley Juhl at wjuhl@reviewjournal.com and 702-383-0391. Find him on Twitter: @WesJuhl.
NEVADANS FOR BACKGROUND CHECKS
Top 15 Contributions
Person/Group/Year/Amount
Everytown For Gun Safety Action Fund (New York): 2014 — $1,978,759.17
Everytown For Gun Safety Action Fund (New York): 2015 — $535,000
Sean Parker (Palo Alto, Calif.): 2014 — $250,000
Everytown For Gun Safety Action Fund (in kind) (New York): 2015 — $207,549.07
Nicolas Hanauer (Seattle): 2014 — $150,000.00
Everytown For Gun Safety Action Fund (in kind) (New York): 2015 — $93,746.25
Wynn Resorts Ltd. (Las Vegas): 2015 — $50,000
Caesars Enterprise Services LLC (Las Vegas): 2015 — $25,000
Myra Greenspun (Henderson): 2015 — $11,000
Diana Bennett (Las Vegas): 2015 — $10,250
Michelle Haas (Henderson) 2015 — $10,000
Stephanie Sibley (Las Vegas): 2015 — $10,000
Wendy Hornbuckle (Henderson): 2015 — $10,000
Michael Yackira (Las Vegas): 2015 — $10,000
Elaine Wynn (Los Angeles): 2015 — $5,000
Expenses
Person/Group/Year/Amount
FieldWorks (Washington D.C.): 2014 — $1,241,889.51
The Ballot Group (Las Vegas): 2014 — $735,000
Revolution Messaging LLC (Washington): 2015 — $196,199.72
Staff reimbursement, compensation (Carson City): 2015 — $180,339.16
SKD Knickbocker LLC (Washington D.C.): 2015 — $159,487.47
The Mellman Group (Washington, D.C.) 2015 — $155,394.14
Windward Strategies (Washington D.C.): 2015 — $68,421.43
RWT Production LLC (Springfield, Va.): 2015 — $20,177.44
Belardi Ostroy ALC (New York): 2015 — $12,679.65
Olsen Strategic Group LLC (Henderson) 2015 —$10,500
Culinary Arts Catering (Las Vegas): 2015 — $7,430
The Smith Center (Las Vegas): 2015 — $3,968