Cavers descend on Ely for national convention almost too big for rural Nevada town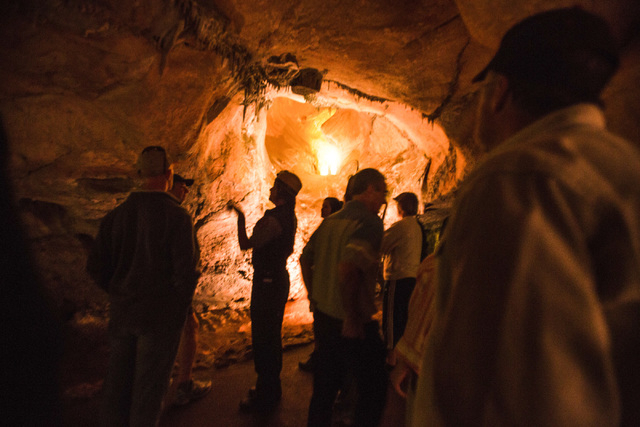 Conditions are cramped this week in Ely, where the largest professional gathering in the community's history has filled local motel rooms and turned part of the golf course into a campground.
Luckily, these conventioneers aren't prone to claustrophobia.
For the first time in its 75-year history, the National Speleological Society is holding its annual convention in Ely — or anywhere else in Nevada for that matter. Almost 1,000 cave enthusiasts have descended on the town of about 4,000 residents for the weeklong event, which got underway Saturday 250 miles north of Las Vegas.
The White Pine County seat has just 700 motel rooms, so "the town is sold out," said Ed Spear, executive director of Ely's Bristlecone Convention Center.
Some conventioneers are pitching tents at the White Pine Golf Course, which closed nine of its 18 holes to accommodate the camping cavers.
Spear said this event is about three times larger than any other convention the town has hosted. It's like Ely's version of the Consumer Electronics Show in Las Vegas, he said.
"It's what you call a test. If Ely can handle this, maybe we can handle CES for Las Vegas," Spear said with a laugh.
The National Speleological Society was formed in 1941 and now boasts 10,000 members. Gretchen Baker is one of them. She is an ecologist at Great Basin National Park, 65 miles east of Ely, where she has climbed into and crawled through the caves there, discovering several new species of tiny critters in the process.
Baker was scheduled to give scientific talks during the convention on cave biology and management. She and her family also plan to take part in some of the fun, which includes rope-climbing competitions, an art exhibit, cave photography and writing workshops, spelunking simulators and cave camp for the kids.
At night, conventioneers will gather for themed parties loosely based on Burning Man and the Donner Party.
And then there are the cave excursions.
Baker said Eastern Nevada and Western Utah are home to 15 to 20 different caverns, including Lehman Cave and three others within Great Basin National Park. "Some people will be trying to hit as many caves as possible," she said.
Baker's fascination with caverns began when she was in elementary school and her family took a trip to Jewel Cave in the Black Hills of South Dakota. Later, when she was in college in suburban Chicago, she got a seasonal job with the National Park Service at the same cave. She was hooked, she said, though she had to "learn to like crawling and tight spaces."
Another seasonal job took her to Carlsbad Caverns in New Mexico, before she landed a full-time job with the Park Service at Great Basin in 2001.
Now Baker is serving as cave rescue coordinator for the nation's largest conference of cavers, a job she hopes will see very little action this week. "We have a lot of the top cavers in the world coming to the conference, so they're all really well prepared," she said.
This year's convention also marks Baker's debut as a mystery novelist. Her first work of fiction, written under the pen name C.A. Cox, is about a cave biologist who must search above ground and below to solve a murder and clear her twin sister's name.
The mystery is set at the National Speleological Convention in Ely.
Contact Henry Brean at hbrean@reviewjournal.com or 702-383-0350. Find @RefriedBrean on Twitter.