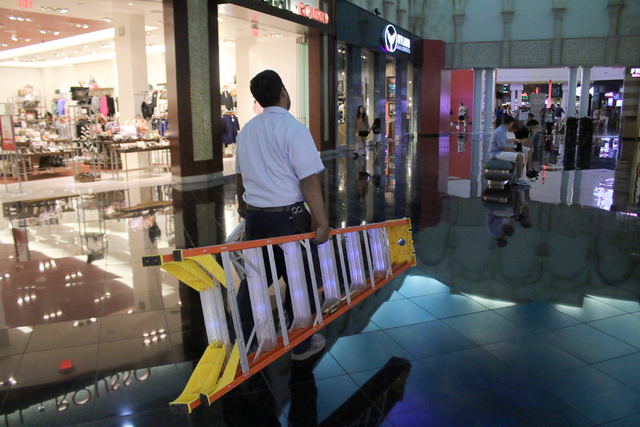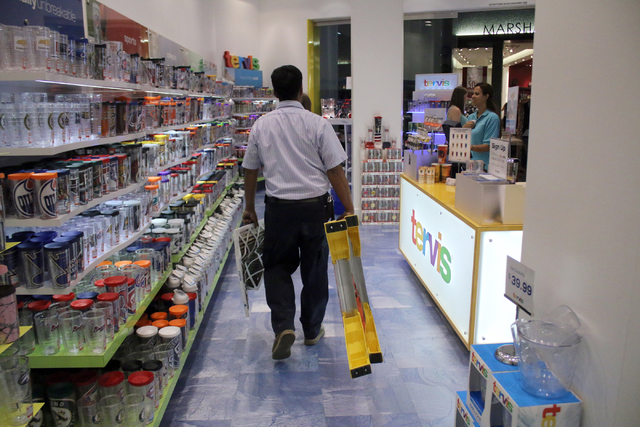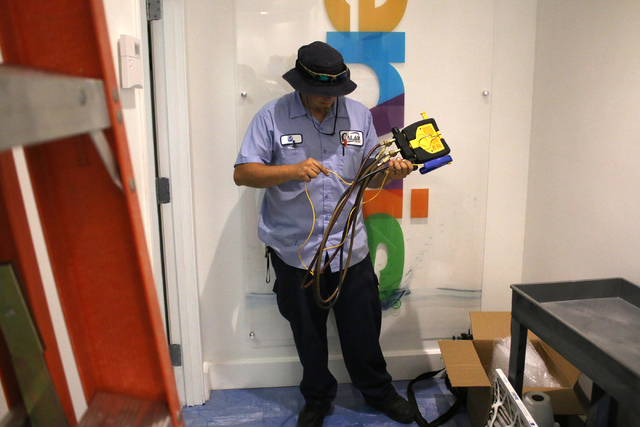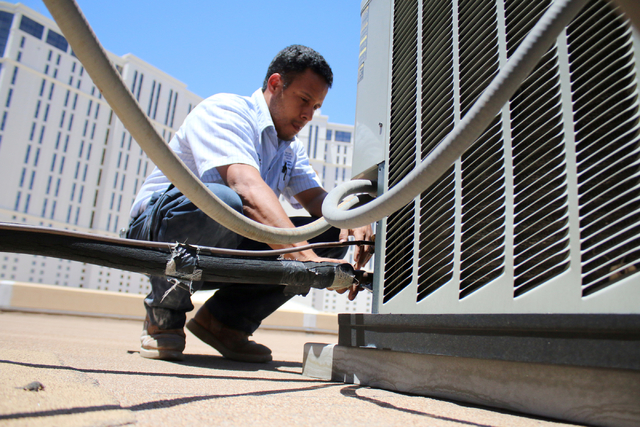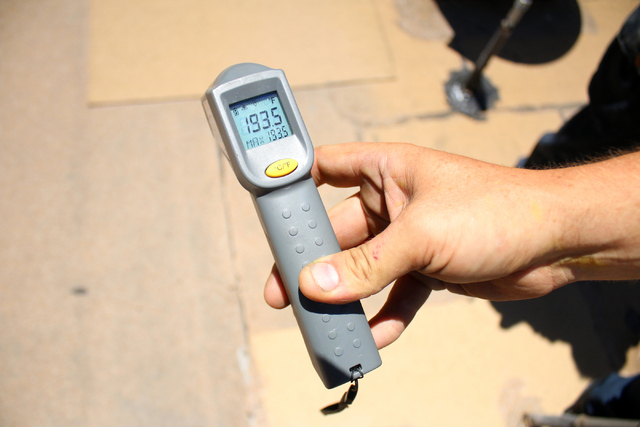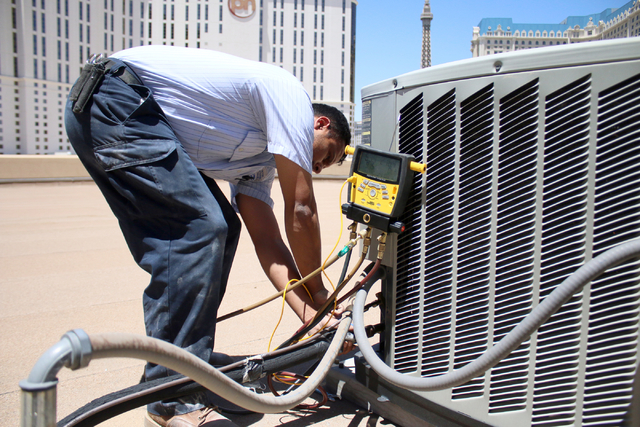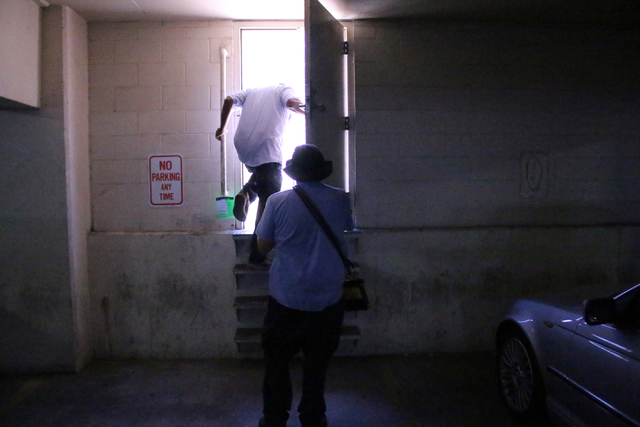 Two days after Las Vegas temperatures tied the valley's record high Sunday, Peter Almanza and Sterling Broome of Cal Air climbed onto a tan tar roof in the heart of the city's heat island and repaired an air conditioner.
As the pair worked high above the Strip, sweat dripping from their faces and oozing through their shirts, patrons in the Miracle Mile Shops below basked in cool, frigid air flow.
Their temperature gauge blinked. The roof they stood on measured 193.5 degrees Fahrenheit.
This week's temperatures are expected to hang in the triple digits, and air-conditioning companies across the city are paying workers overtime to ensure residents and business owners can keep cool.
"It's a hard job through the summer for these guys," Paradise Air Conditioning owner Clayton Johnson said.
Most of Johnson's employees are working nights and weekends to handle the influx of calls.
"You definitely make more money during the summer," he said. "But it's a lot more stressful, and the conditions are a lot more intolerable."
Johnson's company can see upward of 20 calls on any given summer day, and residential repairs can take about an hour or two, depending on the problem.
"Usually this time of year it's more repair-oriented," Johnson said. "Most folks want to get back to cooling as soon as possible, and usually negotiating a new unit takes more money and more time."
MOTORS AND COMPRESSORS
The most common air conditioner problems include motor work and compressor capacitor repairs, he said.
But Almanza and Broome don't mind the work. Almanza pointed over to the CityCenter skyscrapers, visible from their rooftop vantage point. When the towers first opened, he described sweltering for hours a day while clambering through the duct system and sealing off leaks. The job lasted two months, but the long hours meant more money.
Almanza agreed most air conditioning employees are working overtime, but if anything, the additional summer hours offset the lack of hours during the valley's comfortably cool winters.
"It levels out," Almanza said. "People can live in sweaters and sweatpants. You don't need heaters out here."
THE CALLS KEEP ON COMING
Broome laughed. Give it an hour, he said of the summer months, and desperate homeowners and business owners will call in for repairs. And on triple-digit-temperature afternoons, they need to.
Infinity Air LLC owner Michael Claus said calls are answered first-come, first-served and are usually attended to on the same day, depending on how busy the business is. Priority calls go to homes with infants, elderly or those with serious medical conditions.
Residential calls typically service small split units, which cool two different parts of a house. Commercial air conditioners like the one Almanza and Broome repaired are larger and cover more area. But Best for Less A/C owner Robert McKechie said commercial units typically break down more often because the machines have to combat more heat.
"More people are going in and out of businesses, and more people are inside," McKechie said, causing the sole machine to overcompensate for the additional warmth. Commercial repairs can take two to five hours.
To prevent breakdowns, Johnson, Claus and McKechie suggested homeowners change their air filters at least monthly and get their units inspected annually.
Almanza agreed, holding the twisted and gnarled air filter that caused the initial problem at the Planet Hollywood Resort store they were working at. One touch to the filter, and countless dusty allergens shook off.
"The last time we changed this was about a year ago," Almanza said, when they first installed the store's unit. "If they haven't changed it since then …"
JUST CHANGE THE FILTER
He broke off midthought. Too many people don't change their filters, and business owners owe it to their customers to keep their stores cool and clean, he said.
Almanza mentioned getting calls for broken units at day care centers that needed only to change their filters. Instead, the filters weren't changed, and allergy symptoms ignited and children started getting sent home. He was frustrated.
Johnson reiterated: One filter change can increase air quality, save time and save money.
"For the cost of a filter, you could save 10 to 20 percent on your cooling bill," he said.
Contact Rachel Crosby at rcrosby@reviewjournal.com or 702-387-5290. Find her on Twitter: @rachelacrosby.