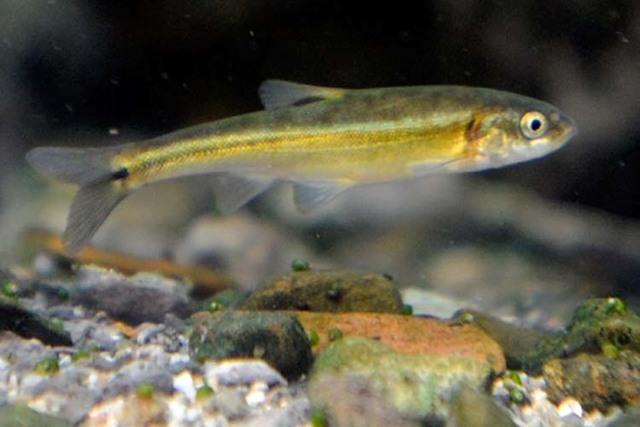 Happy dace are here again in springs and streams 60 miles north of Las Vegas, where new evidence suggest the endangered fish is on its way to recovery.
A population survey earlier this month counted 2,248 Moapa dace in the headwaters of the Muddy River, up 521 from a year ago and almost double the population from August 2012.
"It sounds like a broken record, but it's definitely good news," said Amy LaVoie, who manages the Moapa Valley National Wildlife Refuge, where some of the dace live.
The finger-length fish with the black spot on its tail has been under federal protection since 1967, but if recent trends continue, it could be "down-listed" from endangered to threatened, LaVoie said. For that to happen, the population must reach 4,500 adult dace.
It's unclear what a change from endangered to threatened might mean — if anything — for management and protection of the fish. The species could be "delisted" altogether should the population rise past 6,000 and if at least 75 percent of the fish's historical habitat is restored.
The Moapa dace is only found in a few miles of warm, spring-fed streams that flow through an oasis of palm trees a few miles west of the town of Moapa.
The species' entire habitat is confined to the 116-acre refuge, some adjacent private land and the Warm Springs Natural Area, a 1,218-acre tract bought by the Southern Nevada Water Authority $69 million in 2007.
The wholesale water supplier for the Las Vegas Valley became one of the chief defenders of the dace under a 2006 federal agreement that cleared the authority to pump groundwater at nearby Coyote Springs.
But even if the fish is one day delisted, environmental groups warn that its survival is still threatened if the authority goes ahead with large-scale pumping in the area.
The dace are counted each February and August by snorkeling researchers who float face-down in the tiny streams. This year's August total was the highest in at least 17 years and continued a streak of annual gains going back to 2008, when the population suddenly plunged from almost 1,200 to less than 500 for reasons experts still can't quite explain.
In addition to their rising numbers, the dace appear healthier than before, LaVoie said.
"We're seeing bigger fish, which is very encouraging."
Researchers also are happy to see the fish spreading out into habitat that has been gradually restored from the days when the thermally heated spring water was diverted into irrigation ditches and the swimming pools of small resorts that sprang up there.
The dace's recent gains are widely linked to that habitat restoration, which included all-out war on tilapia, a nonnative predator fish. No tilapia have been spotted in the Warm Springs area since January 2013.
Contact Henry Brean at hbrean@reviewjournal.com or 702-383-0350. Follow @RefriedBrean on Twitter.