Entire Nevada Supreme Court recuses itself from developer case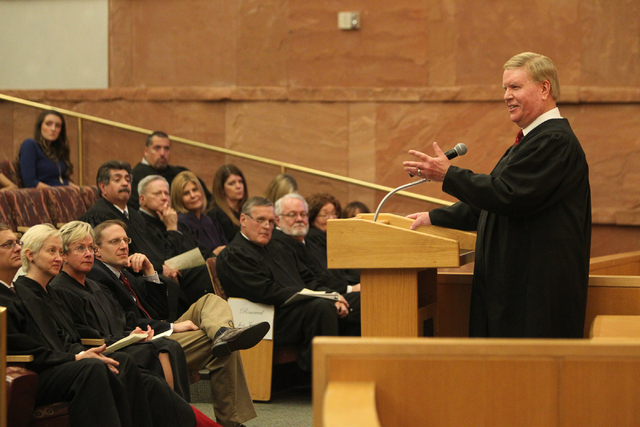 CARSON CITY — The entire Nevada Supreme Court recused itself from hearing an appeal between a lender and a developer because of ties the developer has to another company building a new courthouse in Las Vegas.
It's not unusual for judges to recuse themselves from cases to avoid conflicts of interest, but having the entire Supreme Court step aside is rare.
A three-judge panel instead was appointed to consider a petition filed by RA Southeast Land LLC, which sought to compel a jury trial to hear some of its claims in a complex dispute with City National Bank over the sale of 23 acres in the Summerlin area in 2010.
In a June order, Chief Justice Ron Parraguirre and Justices James Hardesty, Michael Douglas, Michael Cherry, Nancy Saitta and Mark Gibbons all stepped away from the case after disclosures revealed EHB Companies, the Y.M. Lowie Family Trust and Yohan Lowie were all affiliated with RA Southeast.
EHB and Yohan Lowie are building a courthouse in Las Vegas, which will be leased by the Supreme Court when completed.
Justices concluded "this business relationship would cause a reasonable person to question the impartiality of all the currently seated justices in this case." Justice Kristina Pickering was disqualified earlier for an undisclosed reason.
The late Clark County District Judge Susan Scann, who died earlier this month, originally denied RA Southeast's jury trial request, ruling it was precluded by a purchase and sale agreement signed by the parties.
On Wednesday, the special panel appointed by the Supreme Court — Senior Justice Bob Rose, Washoe County District Judge Scott Freeman and 11th District Judge Jim Shirley of Lovelock — agreed with Scann's ruling and denied RA Southeast's petition.
Contact Sandra Chereb at schereb@reviewjournal.com or 775-461-3821. Find @SandraChereb on Twitter.