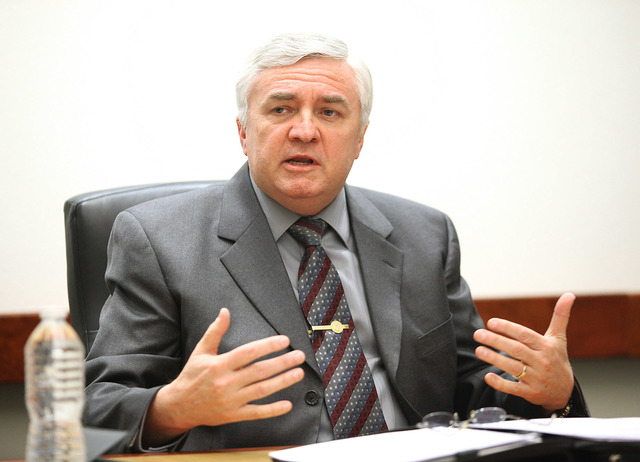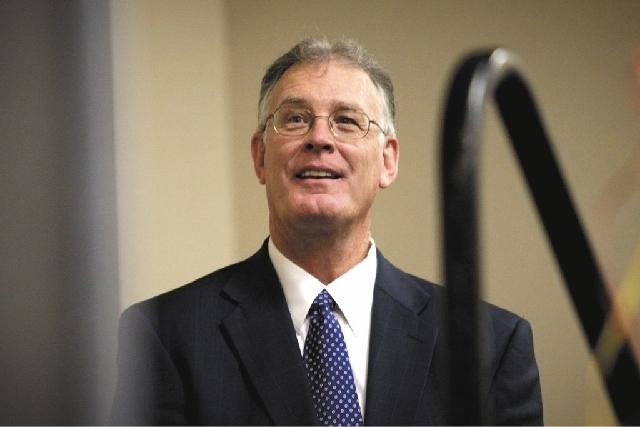 A former Henderson mayoral candidate took the next expected step Wednesday in his quest to remove the mayor.
The attorney for Rick Workman filed a petition asking the Nevada Supreme Court to "immediately" remove Mayor Andy Hafen "from office on the legislative body of the city of Henderson" because of state term limit laws. The court filing asks the court to oust Hafen, or direct the state's attorney general or secretary of state to take action and remove the mayor.
Workman contends that Hafen has "boasted" about having devoted "his life to becoming a 'career politician' with the City of Henderson" despite term limit laws.
"This is not a baseless request on grounds of some obscure technicality," the petition states. "This is a situation where we have an elected official who, at the end of his current term, will have served literally 30 years on the Henderson City Council, more than 20 of them after the 1996 term limits amendment was enacted."
A 1996 amendment to the Nevada Constitution capped term limits for state and local officials to elected office at 12 years. However, it was not until a case filed last year that anyone challenged that mayor and city council was the same governing body, restricting total service to the term limit law. Hafen had served on the City Council since 1987 before becoming mayor in 2009.
The Supreme Court on Feb. 20 ruled by a 5-2 margin in Lorton v. Jones that term limit provisions in state law mean that members of the Reno City Council who already have served 12 years under the restrictions cannot run for mayor. The court on March 5 denied a request by a potential Reno mayoral candidate to reconsider its ruling.
Workman's attorney, Reno-based Stephanie Rice, successfully represented George "Eddie" Lorton in the case.
Workman is turning to the state's highest court after a May 1 letter from Attorney General Catherine Cortez Masto stated it found that a state Supreme Court ruling on term limits in February "was not intended to apply retrospectively to unseat current office holders who were elected before the court's ruling." The attorney general cited that "no challenge" to Hafen's candidacy was brought last year by Workman or anyone else before Hafen won in the seven-candidate primary.
The court could consider the case, ask Cortez Masto, Secretary of State Ross Miller and Hafen to respond, or have the case moved to a lower court.
Hafen was re-elected last year after receiving 55 percent of the vote in the primary. Workman, a city employee since 2000 who works for the Police Department as its criminalistics administrator, received 37 percent of the vote.
Workman first challenged Hafen's standing following the Lorton ruling in a March 19 letter to City Attorney Josh Reid asking the mayor to "voluntarily step down from his position" and "avoid the costs and publicity associated with a formal removal proceeding."
Hafen responded five days later through his attorney Todd L. Bice that he has no plans to step down from his seat and will "vigorously pursue his legal remedies" if a lawsuit challenging his standing as mayor is filed.
Bice did not return a request for comment Thursday.
Henderson spokesman Bud Cranor said Thursday city staff was aware of the recent filing.
"Our city attorney's office will certainly be taking some time to review the latest filing, but at this juncture we have not changed our previous position about the mayor and his status," Cranor said.
The city contended in March that any legal battle would be Hafen's and "the only involvement the city would have would be to determine the process to fill a vacancy should one occur. However, until a decision is made by the courts, the city will continue to operate under its current structure. We do not have the ability to take any action until such time as we receive direction from the courts."
Contact reporter Arnold M. Knightly at aknightly@reviewjournal.com or 702-477-3882. Follow him on Twitter: @KnightlyGrind.