'Free speech zones' at BLM cattle roundup put controversial areas in spotlight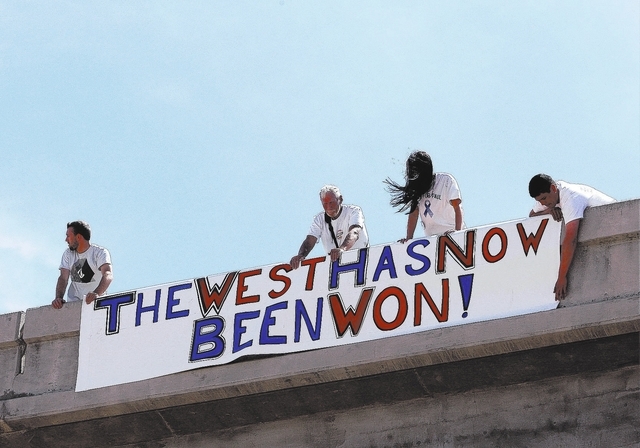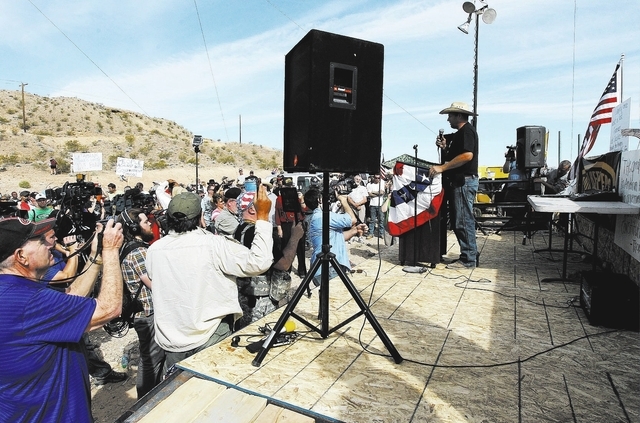 When protesters arrived in Bunkerville last week to join rancher Cliven Bundy's battle against the federal government, they came angry.
They were angry about how the Bureau of Land Management was treating Bundy and his family, whose cattle feeding on public land were being rounded up because of his refusal to pay grazing fees over a 20-year period.
But many of them seemed even more upset about what they saw as the trampling of their First Amendment right to free speech.
They're not alone.
Some First Amendent supporters say the "free speech zones" like the ones the BLM set up — and later dismantled after public outrage — are intended to stifle rather than encourage debate. The federal land agency said that all other areas in the 1,200-square-mile Gold Butte closure area were off-limits to people for stating their opinions.
Regardless of the purpose, advocates say such zones are an inappropriate infringement of free speech.
"I think to have an unelected bunch of BLM bureaucrats determining where American citizens can exercise their right to free speech is an abomination," said Janine Hansen, a member of Nevada's Independent American Party and a candidate for Congress.
"It's a continuation of the violation of our basic constitutional rights by bureaucrats who are not accountable to any elected official," she said.
Samantha Harris, director of policy research for the Foundation for Individual Rights in Education, worked with the American Civil Liberties Union of Nevada and University of Nevada, Reno students to implement a more expansive free speech policy at the campus several years ago.
The creation of small free speech zones turns large swaths of public property into censorship zones, she said.
Tod Story, executive director of the ACLU of Nevada, said the organization opposes the idea of First Amendment zones.
If people are exercising their rights peacefully, there should be no geographical limitations, he said.
"We don't like the idea of people being cordoned off or corralled and told where they can and cannot express themselves," Story said.
Officials with the BLM and National Park Service said last week the two zones were created ahead of the gathering of rancher Cliven Bundy's 500 cattle around Bunkerville as an accommodation to protesters. The federal government rounded up some of the cattle because Bundy refused to pay grazing fees for 20 years.
National Park Service spokeswoman Christie Vanover said Tuesday the First Amendment zones were created to promote free speech and not be a burden.
"While anybody can express their free speech any time on open public lands in accordance with the codes and ordinances that exist, there are temporary closures of some of the public lands related to this impound operation and those are in place for public safety," she said. "So we identified two areas where the public could safely and conveniently express their opinions without having to go through the codes and ordinance process and apply for permits."
The areas were ignored by protesters. One of Bundy's sons was arrested April 6 while protesting on a state highway.
The zones were dismantled last week by the BLM after Gov. Brian Sandoval criticized the decision to establish them.
In a statement issued after numerous calls to his office from Nevadans critical of the roundup process, he said.: "Most disturbing to me is the BLM's establishment of a 'First Amendment Area' that tramples upon Nevadans' fundamental rights under the U.S. Constitution."
A former federal judge, Sandoval said "such conduct is offensive to me and countless others" and asked that the areas be dismantled immediately.
Hansen, who has been politically active in Nevada for years, is no stranger to First Amendment conflicts in public spaces.
She was arrested on a charge of trespassing by Reno police in 2004 while gathering signatures for an initiative petition at a Reno Transportation Commission bus station. The arrest came after the Nevada Legislature in 2001 clarified that such activities were permissible in public locations as long as the public agency was given notice, which Hansen did.
Hansen was vindicated in court but said she should never have been arrested in the first place.
"We have become serfs in our own nation," she said. "We are subjected to edicts by unaccountable bureaucrats. The whole world has turned upside down."
The free speech zone debate remains a hot issue around the country, especially on college campuses.
Virginia last week passed legislation that designated all outdoor areas of public college campuses as public forums, not just designated zones.
The same issue arose at UNR in 2006, but a deal was brokered that resulted in a policy that opened up most of the campus to free speech.
While the Foundation for Individual Rights in Education focuses on higher education issues, the concerns about free speech zones on college campuses mirrors similar efforts found elsewhere in government, Harris said.
The creation of such zones may not be motivated by a nefarious desire to stifle dissent so much as to maintain order, Harris said.
But the federal courts have said repeatedly that restrictions on the time, place and manner of free speech must be narrowly tailored, and most policies aren't narrow enough, she said.
They also repress spontaneity, Harris said.
"The issue is the immediacy of a group's message, the ability to communicate immediately about an issue of public concern," she said.
Spontaneity is hard to come by when paperwork is required first, Harris said.
UNR's policy is used by the group as an example of how to address the free speech issue on campus.
University of Nevada, Las Vegas has set aside specific areas for First Amendment activities, but they are expansive, encompassing much of the academic mall. The latest policy was adopted in 2012.
Two people were arrested at UNLV in 2004 while collecting signatures after a speech by first lady Laura Bush. A UNLV spokeswoman said the arrests were made because they were in a location that the Secret Service wanted to keep clear.