Goodsprings judge faces ethics charges
Updated March 7, 2017 - 7:57 pm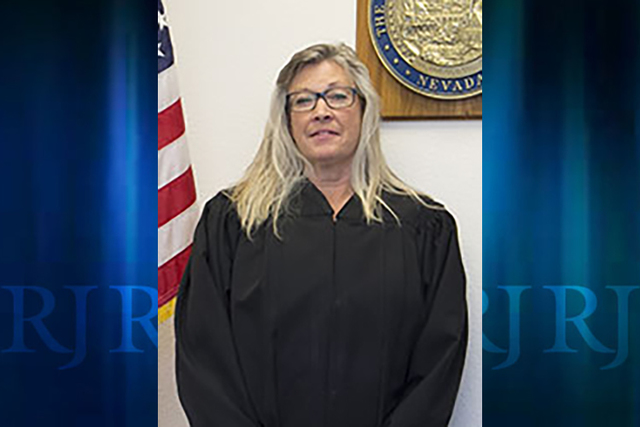 State disciplinary investigators have slapped a Goodsprings judge with what amounts to a laundry list of ethics charges.
Justice of the Peace Dawn Haviland faces allegations that include sealing her then-son-in-law's criminal records, ordering staff to run background checks on her friend's boyfriend, and bullying employees while using commentary rife with vulgarity.
Haviland was suspended with pay in December, and the charges against her were made public last week. The ethics accusations, when viewed collectively, paint a picture of a small-town, small-court judge who — through broad abuse of her public office — made repeated efforts to expand her limited power and to bend the justice system as she saw fit.
But Haviland maintains she did nothing wrong. On Tuesday her attorney accused the state Commission on Judicial Discipline of slamming his client with onerous charges built on baseless accusations by disgruntled employees.
"Frankly, it makes it appear that someone has an axe to grind with Judge Haviland when they make accusations like that," said Las Vegas defense lawyer Al Marquis. He said Haviland was well-respected by people in her community, "except for these two people that work for her that decided to go after her."
The disciplinary investigation relied heavily on testimony from two of Haviland's employees, Goodsprings Justice Court Clerk Becki Driskel and Bailiff Kenneth Smith.
THE CHARGES
The 14-page statement of charges includes the following allegations:
—Haviland sealed court records of her son-in-law's arrest in two domestic battery cases. The cases involved Haviland's daughter. The documents were twice removed from the court's record storage after they were sealed.
"There's no evidence of that except Becki Driskel saying so," Marquis said. He said the parties in the case agreed to the sealing.
—Haviland instructed two of her staff members to run criminal background checks on a man who was the boyfriend of one of her friends. The disciplinary report states that Haviland also ordered other "improper" criminal searches in the FBI database.
—She sentenced a defendant to eight months in jail before the district attorney filed formal charges against him. Haviland later modified the penalty, and admitted it was a "bad sentence" that exceeded the statutory limit for civil contempt and protective order violations.
—Haviland ordered her staff to conduct unauthorized searches of the state Department of Motor Vehicles' license plate database in order to hold hearings over titles for abandoned vehicles. She told staff the vehicles "had been driven poorly or an acquaintance of hers had asked for the information."
When the state attorney general's office told her those hearings were outside her jurisdiction, she instructed people interested in the vehicles to file a small claims complaint so she could oversee the matter in small claims court.
UNION EMPLOYEES
"I don't think anything sticks," Marquis said. He said Driskel previously accused former Elko County District Judge Michael Memeo of sexual harassment. The state disciplinary commission later dismissed the charges.
Driskel and Smith, the two employees quoted in the report, both are union employees and told investigators that Haviland exhibited anti-union bias.
They also accused her of bullying. Smith said Haviland called him a "sperm donor" in front of other court employees. He accused her of describing the Nevada judiciary as an "old boys club" made up of "swinging d–––s" and "Mos," referencing Mormons.
Driskel, meanwhile, told investigators that Haviland used to give court tours and point out a window by Driskel's desk that overlooked a holding cell. Haviland told visitors stories about a man who sexually gratified himself in the holding cell by peering through the window. Driskel said the story caused her embarrassment and was not true.
Disciplinary officials accused Haviland of making an improper administrative change by removing the Goodsprings Justice Court's financial ties with the Clark County Rural Court system. Marquis said she did so because "she thought Goodsprings was better off retaining the revenue that was generated for the Goodsprings community."
The lawyer also said Haviland had the authority to operate a juvenile diversion program in conjunction with Family Court. State disciplinary investigators charged that running the program was not within her limited authority.
LONGTIME JUDGE
Haviland has been a justice of the peace since 1999. The job involves presiding over preliminary criminal hearings, traffic cases, and low-budget civil matters.
She earns a taxpayer-funded salary of over $70,000 a year. She does not have a law degree, which is not a requirement for justices of the peace in rural communities. Goodsprings is about 40 miles southwest of Las Vegas.
Haviland has a chance to respond to the allegations, and then a disciplinary hearing will be scheduled. She faces possible discipline ranging from a private reprimand to removal from office, or the charges could be dismissed.
Contact Jenny Wilson at jenwilson@reviewjournal.com or 702-384-8710. Follow @jennydwilson on Twitter.