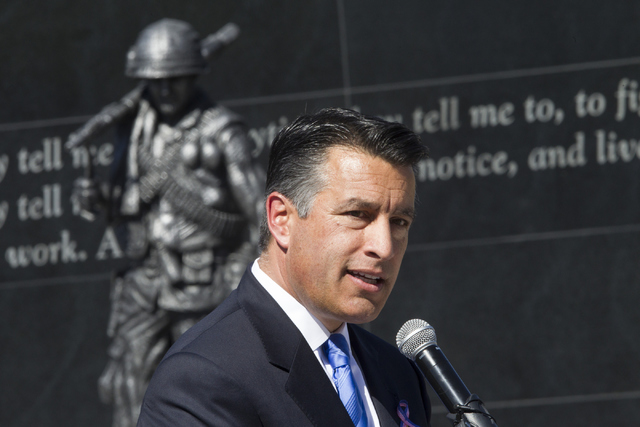 CARSON CITY — A letter recently obtained by a Nevada think tank shows that a member of the board of the Public Employees Retirement System was removed by Gov. Brian Sandoval in June for failing to disclose a legal matter.
The letter from Sandoval to former PERS Board member Eleazar "Al" Martinez, dated June 9, said his appointment to the board was ended on that date after the governor's office learned he was a defendant in a lawsuit that was not disclosed to state officials.
"This lawsuit includes causes of action for conversion of funds and breach of fiduciary duty while you were president of SEIU," Sandoval said in the letter, referring to the Service Employees International Union Local 1107. "Members appointed to serve on the PERS Board are in a very sensitive position of public trust and must be held to the highest standards of ethical and fiduciary responsibilities."
Sandoval's letter said his staff tried to communicate with Martinez but that he failed to respond or provide an explanation of the allegations in the lawsuit.
The Las Vegas Review-Journal reported in September 2014 that Martinez was named in a lawsuit involving SEIU.
The story noted that the union sued Martinez, a former president, and two former high-ranking staffers, alleging that they had a role in nearly $48,000 in misappropriated money.
The case was refiled in December 2014 and is scheduled to go to trial in February 2017.
SEIU 1107 represents 18,000 Nevadans in the public sector and at major hospitals across the state, making it one of the largest unions in the state.
Martinez could not be reached for comment.
Sandoval's letter was obtained in late September in a routine records request by the Nevada Policy Research Institute from PERS.
Robert Fellner, transparency director for the conservative think tank that's based in Las Vegas, has been writing a series of reports about the public employees retirement system in recent weeks.
The PERS board is made up of seven public employees appointed by the governor who oversee the retirement fund. Vikki Courtney was appointed by Sandoval in June to replace Martinez. She is president of the Clark County Education Association. Sandoval also recently appointed Kay Scherer and Scott Gorgon to the board.
The public pension plan covers nearly all state and local workers in Nevada. It had 103,000 active members as of the end of fiscal year 2015. The fund was worth $34.9 billion at the end of the fiscal year June 30.
Contact Sean Whaley at swhaley@reviewjournal.com or 775-461-3820. Follow @seanw801 on Twitter.