Growing Northern Nevada wildfire forces closure of 750k acres
August 28, 2018 - 12:12 pm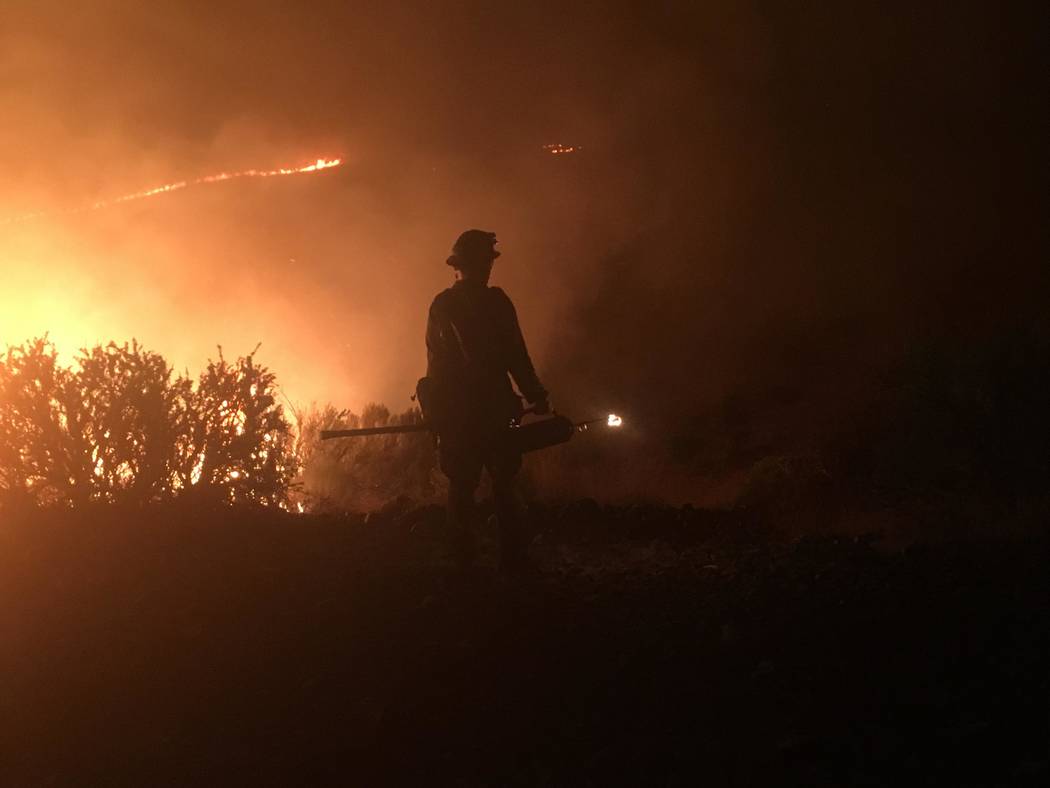 One of the largest active wildfires in the U.S. has forced the closure of more than 750,000 acres of national forest along the Nevada-Idaho border.
Since it started Aug. 17, the lightning-caused South Sugarloaf Fire has burned more than 237,000 acres of grass and brush and a handful of outbuildings in sparsely populated northeastern Nevada, about 500 miles north of Las Vegas.
The fire grew by about 10 percent on Sunday, prompting the Humboldt-Toiyabe National Forest to expand the closure area to include 754,448 acres of northern Elko County, including five campgrounds and four Nevada Department of Wildlife hunting areas.
Those areas are "not safe to enter due to the active fire behavior and fire suppression activities," forest officials said in a written statement.
"It moved 30,000 acres in one day. That's a lot of acres," said K.J. Pollock, spokeswoman for the federal inter-agency team fighting the fire.
The Elko County Sheriff's Department has issued a voluntary evacuation order between Wild Horse Reservoir and the tiny community of Jarbidge and extending north to the Idaho border.
More than 700 people on the ground and in the air are fighting the blaze, which was less than half contained as of Tuesday morning. The fire still poses a threat to energy infrastructure, sage-grouse habitat and numerous structures, officials said.
According to the U.S. Forest Service, the rapid growth of the fire in recent days has resulted in a decrease in containment, though cold temperatures and high relative humidity overnight allowed firefighters to hold the lines they established on Monday with the help of favorable flight conditions.
Monday's aerial attack included several single-seat air tankers and two so-called "super scoopers," fixed-wing aircraft that can skim over the surface of a lake and pick up as much as 2,000 gallons of water.
Full containment of the fire is not expected until Sept. 15.
Contact Henry Brean at hbrean@reviewjournal.com or 702-383-0350. Follow @RefriedBrean on Twitter.