Historical railroad car finds new life in Northern Nevada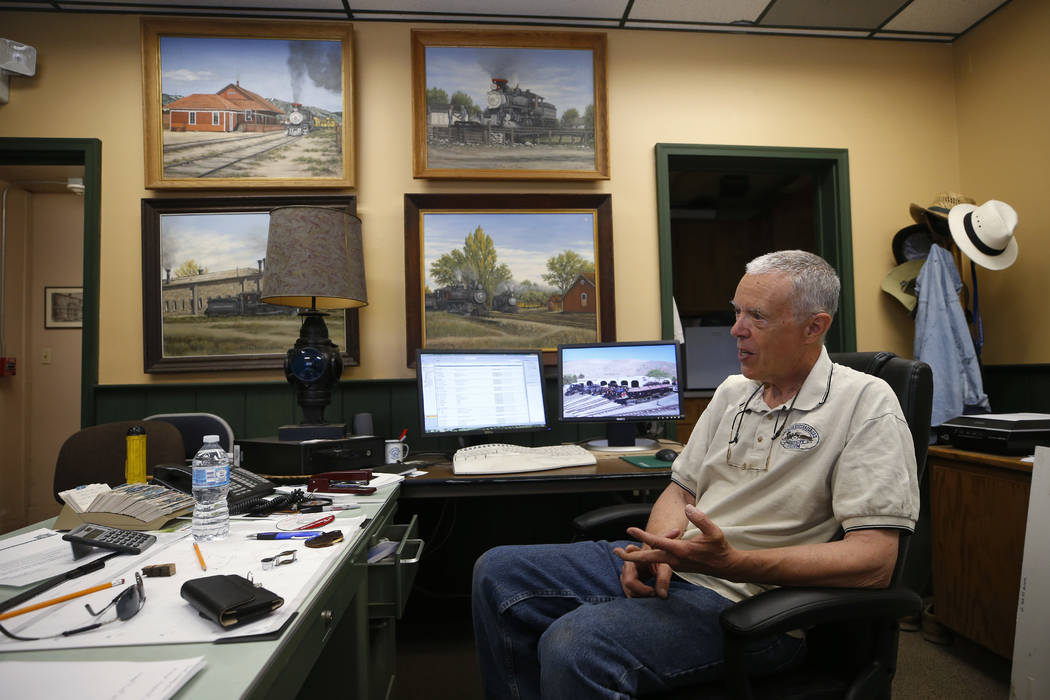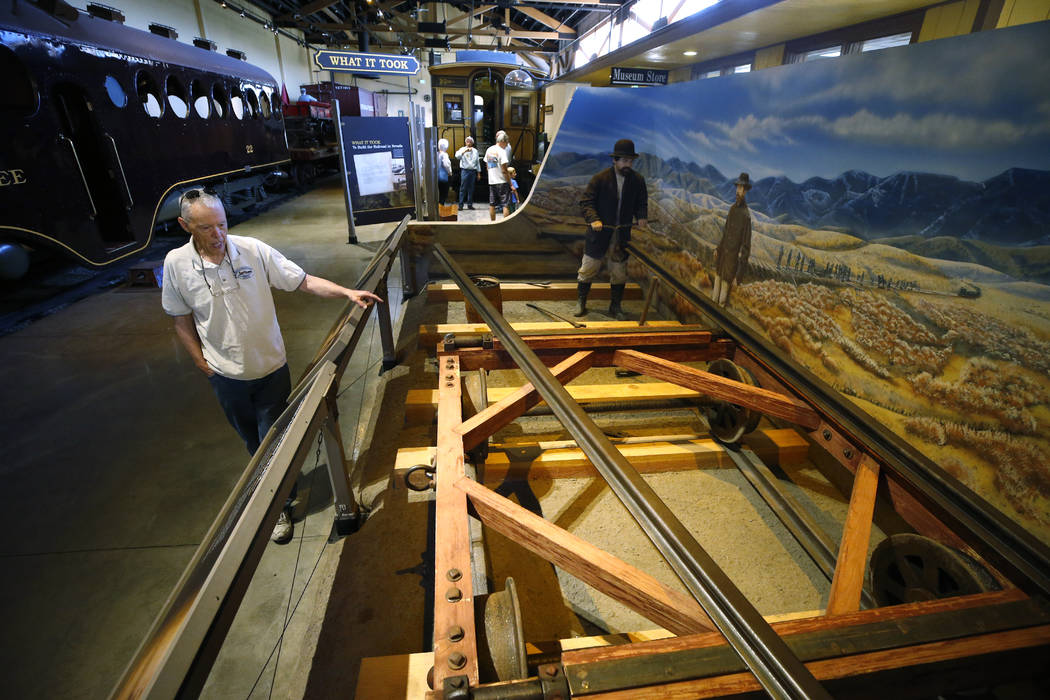 CARSON CITY — Wendell Huffman recalls the first time he saw the old train passenger car he considers one of the most significant artifacts in American railroad history.
Known as Coach 17, it was sitting in a storage shed at the Nevada State Railroad Museum, collecting dust as it had once picked up passengers. It was a cruel twist of fate for this venerable vehicle, once the very symbol of streamlined movement, to become so stationary and so forgotten.
Huffman, then a museum volunteer, had read about the train car and knew of its freighted history. In its infancy, the private coach had ferried officials from the Central Pacific Railroad to Promontory, Utah, where they met their business brethren from the Union Pacific on May 10, 1869. A pair of locomotive iron horses from the two great lines, with their characteristic smokestacks, brass fittings and distinctive paint jobs, came face-to-face to complete the nation's first transcontinental railroad.
Railroad tycoon Leland Stanford was among the luminaries aboard the coach that day. Coach 17 also carried the golden spikes that were driven into a laurel tie in the ceremonial completion of a herculean project that had overcome political turmoil, American Indian raids and financial problems to revolutionize coast-to-coast travel.
The car had come a long way since then — pinballing from private rail coach for financial barons to standard passenger coach to historic prop for a host of Westerns and finally to neglected hunk of junk left to rot in the woods off the Malibu coast, its once-elegant redwood frame feasted upon by hungry woodpeckers.
Now here it was. As a historian, Huffman couldn't believe his eyes.
"It was so cool to finally see something you'd read so much about," he recalled. "Just to be able to touch that car was pretty special."
Yet something wasn't right. "The coach was there in a storage shed collecting dust. Nothing was being done with it," he said. "At least it had a roof over its head."
Critical decisions
That was 1991. Seventeen years later, Huffman, now the railroad museum's curator of history, is overseeing the last bit of logistics that will see the car moved onto the facility's main display floor to mark the 150th anniversary of the event that helped usher America into the modern age.
This latest chapter in Coach 17's story is being spearheaded by a dedicated conservator who convinced museum officials they had a piece of history worth saving and promoting. The 70-year-old Huffman has made critical restoration decisions that will preserve the old rail coach just as it is — warts, woodpecker holes and all.
He's also writing a book to chronicle Coach 17's place in American history. Soon after the completion of the transcontinental railroad, he said, the Cincinnati Red Stockings traveled by train to California for a series of exhibition games, the results relayed nationwide by telegraph in real time, to help solidify baseball's standing as America's national sport. And the fact that trains ran on schedules, Huffman said, also led Americans to heed the hands of the clock — a cultural development that stands alongside the introduction of the smartphone.
And Coach 17 was right there in the middle of it all. One of the book's chapter titles pretty well captures its tale of the rails: "A History Lost and Found."
"The amazing thing to me is that it's still here," Huffman said. "This car is really something else. It's a survivor."
In his efforts to preserve Coach 17, Wendell Huffman ventured into America's past.
Built in Sacramento in 1868, the car belonged to Central Pacific Railroad executive Charles Crocker, who saw it as a showpiece of California workmanship. Able to accommodate a dozen people, it featured a dining room, a kitchen, a bedroom, a parlor and indoor plumbing. Its plush interior was constructed in California laurel with a rich oak trim.
"Crocker had an ego," Huffman said. "He knew the coach would be used by Leland Stanford and other railroad executives, but once the project was complete, this was going to be his car."
The coach brought four special spikes to the ceremony: two gold spikes, one silver and the last made from iron, silver and gold — all of the ore coming from Nevada's Comstock Lode.
When the gold spikes were finally driven home, a telegraph operator typed the word "done," and a war-weary nation still reeling from the assassination of President Abraham Lincoln simultaneously reveled in its signature accomplishment.
"They'd just fought the Civil War," Huffman said. "So this was a very symbolic thing to tie the country together."
Back to work
After that one shining moment, Coach 17 went back to work. In its lifetime, the car traveled back and forth to New York City four times. In 1876, as a private car, it was on hand at the nation's centennial celebration in Philadelphia.
The Virginia & Truckee Railroad bought the coach in 1878, when it was reconfigured into a general passenger car, its plush interior disposed of forever.
Then Coach 17 tumbled off the historical map. By 1938, the railroad was in bankruptcy and disposing its assets at a time when the nation's so-called rolling stock — passenger cars and steam engines — was being relegated to junkyards.
Eventually, Twentieth Century Fox stepped forward with an offer to buy the coach. The railroad instead agreed to lease the vehicle, and off it went, said Huffman, "to Hollywood to become a movie star."
The coach snagged cameo roles in such movies as 1939's "The Story of Jesse James" and can be seen in Elvis Presley's first film, "Love Me Tender." Kenny Rogers used it in his "Gambler" movies.
"But most of the time, it just sat there on the studio lot in downtown Los Angeles," Huffman said. In the 1960s, the car was stored in Malibu Canyon, near the set where the TV show "MASH" was filmed. "In the show's opening credits, you can see the woods where the train car was stored."
The car made its last appearance in Clint Eastwood's "Pale Rider" in 1985, when "Denver-California Western" was lettered across its side.
Finally, Hollywood had enough. When the Nevada Railroad Museum acquired the car in 1988, it was reduced to a humble state. "Several times, we tried to trade it away," Huffman said. "It was like 'Does anybody want this thing?' "
Saving Coach 17
Wendell Huffman's life is defined by the railroad.
When he was an infant in Carpinteria, California, his parents lived by some tracks. As the curator tells it, after passing trains blew their whistles at a nearby grade crossing, his mother had to nurse him to get him back to sleep.
"Well, Pavlov did the rest," he joked. "Whenever I hear a train whistle, I salivate."
For Huffman, old trains were like dinosaurs with their huffing-and-puffing steam engines — creatures that would soon be extinct. He had to save Coach 17.
But the answer was not to return the car to its 1869 splendor. In Huffman's eyes, there would be no Botox for this old railroad dame. She would stay as she was.
After any restoration, he reasoned, the museum would have a mere replica, not the real thing. "We all want to see historic things restored. But while this one may be ugly, it still tells a very important story."
Not everyone agreed. Some officials didn't want such unvarnished artifacts taking up coveted display space on the museum floor.
"Past directors didn't think it looked as elegant as the restored items," said Dan Thielan, the current museum director. "People scratched their heads and asked, 'Why would you want to bring that thing up and show it off?' People still tell me the decision not to restore this car is the dumbest thing we've ever done."
There was pushback, Huffman recalled. So he pushed back himself.
"I told whomever would listen, 'This car has a national story that will bring in a bigger audience,' " he said. "We're not promoting it, and we need to be doing that."
Three years ago, Huffman got lucky. California Railroad Museum officials visited Carson City to make their own claim to history. They argued Coach 17 was really more of a Golden State icon and should be on display there.
"We had the funds to restore it and suggested a loan situation where both museums could enjoy it," said Cheryl Marcell, president of the California State Railroad Museum Foundation. "At the time, they had no interest. Our offer fell on deaf ears. But we understood. After all, they owned it."
Big anniversary
Huffman used the incident to step up his campaign. "I said we really have to get that car on the museum floor to show them that we're doing something with it."
That apparently did the trick.
The coach will be moved to the museum before the big 150th anniversary next May. After that, officials plan to let history speak for itself. Along with vintage pictures, the display will include a stuffed woodpecker to explain all the holes in the car's body.
Huffman is looking forward to retirement, but not before the old train coach gets the attention and respect it deserves. Looking back, he's just glad he was in a position to preserve and promote a small but valuable piece of railroad Americana.
So when Coach 17 finally basks under the limelight before curious museum crowds, will Huffman take any special satisfaction?
The curator shrugs his shoulders.
"Like that railroad car has always done," he says, "I'm just doing my job."
John M. Glionna, a former Los Angeles Times staff writer, may be reached at john.glionna@gmail.com.