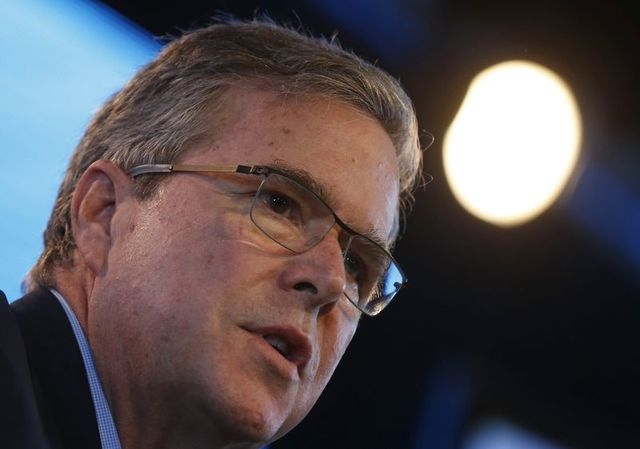 The Sheldon Adelson primary continues apace, but it looks like Jeb Bush might have been at the wrong place at the wrong time when he visited Las Vegas on March 2.
Adelson, the chief executive of the Las Vegas Sands and a billionaire GOP political donor, was in Washington to hear Israeli Prime Minister Benjamin Netanyahu address Congress.
As a result, the former GOP governor of Florida did not get a chance to chat in person with Adelson while he was in Las Vegas, although Bush met with some other big donors to his likely presidential campaign. Adelson lives in Las Vegas with his wife, Miriam.
While in town, Bush visited a seniors community in Sun City Summerlin and told Nevadans not to mistake him for his brother or father, both of whom have served as U.S. president.
"Do you have brothers and sisters? Are you exactly the same?" Bush asked a senior citizen who suggested he was like his family members.
Meanwhile, across the country, at least two other potential Republican presidential candidates, Sens. Rand Paul of Kentucky and Marco Rubio of Florida, met with Adelson while he was in the nation's capital.
Both Paul and Rubio recently have visited Las Vegas, paving the way for a potential campaign in the early-voting battleground state. Nevada's GOP presidential caucus follows voting in Iowa and New Hampshire. The fourth sanctioned early-voting state is South Carolina.
Rubio dined with Adelson last Monday night in Washington, Fox News reported. The Florida senator has a $50 million fundraising goal before the Iowa caucuses, according to published reports.
Rubio is expected to announce as early as April whether he will run for the White House. When he was in Las Vegas, the senator said his decision won't hinge on whether his fellow Floridian, Bush, is in the race.
Paul, too, met with Adelson while the Sands boss was in D.C., the New York Times reported, quoting the senator.
In an interview on the radio program "Jewish Moments in the Morning," Paul said Adelson assured him he would not fund an effort by Republicans to defeat him — something the Times had reported.
Paul said that he met with Adelson and his wife, and that "they assured me there was no truth to that," according to the newspaper.
Adelson is one of Israel's strongest American supporters, while Paul is far less hawkish when it comes to U.S. involvement overseas.
The Times said the two men discussed Paul's legislation to prohibit some financial assistance to the Palestinian Authority. Paul also admitted he lost money at the craps tables when he most recently visited Las Vegas this year.
During the 2012 presidential campaign, Adelson was one of the most generous GOP donors, contributing a total of at least $100 million to Republican candidates, political action committees and causes. He initially backed Newt Gingrich but then switched to GOP presidential nominee Mitt Romney after Gingrich dropped out of the crowded race.
— Laura Myers
NICE TO MEET YOU, TOO
Nevada freshman Rep. Cresent Hardy introduced himself last week to Interior Secretary Sally Jewell and wasted little time letting her know what he thinks of U.S. government public land ownership in the state.
"Some would have you believe that these public lands are federal lands, and they are at this time," Hardy said. "But I believe they are state public lands."
Hardy, a Republican who took office in January, met Jewell for the first time at a hearing of the House Natural Resources Committee on Thursday. He told her he was an adherent of the "equal footing doctrine," a constitutionally based principle that any state added to the union is on "equal footing" with the 13 originals.
The equal footing concept is embraced by the sagebrush rebel movement to argue the federal government does not properly own land in Western states. Others point out that disclaimer clauses in statehood-enabling legislation for those states effectively gave land ownership to Uncle Sam.
Either way, Hardy said practically speaking that's the difference between North Dakota profiting handsomely from its oil boom and Nevada not profiting from its rich solar and geothermal resources.
Millions of dollars in federal leases for projects such as Crescent Dunes Solar Energy Project near Tonopah flow to the feds, he said, while Nye County "is one of the most lacking counties for financial ability anywhere in the government."
"Do you believe this is the responsibility of the federal government to take on projects and compete with states and the private sector and their ability to take care of themselves?" Hardy asked Jewell.
The reply gave Jewell a chance to practice diplomatic skills.
"I appreciate Nevada is the state with the highest proportion of federal lands," she said.
As for energy projects on federal land, "I would say that states do benefit from that through job creation, through the economic activity that happens as a virtue of that power generation." She added that some lease revenue is shared with states.
"It's important for us to work together with the state to support industries that take advantage of the natural resources that state has," Jewell said.
— Steve Tetreault
KISS AND MAKE UP
Two Nevada assemblymen involved in a stairwell kerfuffle have buried their differences.
Assemblyman John Moore and Majority Leader Paul Anderson, both Las Vegas Republicans, say their emotions got "the better of them" in a confrontation Wednesday over a committee vote on a prevailing wage and school bond bill.
A day later, the two issued a statement through the Assembly Republican caucus calling the incident "unfortunate." It said they have had a chance "to talk, reflect and work things out," and that they "refuse to let one moment ruin a good personal and working relationship."
"Over the last few months I have been able to get to know John; he is passionate about his district and the needs of his constituents. I think we both look forward to putting this behind us and focusing on the opportunities ahead," Anderson said in the written comment.
Moore, who filed a report with Legislative Police after the incident, said he has had a chance to "make peace" with Anderson.
"I realize that we both have strong convictions. I am looking forward to working with Paul to accomplish much in the next three months," he said.
— Sandra Chereb
HORSES WIN PROTECTION
The Nevada Board of Agriculture voted last week to approve an agreement to humanely manage 1,500 stray horses in the Virginia Range to the north and east of the capital.
The agreement allows participating advocacy organizations to take measures to prevent the capture and removal of horses from the wild.
"This has truly been a team effort to protect the Virginia Range horses and will serve as a model private-public partnership for the humane management of wild horses to keep these cherished animals free on the range where they belong," said Deniz Bolbol, a spokeswoman for the American Wild Horse Preservation Campaign that spearheaded the effort.
The agreement creates a public-private partnership that will benefit the horses while at the same time improve public safety and benefit Nevada taxpayers, a statement from the group said.
The Virginia Range spans from Reno in the north to Carson City in the south and from U.S. Highway 395 to the west to Alternate Highway 95 to the east. The state has jurisdiction over the historic Virginia Range horses, which have roamed the Northern Nevada mountain range near Reno for more than a century, the group said.
Because the horses make their home on state, local and private land, instead of federal land, they are not protected under the federal Wild Free Roaming Horses and Burros Act and are classified as "feral" or "estray livestock" by the state Agriculture Department.
Wild horse advocacy groups bid on and acquired a number of the horses that were rounded up and sent to a Fallon auction house in 2013.
The horses are a threat to motorists, primarily along U.S. Highway 50, where numerous accidents have occurred when the animals wander onto the highway.
"The wild horses of the Virginia Range are an important cultural and historic resource, and it just makes sense that the local community would be proud to protect them here," said Neda DeMayo, founder and CEO of Return to Freedom.
— Sean Whaley
Contact Laura Myers at lmyers@reviewjournal.com or 702-387-2919. Contact Stephens Washington Bureau Chief Steve Tetreault at stetreault@stephensmedia.com or 202-783-1760. Contact Sandra Chereb at schereb@reviewjournal.com or 775-687-3901. Contact Sean Whaley at swhaley@reviewjournal.com or 775-687-3900.