Kansas family returns to Reno Air Races after 2011 tragedy
September 17, 2016 - 3:34 pm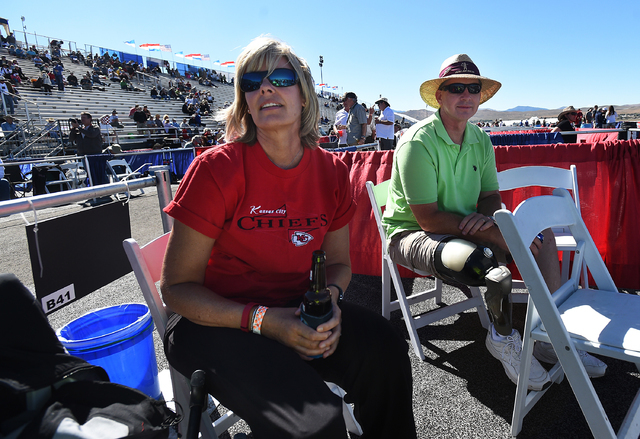 RENO — Thousands of fans attending the National Championship Air Races in Reno this weekend include members of a Kansas family who were there five years ago when a horrific crash killed several people.
Linda Elvin doesn't watch online videos of the plane smashing into the box seats in front of the grandstand at Reno-Stead Airport. The pilot, Jimmy Leeward, and 10 spectators were killed and dozens were injured in the Sept. 16, 2011 crash.
But she carries a constant reminder of the tragedy — an artificial leg and knee.
Her husband Brian Elvin, brother-in-law Bill Elvin and father-in-law Chuck Elvin also lost limbs when a World War II P51 Mustang nosedived into the ground near their box seats.
Chuck Elvin's wife, Cherie Elvin, was killed.
"We really haven't had the desire and need to go out and look at the video," Linda Elvin of Overland Park, Kansas said this week in an interview with the Reno Gazette-Journal.
When she does look back, she's grateful it wasn't worse.
"I am so thankful that plane did not crash into the grandstand, and I'm so thankful there was no explosion," Elvin said. "I am not happy I got hurt, but I would take this over that plane crashing in the grandstands and taking out 100 people."
The entire Elvin family is focused on recovering physically.
Linda Elvin said she and Brian have resumed boating. He is once again piloting their Beechcraft Bonanza G36 aircraft, after demonstrating to a Federal Aviation Administration inspector that he was capable.
"You wouldn't even know he was operating it with one leg," she said. "He got through it with flying colors."
Chuck Elvin lost his right leg below the knee, suffered severe damage to his left leg and foot and had 16 operations during the first year after the crash. He still uses a wheelchair, Linda Elvin said.
Linda Elvin lost her right leg above the knee, and the bones in her lower left leg were crushed. She used a cane until about five weeks ago, she said. Brian Elvin lost part of his right leg, but his left leg was uninjured.
"He had already started working form the hospital in Reno before we left," she said. "He was my caretaker and he did an amazing job."
Bill Elvin, Brian's brother, lost part of his right leg and spent one month in the Reno hospital and another in a Kansas hospital. Linda Elvin says Bill coaches his kids in youth sports such as baseball and football.
The Elvins return to Reno for the air races each year. Linda Elvin said family members have tried to continue doing the things that they have loved to do.
RELATED
Eleven victims remembered at Reno Air Races