Legislative committee OKs using $3.7 million in grants, settlement funds to clear rape-kit backlog
December 16, 2015 - 6:10 pm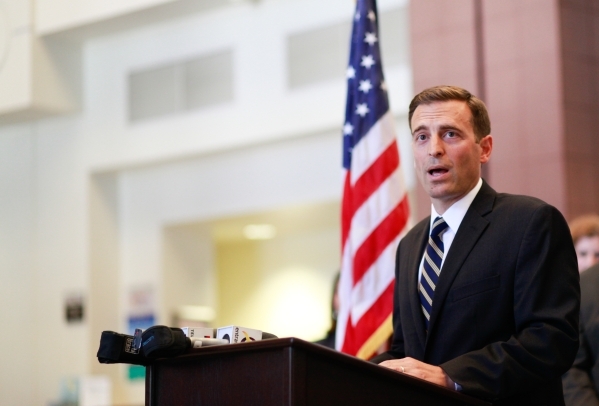 CARSON CITY — The Legislature's Interim Finance Committee on Wednesday authorized using $3.7 million in grants and settlement funds to clear a backlog of 7,500 rape kits that were never tested in Nevada.
Attorney General Adam Laxalt said Nevada is not alone. Nationwide, about 70,000 kits that could identify a rapist through DNA were never tested over several decades.
The bulk of Nevada's 6,300 untested kits, some of which date back to the mid-1980s, are in Clark County.
Assistant Attorney General Wesley Duncan said $1.7 million of the funding comes from a nationwide settlement with JP Morgan Chase over debt collection practices. He said Las Vegas police will receive about $1.3 million and should be able to test 2,000 kits. The remaining $400,000 will go to Northern Nevada agencies.
"We really believe we'll be able to get through most of the untested kits in the state with that," Duncan told lawmakers.
A $1.9 million Justice Department grant will go toward other efforts, such as taking inventory of untested kits, paying personnel costs and hiring victim advocates. Las Vegas police earlier received a separate $2 million grant from the Manhattan district attorney's office.
"We're very excited about these programs," Duncan said. "This is an issue, an important issue, to the victims of our state that they matter … their kits aren't going to sit on a dusty shelf."
Duncan said that although it's hard to predict, he expects indictments and charges to be filed. In Ohio, the first 1,000 kits tested resulted in criminal charges in more than 100 cases, he said.
"I think that what we're to find is the numbers are going to be pretty astounding," Duncan said.
Responding to questions from state Sen. Aaron Ford, D-Las Vegas, Duncan said prosecutions could be brought in even decades-old cases provided the victim filed a police report within the statute of limitations. Until this year, that limit was four years for sexual assault.
Laxalt said the goal is to process all rape kits, whether or not charges are possible.
"If we have to prioritize we will, but the ultimate goal is to move forward all at once," he said.
Laxalt said each kit generally costs $1,500 to test, but Southern Nevada authorities negotiated a $600 fee with a laboratory in Virginia. He said his office is hoping to help negotiate reduced rates for other Nevada jurisdictions, too.
Separately, the committee approved a $65,000 grant to the attorney general's office to coordinate and administer a new program offering free legal help to veterans and military services members.
The Nevada Military Support Alliance raised the money to benefit the program in the attorney general's office.
Nick Trutanich, Laxalt's chief of staff, said the program so far has helped connect about 30 military personnel and veterans with pro bono attorneys to help in civil legal issues. He said the donated money will help cover training and travel costs and educate the military community about the program.
Contact Sandra Chereb at schereb@reviewjournal.com or 775-687-3901. Find her on Twitter: @SandraChereb