Man dies after running into fire at Burning Man
September 3, 2017 - 9:09 am
Updated September 4, 2017 - 5:18 am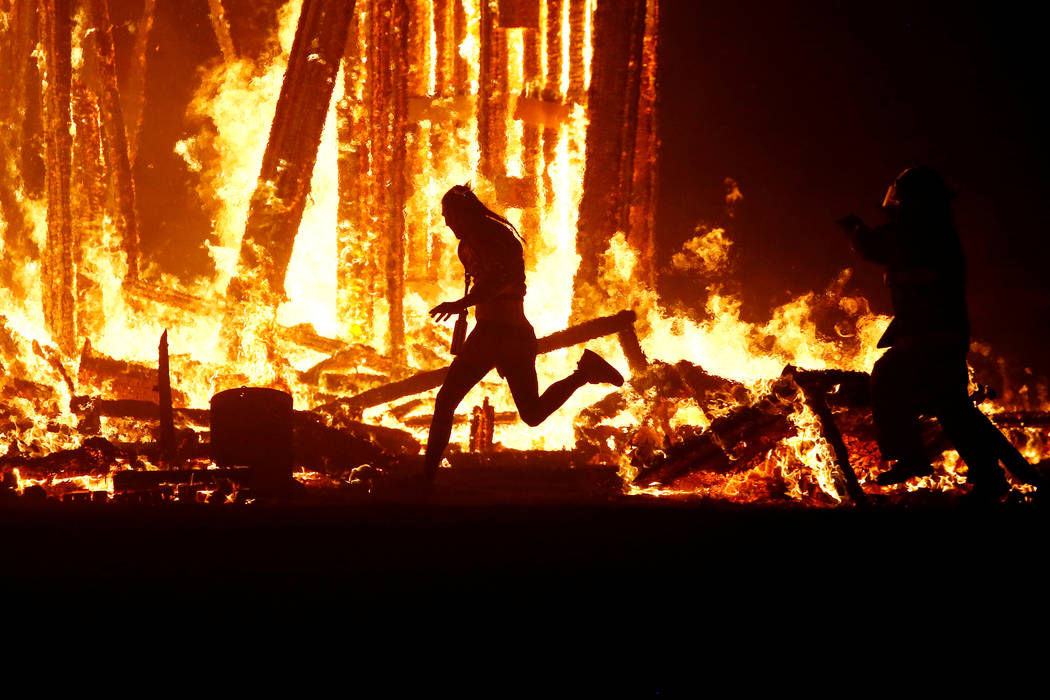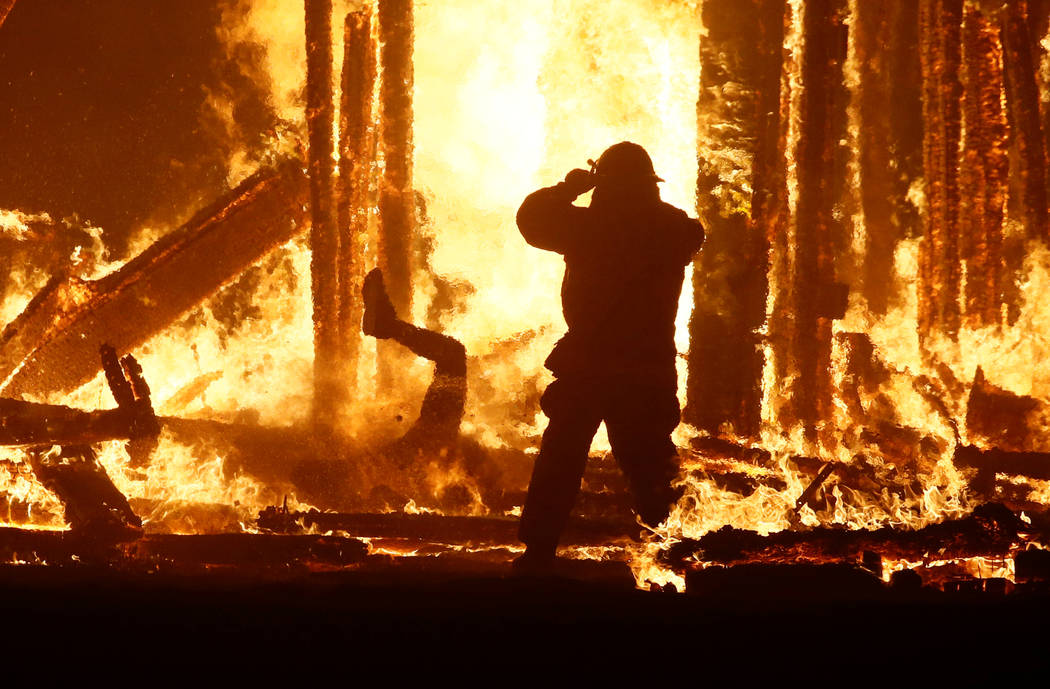 The parents of a man who died after leaping through the flames of the Burning Man festival's trademark burning ceremony said they have no idea why he did it.
The Oklahoma couple described their son, Aaron Joel Mitchell, 41, as an adventurous, nature-loving athlete who cared about his health.
Mitchell died Sunday morning several hours after breaking through two levels of security and running into the flames of the festival's trademark burning ceremony.
Burning Man, held in a Northern Nevada dry lake bed, traditionally culminates with the burning of a large wooden effigy known to festivalgoers as "the Man" on the Saturday before Labor Day.
Don Mitchell said it was his son's first time attending the festival.
"We really don't know what happened. His friends aren't talking," he said Sunday night. "The coroner asked us if he was depressed and we said no. He was really a happy guy."
"Maybe he was slipped something," Don Mitchell said. "We really don't know. He was always very cautious about what he ate."
Mitchell's mother, Johnnye Mitchell, described her son as a very loving person.
"He was just a dear, sweet guy, very personable. He had so many friends from all over the world," she said, choking back tears. "Everyone loved him, and he would help anybody who needed help."
Mitchell had been living with his wife in a farming area of Switzerland and working in construction, but he was a U.S. citizen with a residence in Oklahoma. The couple have no children.
Mitchell's wife will fly to Oklahoma on Monday, his mother said.
'Running so fast that no one could hold him'
About 10:20 p.m. Saturday, Mitchell broke through two levels of safety perimeters before running straight into the active fire, the sheriff's office said in a statement. Black Rock City firefighters entered the flames to rescue Mitchell.
Festivalgoer Tolga Catalkaya, a 30-year-old from Amsterdam, said he witnessed the incident.
"We saw a man break through the security circle — running so fast that no one could hold him," he said in a Facebook message. "He jumped into the fire like head-first with open arms. Then, firefighters dragged him out quickly and the ambulance showed up really quick. I guess that fire was too strong because even if he was just there for 30 seconds it looked like he had no chance to survive."
Mitchell's severe burns were treated on the scene before he was airlifted to the University of California, Davis Firefighters Burn Institute Regional Burn Center, the closest burn treatment center, officials said. Mitchell was pronounced dead just before 6:30 a.m. Sunday.
Rescue setback
Initial rescue efforts were hampered when a portion of 'the Man' structure fell as rescuers were trying to retrieve Mitchell from the debris. Rescuers had to let the structure fall and provide for rescuer safety before they could go back into the flames to extract Mitchell from the debris.
Pershing County Sheriff Jerry Allen said he's never seen anything like this at Burning Man during his 15 years with the county.
"The only other time I recall someone getting through was in 2007 when this guy took it upon himself to start the fire early," Allen said, referring to the security circle.
It's unclear why Mitchell ran into the fire, but medical personnel said he was not under the influence of alcohol. A toxicology screening is pending.
Allen said the security surrounding the large-scale burning site isn't an actual physical barrier. Firefighters and security guards stand between festival attendees and the large-scale burning site, he said.
"Now I'm sure adding an actual, physical barrier will be something that comes up in the planning meeting for the 2018 festival," he added.
'Closeness, contact, community'
Some 70,000 people descended upon the Black Rock Desert, about 100 miles north of Reno, for the weeklong festival that began Aug. 27. Burning Man, which began in San Francisco in 1986, is a self-described temporary metropolis dedicated to art and community.
Festival officials are working with local and federal law enforcement agencies investigating Mitchell's death.
The Burning Man organization canceled several burn ceremonies through noon Sunday, instead offering emotional support teams and a peer counseling space for its festival attendees and staff members. The Temple Burn, its closing ceremony, was still scheduled to take place at 8 p.m. Sunday.
"We're aware this incident has affected not only those who responded immediately on the scene, but also those who witnessed it, and our Black Rock City community more broadly," Burning Man officials said in a statement.
"Now is a time for closeness, contact and community." Burning Man officials said. "Trauma needs processing. Promote calls, hugs, self-care, check-ins and sleep."
Contact Sandy Lopez at slopez@reviewjournal.com or 702-383-4686. Follow @JournalismSandy on Twitter. Contact Rio Lacanlale at rlacanlale@reviewjournal.com or 702-383-0381. Follow @riolacanlale on Twitter.
Emotional support resources for people at the festival
The Zendo Project is providing peer counseling at their space at 5:15 & A.
Support staff from Burning Man's Emergency Services Department's Crisis Intervention Team are stationed at 3:00 & C, 9:00 & C, and 5:30 & Esplanade
Emotional support resources for others
24/7 crisis and suicide hotlines at 1-800-273-8255 or 775-784-8090.
Text LISTEN to 839863