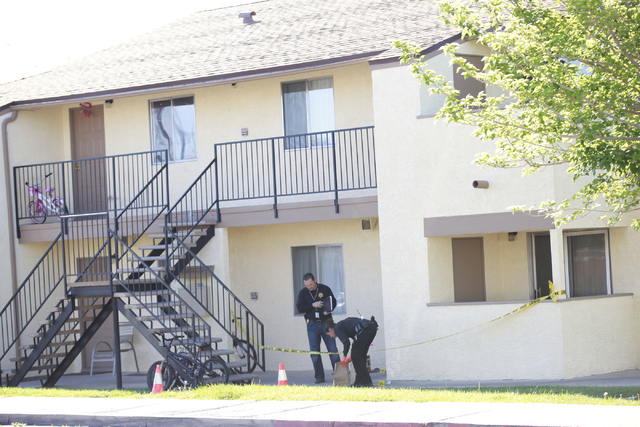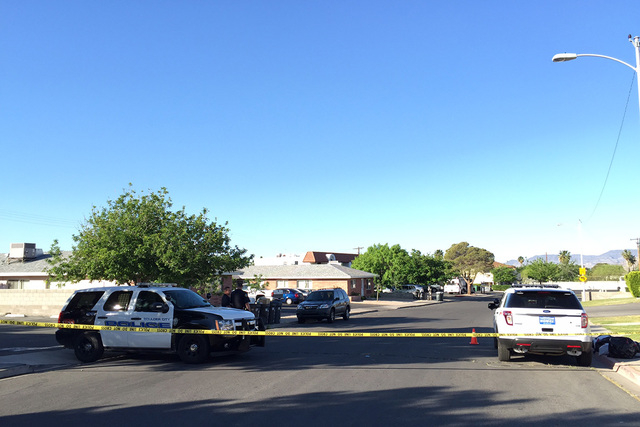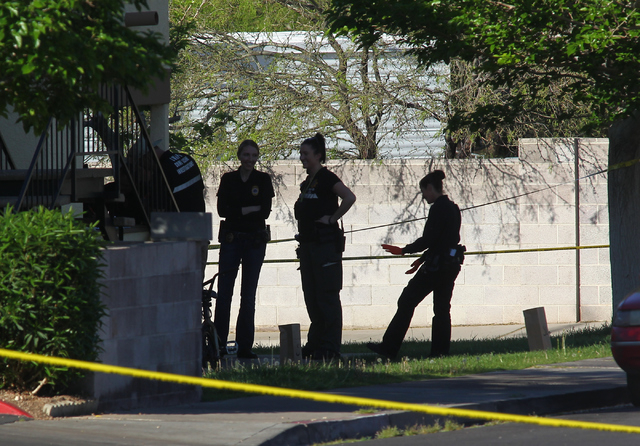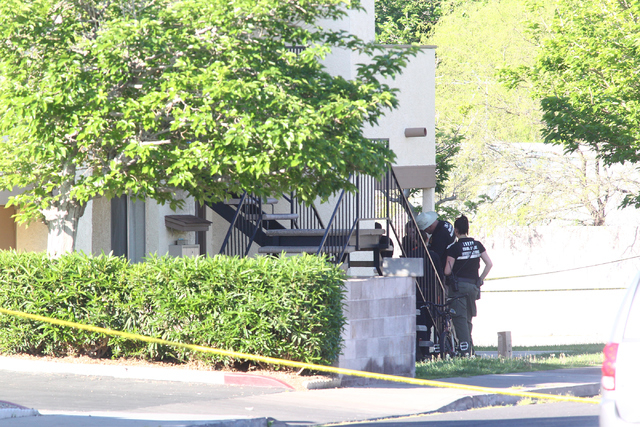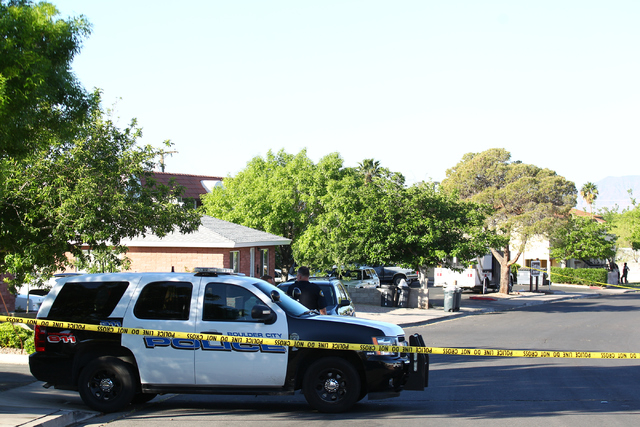 Lorenzo Corona initially thought he heard teenagers lighting off firecrackers Sunday night outside his apartment in Boulder City.
But when he heard police yelling for a man to put his hands up followed by a flurry of loud pops about an hour later, he knew it wasn't fireworks that he had heard.
It was the sound of gunshots echoing through the small town as his neighbor and Boulder City police exchanged fire.
And when Corona looked out his second-story window, he saw his neighbor lying on the ground as officers kicked the gun away from him and called for an ambulance.
That man was flown to University Medical Center where he died. His name will be released by the Clark County coroner's office after next of kin is notified.
Exactly what led to the shooting remains unclear.
Residents at 841 Avenue A, where the shooting happened, reported gunfire about 10:30 p.m. Sunday, Boulder City police Sgt. Aaron Johnson said.
When the officers arrived, they approached a man standing outside his first-floor unit. The officers told him to raise his hands, but the man refused, Johnson said.
Instead, he brandished a pistol and fired at the officers.
Two officers returned fire, hitting the man twice, Johnson said. Police did not say how many rounds the man or the officers fired. Three bullet holes were visible near the door of the dead man's apartment Monday morning.
Boulder Township Constable Steve Hampe said the man was in the process of being evicted for not paying rent.
Neighbors said they didn't know the man's name but described him as someone who was easily angered and could be seen yelling at cars that passed by if he felt they were making the turn around the apartment building too fast.
"I've seen him just a few times," Corona said. "He always got angry."
The officers were not injured in the Sunday shooting, police said. They have been placed on routine paid administrative leave while the investigation into the shooting continues.
Officer involved shootings are rare in Boulder City, with a population just over 15,000. The town has seen three police shootings since 1996. Metro had 16 officer involved shootings in 2014.
Boulder City's most recent officer-involved shooting happened Sept. 30, 2005. Jeffrey Dean Martindale, a white supremacist on the run for an attempted murder charge, fired at Boulder City police officers during a traffic stop near New Mexico Street and Nevada Way, about a quarter-mile from Sunday's shooting. Two officers, Mike Barth and Mike Daniels, returned fire, killing 32-year-old Martindale.
Contact reporter Colton Lochhead at clochhead@reviewjournal.com or 702-383-4638. Find him on Twitter: @ColtonLochhead.