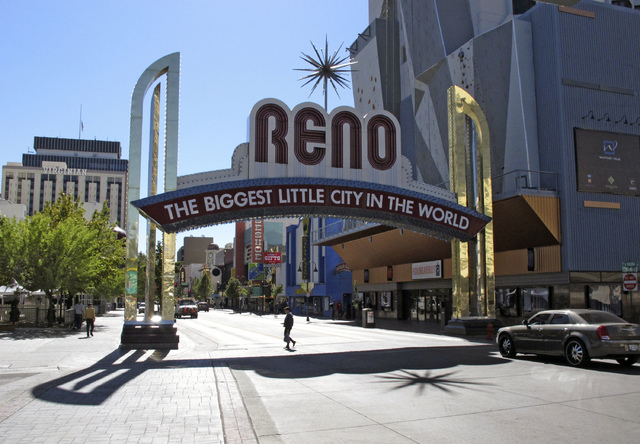 RENO — A variety of complicated legal issues are emerging in the prosecution of a Reno man accused of provoking assault by driving his truck into a crowd of protesters, and two men in the group accused of battering him, area lawyers say.
The Oct. 10 incident at a Columbus Day rally in support of Native American rights has raised questions about self-defense, hate crimes and whether the protesters had a First Amendment right to block traffic on the main casino drag beneath the city's famous arch.
Some of them surrounded the truck as it nosed into the group, striking the driver before he sped up through the crowd. Protester Kitty Colbert, 59, was seriously injured with multiple fractures.
Police issued arrest warrants for the driver and two others. Driver Nicholas Mahaffey, 18, faces a misdemeanor charge of provoking an assault. James Fletcher, 24, and Samuel Harry, 21, both face misdemeanor battery charges.
Reno City Attorney Karl Hall told the Reno Gazette-Journal evidence will prove Mahaffey provoked the assault. Hall refused to elaborate.
Police Chief Jason Soto said the group didn't obtain a permit, which would have prompted police presence.
Witnesses said the group crowded under the arch for photos, but videos showed they stayed in the crosswalk and impeded traffic. That's when Mahaffey and his 17-year-old passenger drove up to the protesters, revved the engine and honked at the group before driving forward.
Police said some people shouted at Mahaffey to take a different route.
Soto said Fletcher tried to open the driver's side door and punched Mahaffey in the face. Mahaffey then lurched his truck forward. Videos show a woman jammed a stick in the driver's side window, and as he drove forward, Harry punched Mahaffey's passenger in the face.
Soto said Mahaffey drove through the crowd because he "feared for his safety."
Reno defense attorney Theresa Ristenpart said Mahaffey had a lawful right to be on the road, especially if protesters didn't obtain a permit. The driver also had a right to protect himself, she said.
However, Ristenpart said if the driver was the aggressor he can't claim self-defense.
Michael Becker of the Las Vegas Defense Group said he understands why some protesters may have felt threatened, but once "the group is aroused, they could at any point become a mob."
Protest organizer Raquel Arthur, president of the American Indian Movement of Northern Nevada, is among those who want Mahaffey charged with a hate crime. She says he stalked the group and made threats and directed racially charged comments at them.
Becker said a hate crime is difficult to prove unless prosecutors could show someone was targeted because of race, ethnicity or orientation with a group.
Whether protesters had a right to stage without a permit also is unclear, said Ken Paulson, president of the First Amendment Center.
"We have a right to say what we believe and to assemble together to protest, period," he said. "But that right is not absolute."
RELATED
1 hospitalized after truck plows into protesters at Reno Arch