Nevada justices uphold medical malpractice damages cap
October 1, 2015 - 3:19 pm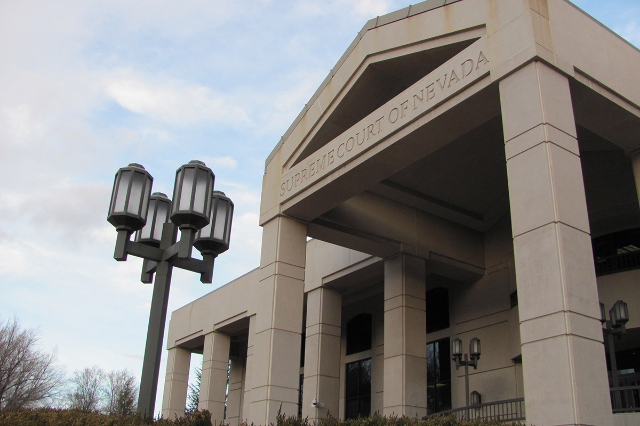 CARSON CITY — The Nevada Supreme Court on Thursday upheld major provisions of the state's medical malpractice law, overturning a judge who found that a $350,000 cap on non-economic damages was unconstitutional.
The unanimous decision, written by Chief Justice James Hardesty, said the state statute in question does not violate a plaintiff's constitutional right to trial by jury. The court also overturned the lower court determination that the $350,000 cap applied separately to each plaintiff and defendant.
Finally the court overturned the finding by Clark County District Judge Jerry Wiese that said the tort reform law applied only to professional negligence and not to medical malpractice.
The opinion granted a petition filed by Dr. Stephen Tam related to a medical malpractice case out of Clark County.
A lawsuit was filed in 2011 against Tam and others alleging they did not provide proper care to Charles Cornell while he was a patient at Desert Lane Care Center and that he died as a result. Cornell died in 2010 when he was discharged without medication or a prescription for insulin to treat his diabetes.
The case has not yet proceeded to trial. Tam asked the Supreme Court to intervene first.
Wiese, in a preliminary ruling in the case, found that the Nevada Constitution granted the right to trial by jury, including the right to assess and award damages. He also ruled that the $350,000 cap applied per plaintiff per defendant.
Tam argued that the $350,000 cap is constitutional and is the total allowed in non-economic damages regardless of the number of plaintiffs and defendants. Non-economic damages include pain and suffering.
The Supreme Court agreed with Tam, finding the cap to be constitutional despite the right to trial by jury.
A cap on non-economic damages was approved by Nevada voters in 2004 as part of a medical malpractice reform ballot measure. Called the "Keep Our Doctors in Nevada" initiative, it also limited contingency fees attorneys can charge clients who allege they are victims of medical malpractice.
Voters overwhelmingly approved the measure amid fears doctors would flee from the state because of high medical malpractice insurance costs.
Contact Sean Whaley at swhaley@reviewjournal.com or 775-687-3900. Find him on Twitter: @seanw801