Nevada legislative leaders seek more education funding
November 20, 2014 - 5:58 pm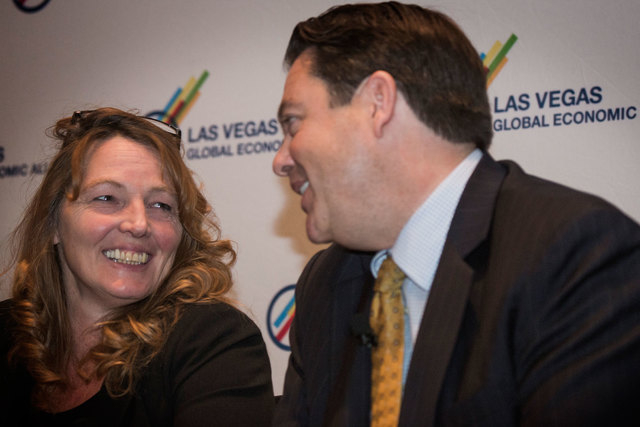 Nevada Senate Majority Leader Michael Roberson and outgoing Assembly Speaker Marilyn Kirkpatrick agreed Thursday that the Legislature must approve more funding for education and reform the tax system to find new revenue for schools.
Roberson, R-Las Vegas, said he doesn't want lawmakers to write "a blank check," but instead reform education to spend new revenue more wisely.
"We have really two choices," Roberson said, speaking at a forum on education at the MGM. "We can either reform our tax structure in a broad-based, fair way in collaboration with the community … in a way that generates more revenue. Or we're going to be in a situation where we're going to have to cut education significantly."
Roberson said the shortfall in education funding is about $175 million to $200 million. He said he ran for re-election because his No. 1 goal is to improve Nevada's lackluster education system.
Kirkpatrick, D-North Las Vegas, and Roberson have been meeting ahead of the next legislative session, which begins in February, to discuss taxes and education. GOP Gov. Brian Sandoval, who was re-elected with more than 70 percent support, has said he, too, wants to press for major tax and education reform next year. Roberson said he fully supports the governor.
"The governor is going to lead on this," Roberson said, adding that his GOP caucus also backs the idea of tax and education reform. "The governor's agenda is going to be my agenda."
In the Nov. 4 election, Republicans won majority control of both the Senate and the Assembly, where Democrats now have only 17 seats compared to 25 seats for the GOP. The partisan breakdown in the Senate is 11 GOP seats to 10 Democratic seats.
Kirkpatrick said she's worried that new members of the Assembly, which includes more than half a dozen conservative Republicans who signed pledges not to raise taxes, could make it difficult to find new revenue.
"It's going to be a lot harder this time," Kirkpatrick said. "I think we have a lot of new people … It's going to cost Nevada no matter what we do."
"It's going to be a very long, hard fought session," she added.
Kirkpatrick said some incoming lawmakers think the answer to reform is to reduce the budget and look for waste, but she doesn't agree.
"A lot of people don't understand our budget and think we should cut," Kirkpatrick said. "I don't know one thing that we can cut."
About 250 people attended the forum, including one who asked whether updating the school funding formula might help boost education.
Kirkpatrick said the formula for distributing money to each county school district needs updating because it's decades old. But she said that will not solve the problem of finding enough money to properly pay for education.
"No formula makes a difference unless we put some new money in it," Kirkpatrick said. "It's not going to matter unless there's extra dollars. … We have to have a real conversation about how we fund it at some point."
Kirkpatrick noted that efforts to improve the education system have failed in the past because of Nevada's lean budget and the recession.
For example, she said the Legislature approved a pay-for-performance system for teachers in 2007 but then took the money back from the program in 2009 because of other budget needs.
The Las Vegas Global Economic Alliance put on the luncheon forum to discuss education reform, which the business group said it supports.
The discussion focused primarily on how to pay for education and didn't delve into what education reform might come out of the Legislature.
Kirkpatrick said she would continue to push for property tax changes that could raise more revenue and expand the live entertainment tax.
Lawmakers also will review $2.2 billion in annual tax exemptions and breaks that Nevada provides, according to a new report Kirkpatrick requested. She said some of those exemptions are good, but some might not be needed anymore.
Asked where Nevada might find new revenue, Kirkpatrick said she's looking to the business community to provide the answer. The Las Vegas Metro Chamber of Commerce, the Nevada Resort Association, the Nevada Mining Association and the Retailers Association of Nevada have all come out in favor of reforming both education and the tax system. But no specific proposals have been offered yet.
"I'm looking for new ideas from you," Kirkpatrick said to the business audience, adding that she has been "beat up" over the years for proposals that would tax business. "There's not one silver bullet that generates a whole bunch of money."
Contact Laura Myers at lmyers@reviewjournal.com or 702-387-2919. Find her on Twitter: @lmyerslvrj.