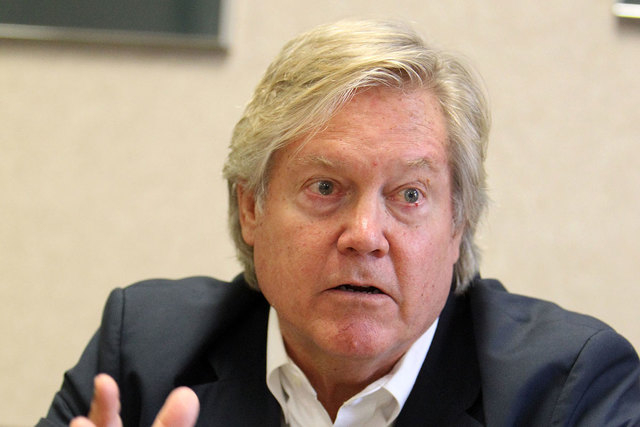 CARSON CITY — The 2015 legislative session may still be seven months away, but a list of bill draft requests made public Tuesday offers a glimpse into some of the issues on the minds of state lawmakers.
A total of 138 requests, which include only a simple summary line, are on the list. The list will be updated weekly through the 2015 session.
Sen. Tick Segerblom, D-Las Vegas, has requested two resolutions for drafting that would ask voters in 2018 to abolish term limits for state and local elected officials and repeal a two-thirds requirement in the Legislature to raise taxes.
The measures to amend the state constitution would have to pass the 2015 and 2017 sessions before they could go to the voters.
Segerblom said he believes public sentiment has shifted on both issues.
"We need a government that functions," he said. "With our hands tied behind our backs we can't do anything."
The list of bills includes the serious and the lighthearted. Some descriptions are so generic as to provide little insight into a lawmaker's intentions.
The first request was made by Sen. Mo Denis, D-Las Vegas, at the close of the 2013 session. The measure would enact the "Nevada commerce tax."
Denis said the request is just a vehicle to have a tax discussion in the 2015 session. There are no specifics as of yet, he said.
Other bills requested by lawmakers include a measure to increase the highway speed limit, recognize Cinco de Mayo, designate the Picon Punch as the official state drink, and let stand-alone bar owners permit dogs to enter their establishments.
As in past sessions of the Legislature, animal-related measures are a frequent subject of requests for bill drafting by lawmakers.
Sen. David Parks, D-Las Vegas, is seeking legislation to require training for law enforcement officers regarding canine behavior.
In an interview with the Review-Journal in November, Parks said he's concerned about the number of incidents where police in Southern Nevada unnecessarily shot dogs.
"In many instances, a dog is being territorial, not vicious," said Parks, who has been bitten by dogs himself. "It would help if police knew what category of dog they were dealing with."
Sen. Mark Manendo, D-Las Vegas, has asked for a bill to create a registry of people convicted of intentional animal cruelty to ban them from owning pets.
Manendo said in December that the registry would prevent repeat animal abuse offenders.
"We need to make every effort to have laws that better protect helpless animals and prevent violent behavior towards them," he said.
Other measures sought for drafting include a "Nevada Right to Try Law" to allow terminally-ill patients access to certain therapies and medications that are currently considered experimental, and one that would prohibit the denial of benefits to a state or local employee who holds a medical marijuana registry identification card and uses medical marijuana.
Contact Capital Bureau reporter Sean Whaley at swhaley@reviewjournal.com or 775-687-3900. Find him on Twitter: @seanw801.
Nevada Legislature 2015 session