Nevada officials help develop defense systems against drone threats
November 21, 2016 - 12:32 pm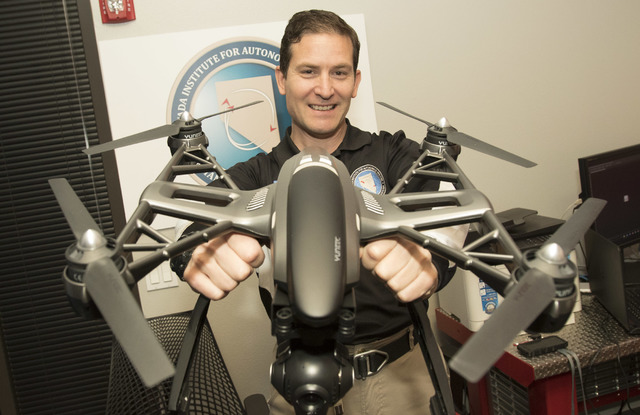 Nevada drone experts have finished a Federal Aviation Administration operation in Denver to develop the counter unmanned systems industry, which is the development of defense systems against drone threats.
"Right now airports do not have a radar that can effectively detect small drones (weighing less than 55 pounds)," said Chris Walach, director of the FAA-designated Nevada Unmanned Aviation Test Site. "When a bird gets sucked into an airliner engine, you have an engine failure. If a bird can produce that type of damage to an airline engine, you can imagine what an unmanned aircraft could do."
The FAA chose Nevada to lead the operation to test different detection technologies that air traffic control could use to detect unmanned aircraft. Flight teams worked Sunday to Friday flying multiple aircraft at once with different frequencies with the goal of confusing various radar technologies.
The testing showed that one of the minimum criteria for such a radar system will likely be that the radar has to detect not only the frequency of a drone, but also the drone's audio and visual systems.
"You need the combination of all three to make up the ability to detect a drone," Walach said.
The FAA will continue testing through next summer, he said, and will ultimately develop minimum performance standards and select the appropriate equipment that will be deployed to airports.
"Detection will allow pilots to take evasive action or adjust their altitude and speed," he said.
The testing and development of counter UAS technology has implications beyond airports.
"This latest test proves that safety and privacy remain paramount concerns in developing a thriving unmanned aerial systems industry," Tom Wilczek, aerospace and defense industry specialist for the Governor's Office of Economic Development, said in a statement.
Counter UAS technology will help keep rogue drones out of airspace and also out of critical infrastructure, officials say.
"When you open the airspace up then it becomes more of a concern that these drone operators are flying where they're not supposed to go. So, now you have to have another developing industry to counter that negative effect," Walach said.
For example, technology is being developed that will allow systems to disable drones that pose a threat by taking control of their radio frequency signal and landing them, Walach said.
"Or, there's certain technology that, when this little drone is flying, they (the defense drone) can shoot it out of the sky, and then it's toast as well," he said.
That technology has a ways to go, considering there are still few legal questions that have to be addressed. But for now, drone radar detection is a big step forward in the right direction, he said.
The Nevada-led testing in Denver was the first drone testing done at a major international airport and marked the first time FAA testing occurred inside Class B Airspace, which is highly regulated.
Walach said the Nevada test site brought four of the five flight teams, the fifth being from North Dakota's Northern Plains UAS Test Site, and the majority of the nine different types of unmanned aircraft that were used in the test, ranging from quadcopters to fixed wing drones.
Contact Nicole Raz at nraz@reviewjournal.com or 702-380-4512. Follow @JournalistNikki on Twitter.
RELATED
Deal would keep Nevada as drone test site until 2020
NASA air traffic control system for drones, manned aircraft gets test in Reno