Nevada Supreme Court Justice Nancy Saitta is stepping down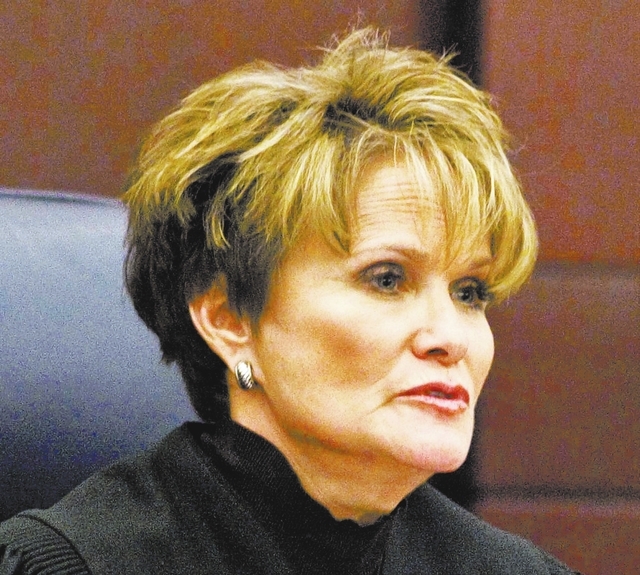 Nevada Supreme Court Justice Nancy Saitta abruptly announced Monday that she is retiring more than two years before her second term is up.
Saitta, 65, notified Gov. Brian Sandoval in a letter last week that she was stepping down from the high court on Aug. 8. Her six-year term runs through 2018.
"After nearly 20 years as a judicial officer, with 10 of those years as a justice of the Nevada Supreme Court, I have decided that it is time to move on to the next chapter," Saitta wrote in the letter. "I consider myself fortunate to have had the opportunity to be of service to the courts and the citizens of the state of Nevada."
In a news release Monday, Saitta added: "After careful consideration, I am confident that this is the right time for me."
Saitta, who served as chief justice of the Supreme Court between September 2011 and May 2012, said she plans to become a senior judge and continue her work on several commissions and task forces that focus on the welfare of children.
The Nevada Commission on Judicial Selection will consider applicants who want to finish Saitta's term, according to Supreme Court spokesman Michael Sommermeyer. The commission will recommend three candidates to Sandoval, who then will select a replacement for Saitta. The process takes roughly four months.
Her retirement comes three months after a Las Vegas Review-Journal story revealed that a sworn deposition had surfaced alleging Saitta "tipped off" a key target to FBI-led raids in a massive investigation into homeowners association fraud.
Saitta has strongly denied tipping off the target, construction defect lawyer Nancy Quon, who eventually killed herself under the weight of the investigation. The retiring justice could not be reached Monday for further comment.
In the deposition, Lisa Kim, who ran a company that managed HOAs linked to the long-running federal investigation, testified that Quon told her about the tip on Sept. 24, 2008, the first of two days of court-approved law enforcement searches across the valley. The next day investigators searched Quon's office.
Quon did not tell Kim how Saitta would have learned about the raids, which were attracting media attention.
The case focused on a wide-ranging scheme to take over HOA boards through election rigging so that Quon's law firm could land lucrative contracts to sue for construction defects. Work repairing the defects then was steered to a construction company owned by her friend, Leon Benzer. He ended up pleading guilty.
In all, more than 40 people either pleaded guilty or were convicted at trial in the largest public corruption case ever brought by federal authorities in Nevada.
The Justice Department looked into allegations of leaks in the HOA case, including whether some had come from the Nevada U.S. attorney's office, but did not file any charges. It has fought to withhold documents in the investigation from the public.
Saitta, who first was elected to the Supreme Court in 2006, presided over construction defect cases while she was a Clark County District Court judge.
She began her judicial career in 1996, when she was appointed to a seat on Las Vegas Municipal Court. Two years later, she was elected to the District Court bench.
Before becoming a judge, Saitta was a senior deputy attorney general who specialized in children's issues.
Over the years, she has won state and national awards for her devotion to those issues. She currently chairs the Supreme Court's Commission on Statewide Juvenile Justice Reform.
"Justice Saitta has served the people of Nevada with distinction and honor as a fair, consistent, and tireless public servant," Sandoval said in a news release Monday. "The contributions to jurisprudence and justice she has made during her decade of service on the Nevada Supreme Court will have a meaningful and lasting influence on our state."
Sandoval promised to give "careful and thoughtful consideration" to her successor.
Contact Jeff German at jgerman@reviewjournal.com or 702-380-8135. Find @JGermanRJ on Twitter.