Nevada's highest point, Boundary Peak, often overlooked
October 22, 2014 - 10:44 pm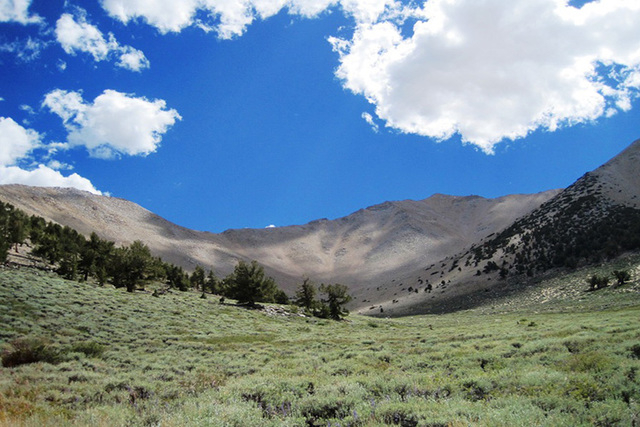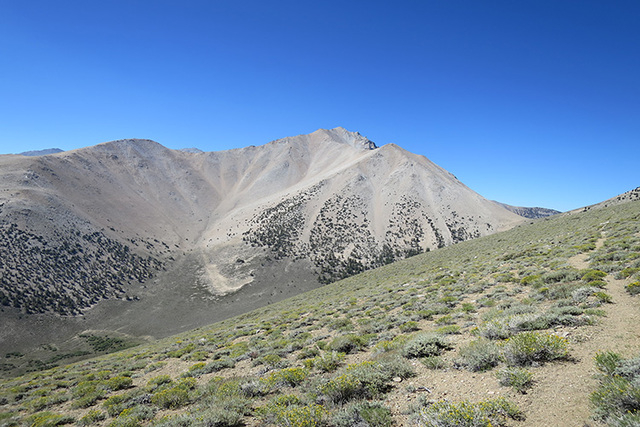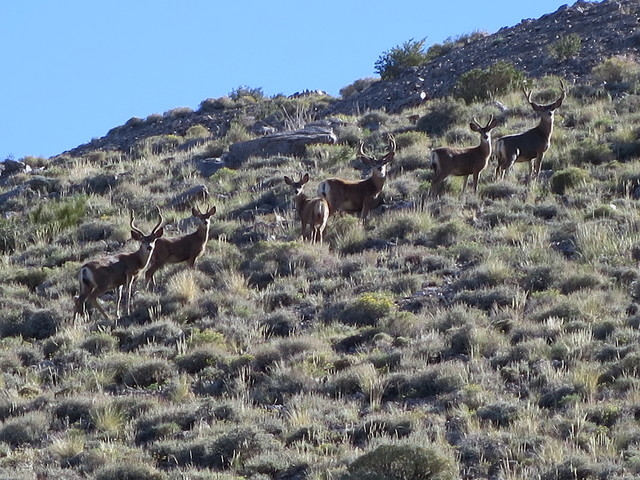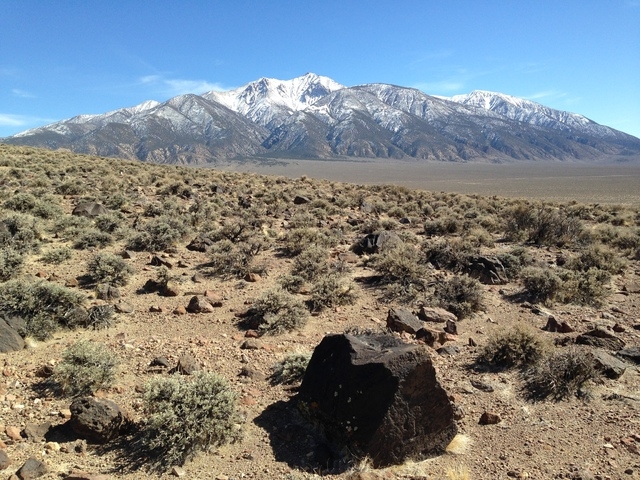 If beauty played a role in deciding Nevada's highest point, Wheeler Peak, crown jewel of Great Basin National Park at the eastern edge of the state, would be the winner hands down.
Instead, geography and topography have conspired to give us Boundary Peak on the state's opposite border — a nondescript, scree-covered bump at the end of California that rises, nevertheless, about 77 feet higher than picturesque Wheeler.
By some estimates, 13,140-foot Boundary is barely even a peak. A website for climbers called summitpost.org describes it is as "part of a twin peak with Montgomery Peak," which is 301 feet higher and just across the border in California. If you keep going south from there, you'll come to even taller Mount Dubois (13,559) and taller still White Mountain Peak (14,246), also completely in California.
"Boundary Peak is at the Northern end of the White Mountains," writes summitpost.org, "and would not be climbed much except for the fact it is the highest point in Nevada, although it is not the highest peak in the area."
Not exactly a stirring review. But the mountain does have its supporters.
"I can see Boundary Peak from where I'm sitting right now. It's something to brag about," said Ralph Keyes, an Esmeralda County commissioner who took a break from fall planting at his Fish Lake Valley alfalfa farm to answer the phone in his tractor cab.
He said having the state's highest point is "kind of a bonus" for Nevada's least-populous county because the peak attracts hikers and campers who provide "a little boost to the economy."
Esmeralda County residents are so proud of their peak that a few years back, before Keyes joined the commission, county leaders rejected a push by conservative activist Chuck Muth to have Boundary renamed in honor of Ronald Reagan.
Keyes said it's too bad Boundary isn't as tall as its neighbors in California — "We're getting the short end a little bit there" — but it is still impressive enough to make him want to climb it, someday.
"That's on my bucket list," he said.
There was a time, about 140 years ago, when 13,063-foot Wheeler Peak was Nevada's high point and Boundary Peak was just another mountain in California.
A nasty boundary dispute north of Lake Tahoe prompted a full survey of Nevada's western border in the early 1870s, and that produced the so-called Von Schmidt line, which shifted the border to the east of Boundary Peak, though only for about 20 years. Questions about the accuracy of Allexey Von Schmidt's work led to a follow-up survey in 1892 that moved the state line west, to its present location.
Von Schmidt's oblique line from Lake Tahoe to the Colorado River still shows up on some maps, if only as a historical curiosity. Unless the border gets changed again — or someone finds a way to pile another 78 feet of rock to the top of Wheeler — maps also will continue to highlight Boundary Peak as Nevada's highest.
"It is easily under-appreciated, but I think it's a lovely mountain," said Deb Schweizer, the California-based spokeswoman for Inyo National Forest, which includes the Boundary Peak Wilderness.
Schweizer added that she and her husband set out to climb Boundary earlier this fall, though she admitted in retrospect they didn't do enough homework. They climbed a mountain that day, but it was the wrong one.
They didn't discover their mistake until later: The summit they reached was Montgomery Peak, which at 13,441 feet offers a stunning view of Nevada's highest point.
From above. In California.
Contact Henry Brean at hbrean@reviewjournal.com or 702-383-0350. Find him on Twitter: @RefriedBrean.

Celebrating the Silver State