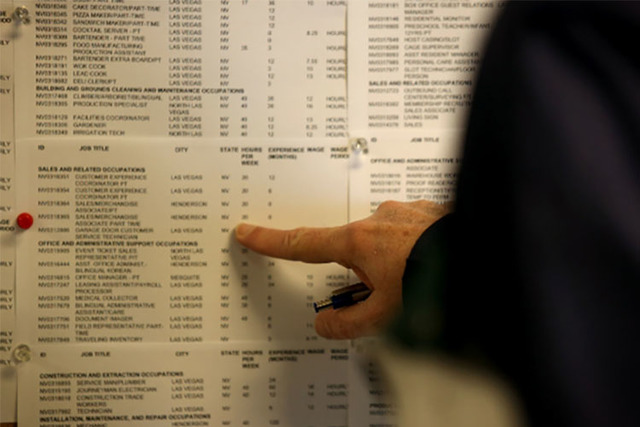 Unemployment in the state is back to a rate last seen before the start of the Great Recession.
The state's unemployment rate for November, adjusted for seasonal differences, fell to 5.2 percent, the lowest it's been since December 2007, according to a report Wednesday from the state's Department of Employment, Training and Rehabilitation.
That's a drop of 0.3 percentage points from the month before and 1.2 percentage points lower than the year prior, the report said. It also marked the 69th consecutive month the state's rate has dropped.
However, Nevada's jobless rate, which peaked at nearly 14 percent in 2010, still trails the U.S. rate of 4.6 percent.
"All things considered, the pace of the recovery is perhaps best described as moderate but sustainable; arguably a better scenario than the unprecedented conditions which preceded the economic downturn," the department's chief economist, Bill Anderson, said in a statement. "Employment is at an all-time high, registering above 1.3 million, with an additional 34,700 jobs over November of last year."
For the month, Nevada gained 3,200 jobs, seasonally adjusted, compared to October.
Throughout 2016, the fields of trade, transportation and utilities saw the biggest job gains with 9,000 jobs, a 3.8 percent increase over last year.
The construction industry saw a 10 percent jump year-over-year with an increase of 7,000 jobs. An increase in the number of new houses construction companies are hired to build has helped. That rate has beat the national one for about four years.
Between 2006 and 2011, 100,000 construction jobs were lost, according to the report.
The state's mining and logging industries continue to worsen, according to the report. This year, those industries have lost 800 jobs, a 5.8 percent decrease, because of weak gold prices.
That news is especially bad for the state economy considering that mining was responsible for some of Nevada's highest earners, with a weekly average pay of $1,500.
Small businesses in the state showed stronger health than before the recession. Businesses with less than 100 employees hired 603,000 people in the state, a total that is 3 percent greater than the fourth quarter of 2007.