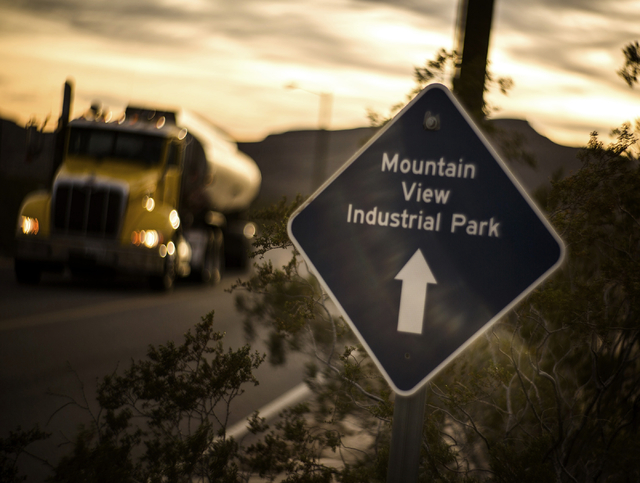 The North Las Vegas City Council unanimously approved its biggest capital improvement plan in six years Wednesday.
The $431.4 million plan for fiscal years 2017 to 2021 was padded by money the state expects to raise from bonds to build infrastructure at the Apex Industrial Park.
Last year's budget for a 2016-2020 plan was $236.6 million.
The council requested no changes to the current plan, which devotes about $173 million to the industrial park just west of Interstate 15. Those funds are an estimate of the money the state expects to raise to build infrastructure such as water and sewer utilities and connection from the park to a railroad running along Interstate 15.
About half of the bond obligation will be paid for by Apex property owners in a special improvement district. The other financing will come from a tax increment area inside the industrial park.
The Nevada Legislature approved the state bond funding as part of the deal made with Faraday Future for an electric car plant.
About $168 million of the city's proposed plan is devoted to transportation and flood control projects, which are largely funded by grants and fuel indexing revenue.
Projects not deemed "critical needs" by the city were listed for future years. The projects include more than a dozen public safety vehicles, a $30 million swimming pool complex at Craig Ranch Regional Park and a new $90 million police headquarters building.
When asked about a new police headquarters being deferred, North Las Vegas police chief Alex Perez said, "I don't foresee that being a realistic part of the capital improvement plan for a little while."
Although much attention has been given to the possible economic payoffs of the Faraday Future plant and the Villages at Tule Springs housing development, the city's financial problems remain.
Earlier this month, the credit rating firm Moody's upheld the city's Ba2 rating, which it has had since June. That rating is two notches below what Moody's considers "investment grade" and is considered a substantial credit risk, according to Nasdaq. A Moody's representative said the rating is not expected to change for the next 12 to 24 months.
Contact Alexander S. Corey at acorey@reviewjournal.com or 702-383-0270. Find him on Twitter: @acoreynews