Northern Nevada braces for worst flooding in a decade
January 8, 2017 - 9:05 pm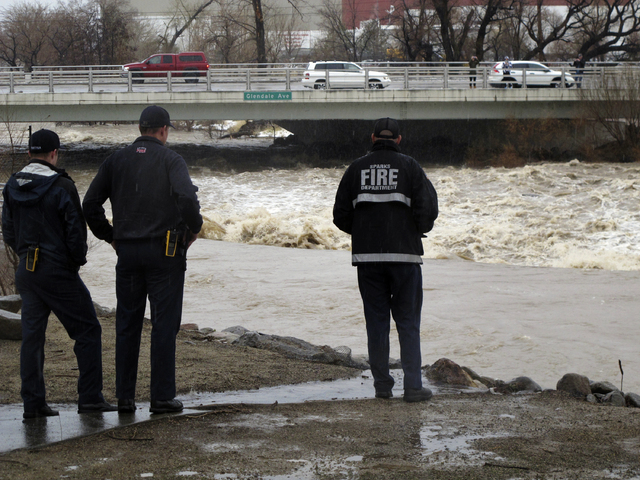 Flooding in Reno forced the evacuation of more than 1,000 homes, closed streets and highway stretches and prompted Gov. Brian Sandoval to tell nonessential state workers to stay home Monday.
As of Sunday night, more than 1,000 homes had been evacuated in Reno as much of the Sierra's eastern front braced for the worst flooding in a decade. Emergency officials said residents voluntarily evacuated 1,300 homes in a south Reno neighborhood Sunday as the Truckee River began rising above its banks and drainage ditches started overflowing south of Interstate 80.
The California Transportation Department tweeted that a mudslide forced westbound I-80 to close in both directions between Truckee and Donner Summit.
Meanwhile, Northern California endured a massive winter storm and braced for another storm, expected Monday night. Toppled trees crashed against cars and homes or blocked roads Sunday in the San Francisco Bay Area; officials rescued stranded drivers from cars stuck on flooded roads.
Mudslides and flooding throughout Northern California led to road closures Sunday, especially in the North Bay, one of the areas hardest hit and where the Napa River jumped its banks.
In northwest Nevada, the anticipated "atmospheric river of moisture" arrived in full force Sunday afternoon, when temperatures were in the 40s in the valleys and the snow level had risen to above 8,000 feet. The warm storm dropped rain, melting snow, and pushed small streams to flood stage.
A number of cancellations were announced, including the state Department of Transportation meeting set for Monday. All schools in Washoe County were closed for the first day back from winter break. Classes at the University of Nevada, Reno were canceled for Monday. The Nevada Supreme Court and Court of Appeals in Carson City also closed; deadlines will be extended one court calendar day.
The snow level was lower than anticipated, reducing runoff and lowering flood estimates. However, the Truckee in downtown Reno was expected to reach moderate flood stage Sunday night at 12.6 feet over flood stage. Sparks was expected to exceed major flood stage at 21.2 feet.
In Carson City, the river was expected to reach only minor flood level. Local streams drained into the Carson River, but a number of roads were closed because of water on the roadways.
"Knock on wood, we haven't seen any loss of life or any personnel injuries," Carson City Mayor Bob Crowell said in a video posted around 9 p.m. on YouTube. "That's because our (residents) of this community have stood up to ensure their property and the property of their neighbors have been taken care of."
Areas of concern in Washoe County included the Autumn Hills and Celeste Drive residential area in south Reno where a recommended evacuation affected 30 to 40 homes. Another evacuation was under way at Rio Pico Road and Mira Loma in east Reno.
A big concern for responders was the number of people who went to downtown Reno to take pictures despite the potential danger. This was also a concern in South Lake Tahoe.
"During the storm DO NOT try and do sightseeing along rivers, creeks, marshes or the lake during this storm event. ‪#StayHomeStaySafe" the city of South Lake Tahoe (@cityofslt) tweeted.
Further afield, State Route 342 between Virginia City and Gold Hill was closed because of flooding.
South in Douglas County, the East Fork of Carson River had climbed to 8.93 feet as of 4 p.m. Major flood stage is 9.5 feet.
And an avalanche closed a portion of the Mount Rose Highway connecting Reno to Lake Tahoe for the second time in three days after more than 6 feet of snow fell atop the Sierra last week.
The Reno-Tahoe International Airport was open but travelers were urged to check with their carriers as to flight status.
Las Vegas Review-Journal writer Sandra Chereb and The Associated Press contributed to this report. Contact Sean Whaley at swhaley@reviewjournal.com or 775-461-3820. Follow @seanw801 on Twitter. Contact Matthew Crowley at mcrowley@reviewjournal.com. Follow @copyjockey on Twitter.
RELATED
Sandoval to tour flood-prone sites in Reno area
Minimum-security inmates to help handle flooding in Northern Nevada, California
Flood warning issued in Northern Nevada as wet winter weather slams western US