Once held by Nazi officers, Nevada baker makes life a little sweeter for patrons
August 14, 2016 - 8:42 am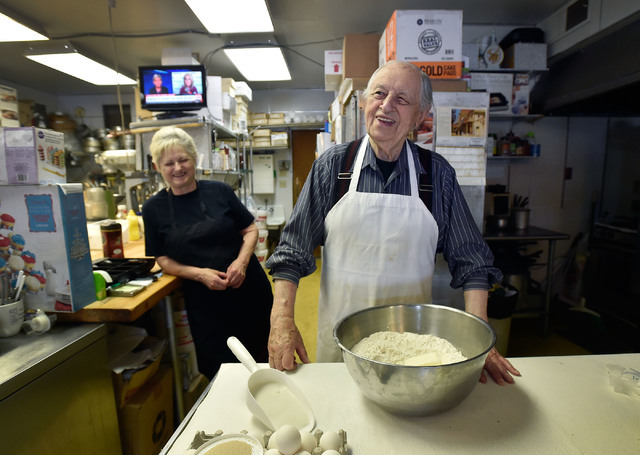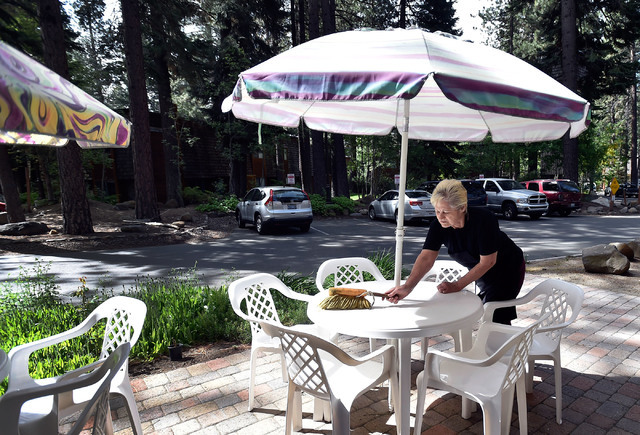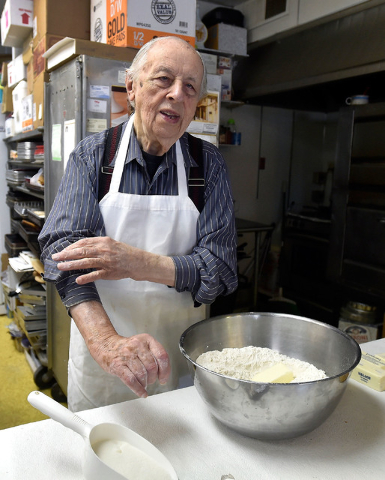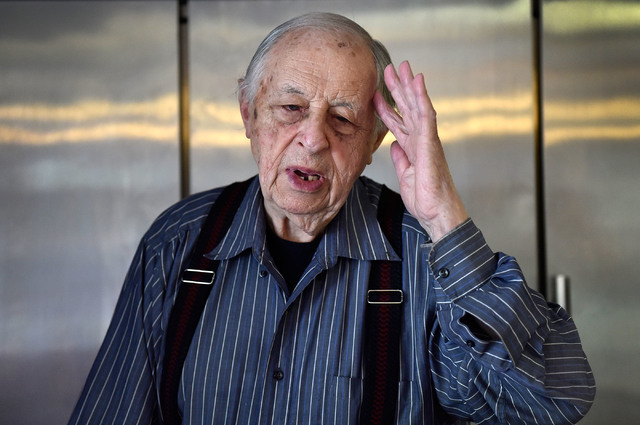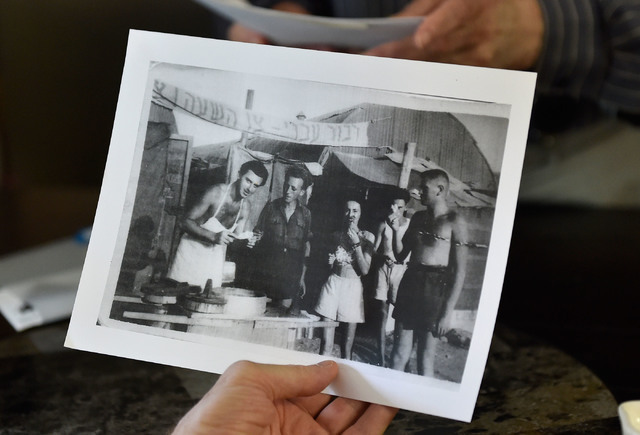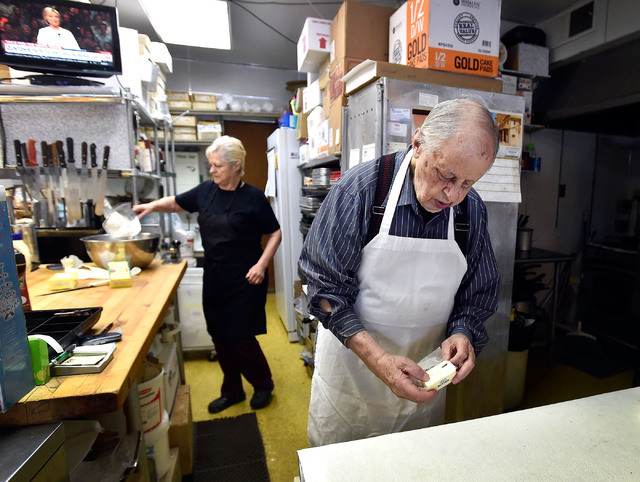 INCLINE VILLAGE — Just like that, the "closed" sign in the window of Ernie's International Pastries on the north shore of Lake Tahoe flips to "open." Moments later, the 91-year-old proprietor shuffles gingerly through the kitchen, looking dapper in his suspenders and blue dress shirt.
The bakery usually opens at 11 a.m. and here it is 9 a.m. – two hours early.
So what gives?
Ernie Feld shrugs with anything-goes nonchalance, as if to say, "At my age, you can open anytime you please."
There's a lightness to his fragile demeanor, a rising lilt to his Eastern European accent – both as sweet as the poppy-seed strudels that are Ernie's specialty.
But his life story is bittersweet: a history that has formed dark rings around his eyes and suffused his personality with a stubborn edge.
For three years, when he was an impressionable Jewish teenager, Ernie served as the personal baker for a battalion of German SS officers who held him captive during the final years of World War II.
During those endless months, he swallowed his hatred so he could feed his jailers their favorite confections — his signature strudels, Austrian Sacher torte and lemon Napoleons, using empty Champagne bottles rather than rolling pins to knead his dough.
Along the way, he became a wartime Schindler: He told the Germans he needed help in the kitchen as a way of rescuing scores of fellow captives from their work constructing an airport outside Budapest. He probably saved many from the gas chamber.
Call it Ernie's List.
Meanwhile, three dozen members of his family – including his beloved mother, Sara – were sent to their deaths at Auschwitz.
After the war, Ernie became a Palestinian freedom fighter and served as an Israeli soldier before moving to the San Francisco Bay Area a half century ago.
Today, Ernie works seven days a week in his Nevada kitchen-bakery with his wife, Marika, artfully preparing his specialties for a growing fan base.
Many customers have read about Ernie's gritty survival, the years from 1942 to 1945, when he baked for his life. Some send letters or drop by for a strudel and ask for an autographed picture.
Ernie, always the courtly ladies' man, loves every minute of it.
"Pretty girls are now asking to take my picture," says the U.S. immigrant who speaks seven languages. "At my old age, that's a good thing."
But Ernie can't forget his time forcibly baking for the Third Reich, the same cause that was exterminating his family. In the airport kitchen, the prisoners all cursed their Nazis overseers; some spit in their food behind their backs.
Ernie bided his time, waiting for the freedom he wasn't sure would ever come.
"I hated those soldiers," he recalls. "I lost my whole family – my mother, my cousins, uncles and aunts. But I wanted to stay alive, so I had to dance to the German music."
HEART-RENDING HARDSHIP
Ernie was born in Lucenec, Czechoslovakia, in 1925, in the years between Europe's two catastrophic continental wars. His father died when he was young, leaving the skinny kid to shadow his mother in the restaurant she ran in town.
He later spent three years as an intern baker – vital practice for the hardships to come.
In 1942, after the Nazis began rounding up Jews in Czechoslovakia, Ernie stood on a train platform, waiting with other youths to be carted off to a forced-work camp. His mother stood next to him, worrying whether his shoes would hold up.
It was the last time he ever saw her.
In Hungary, he served as a cook on a collective farm, where one day a Nazi officer asked if he could bake pastries. "We need something to nosh on," the officer said. "We can't just drink Champagne."
Ernie was brought to the airport construction project and right away recognized the power of having a talent the Nazis needed.
"I told them, 'I have no tools to cook, and so I need men,'" he recalls. "Give me those 100 Jewish guys working on the runway."
To this day, Ernie smiles sadly when he describes this dark chapter of his past. The Germans often sent him to Budapest to buy provisions. He wore a yellow armband to be counted as a Jew, accompanied by a bodyguard to guarantee his safety.
"The top officers told the soldier, 'You are Ernie's bodyguard,'" Ernie recalls. "'Make sure nothing happens to him. We won't get our poppy-seed strudels if he gets killed.'"
Along with finger foods, Ernie made pasta with poppy seeds and pastries with frankfurters. The Nazis said he cooked cannoli like an Italian.
Even amid the horrors of war, there were moments of humanity. Sympathetic Hungarian officers at the airport often apologized in advance when they were forced to hit and insult Jewish prisoners in front of the Nazis.
Once, when a German Messerschmitt landing at the airport got stuck in some sand, officers told several Jewish prisoners to stand on a wing to give the plane the balance necessary for takeoff.
Just as the plane became airborne, the officers yelled for the men to jump.
"Well, I didn't want to take a ride to the Russian front," Ernie recalls. "So I jumped."
He fell and broke his left arm and still has restricted use of the limb.
Years later, when Ernie met a U.S. pilot who bombed the Budapest airport, he joked: "I was there. You mean you didn't see me?"
In 1945, with the Germans on the run, Ernie escaped into the forest with another prisoner. "It was early one morning, when we saw soldiers coming," he recalls. "We didn't know if they were Russian or German."
Then he spotted the Russian uniforms and ran out, shouting "My Slavic brothers!"
Back home in Lucenec, friends who'd survived Auschwitz broke the news that both his mother and younger brother Alex were dead along with so many others.
He found an old photograph of his mother in happier days. She's grouped with others inside her restaurant. People are eating, celebrating. One man holds a saxophone.
Ernie cherishes the photo as a reminder of the fearless woman who taught him the trade that saved his life.
SWEET SUCCESS
A customer stands at Ernie's counter, ordering a birthday cake. She'd read about the baker's exploits and wry humor and wants to see for herself.
She isn't disappointed.
Ernie doesn't take credit cards, and the woman pledges to return with $100, along with an image of a rooster she wants on the cake.
"Don't forget to bring yourself," Ernie says, smiling. "We want to see the money."
Some online reviews of Ernie's bakery grouse about his supposedly surly nature; others celebrate his candor. One writer complained that Ernie was "a cantankerous old man." Another enjoyed by his humorous stories.
Ernie's repertoire includes a tale of the four bears that broke into his shop in just one season, including the large male he met face-to-face in his kitchen. Ernie later helped catch two bears by baiting a trap with his poppy-seed strudel.
"Those bears must be Jewish," goes his punchline. "One came in for a good meal and went home to tell his family, 'There's very good strudel there.'"
Ernie tells customers that his takeout boxes are shaped like the Pope's cap and invites them to try one on. He has a frank assessment of his humor: "I'm like Donald Trump: Whatever comes into my mind, I say."
After years of being under the Germans' thumb, Ernie jokes that he is now the sole commander of his kitchen – as long as his wife says it's OK. As they move around their crowded kitchen and bakery, he and Marika kibitz in Hungarian.
"When customers arrive, she says, 'Tell them this story; tell them that one,'" he says with a laugh. "Then, when I start talking, she says, 'Ernie, make the pastries.'"
After a long baking career, Ernie has put his business up for sale, perhaps realizing that he just might have earned the right to relax.
For now, he keeps working, content in knowing that the SS soldiers who once ruled his life are probably all dead now, while he remains here – baking, laughing, telling his jokes.
Once you've survived the Nazis, he knows, life is a piece of cake.