Proposed solar arrays in Clark County include battery storage
The next big trend in solar energy has arrived in Nevada, and for once the batteries are included.
Construction is slated to begin in Clark County next year on two of the largest solar arrays ever built in the state and the first to incorporate batteries to enable power delivery at night.
The proposed Yellow Pine Solar Project, 10 miles southeast of Pahrump, would combine photovoltaic panels and lithium-ion batteries to generate up to 500 megawatts of electricity for use in Nevada on about 3,000 acres of public land near the California border.
The Gemini Solar Project, 25 miles northeast of Las Vegas, would eventually generate up to 690 MW with some battery storage on about 7,100 acres of public land just east of Interstate 15 along the road to Valley of Fire State Park.
Industry experts expect to see more developments like these as battery costs decline and the technology continues to improve.
"Solar and storage go together like peanut butter and chocolate, great on their own and even better together," said Jessica Scott, regional director for the Oakland, California-based advocacy group Vote Solar.
BLM seeking input
The Yellow Pine project is being developed by a subsidiary of NextEra Energy Resources, a Florida-based company that ranks as the largest renewable energy producer in North America. NextEra already operates two solar arrays in Clark County, the 250 MW Silver State Solar Power South in Primm and the 20 MW Mountain View Solar plant in Apex.
Gemini is a joint venture by Australia's Quinbrook Infrastructure Partners and California-based Arevia Power, which plan to develop 440 MW of solar capacity for use in Nevada in the first phase of development. An additional 250 MW of generating capacity would be added in the second phase, with the power to be sold in Nevada or exported to Arizona and California.
The Bureau of Land Management is now accepting public comment on both projects as part of separate environmental reviews.
Some conservationists have raised concerns about clearing large swaths of desert for utility-scale arrays instead of placing solar panels on rooftops or in already disturbed areas. The Nevada-based environmental group Basin and Range Watch is opposed to Yellow Pine in particular because of all the Joshua trees, yuccas and desert tortoise habit that would be destroyed to make way for the project.
"Basin and Range Watch supports renewable energy, but we believe it can be used on already developed space," Kevin Emmerich, the group's director, said in an email. "Las Vegas is having another major growth boom, and all of the rooftops can be utilized for solar panels. Why destroy valuable habitat for desert species when more environmentally friendly options are out there?"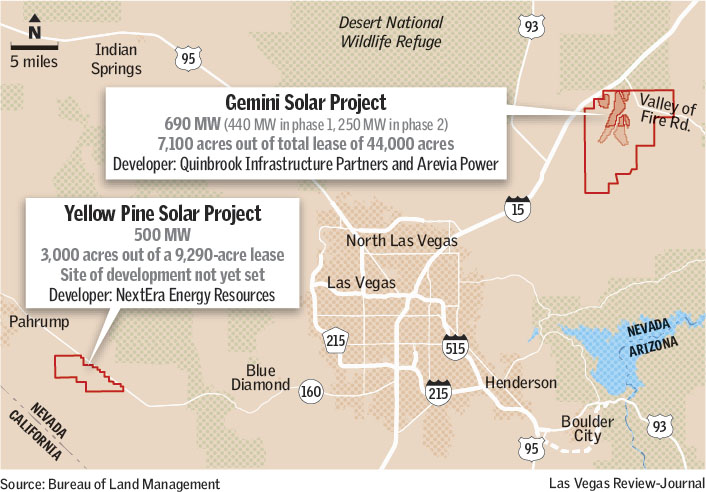 The BLM held a pair of public meetings in Pahrump and Las Vegas last month on the Yellow Pine project.
Public meetings on the Gemini project are scheduled for 5-8 p.m. Aug. 1 at the Suncoast in Las Vegas and 5-8 p.m. Aug. 2 at the community center in Moapa.
The 45-day comment period for Gemini closes Aug. 27. The 90-day comment period for Yellow Pine closes Aug. 30.
The next big thing
Herman Pinales, energy and infrastructure project manager for the BLM in Southern Nevada, said Gemini's comment period is so much shorter because of a new directive from the Trump administration aimed at speeding up and streamlining federal environmental reviews.
He said the reviews for both projects should be finished by next year.
The only solar facility in Nevada with large-scale storage capability now is SolarReserve's Crescent Dunes power plant, 225 miles northwest of Las Vegas, which stores the heat from concentrated sunlight in molten salt and uses it to generate power day or night.
The $1 billion, 110 MW facility has operated off and on since November 2015 with NV Energy as its sole customer.
Pinales said he doesn't know of any solar arrays in Nevada that use batteries to produce power after the sun goes down.
It's the next big thing, according to Dan Whitten, spokesman for the Solar Energy Industries Association, a national trade group.
"They are popping up all over the place," Whitten said. "Storage is definitely becoming a part of a lot of projects. It's a potential game-changer."
Contact Henry Brean at hbrean@reviewjournal.com or 702-383-0350. Follow @RefriedBrean on Twitter.
How to comment
The Bureau of Land Management is accepting public input on two solar energy projects in Clark County until late next month.
Written comments on the Yellow Pine Solar Project southeast of Pahrump can be emailed to blm_nv_sndo_yellowpine@blm.gov, faxed to 702-515-5023 or mailed to: BLM, Southern Nevada District, Energy & Infrastructure Project Manager, 4701 N. Torrey Pines Drive, Las Vegas, NV, 89130.
Written comments on the Gemini Solar Project northeast of Las Vegas can be emailed to blm_nv_sndo_geminisolar@blm.gov, faxed to 702-515-5023 or mailed to: BLM, Southern Nevada District, Energy & Infrastructure Project Manager, 4701 N. Torrey Pines Drive, Las Vegas, NV, 89130.
For more information on each project, you can call the BLM's Herman Pinales at 702-515-5284 or go online to https://goo.gl/gNbjnz for Yellow Pine or https://go.usa.gov/xntTQ for Gemini.